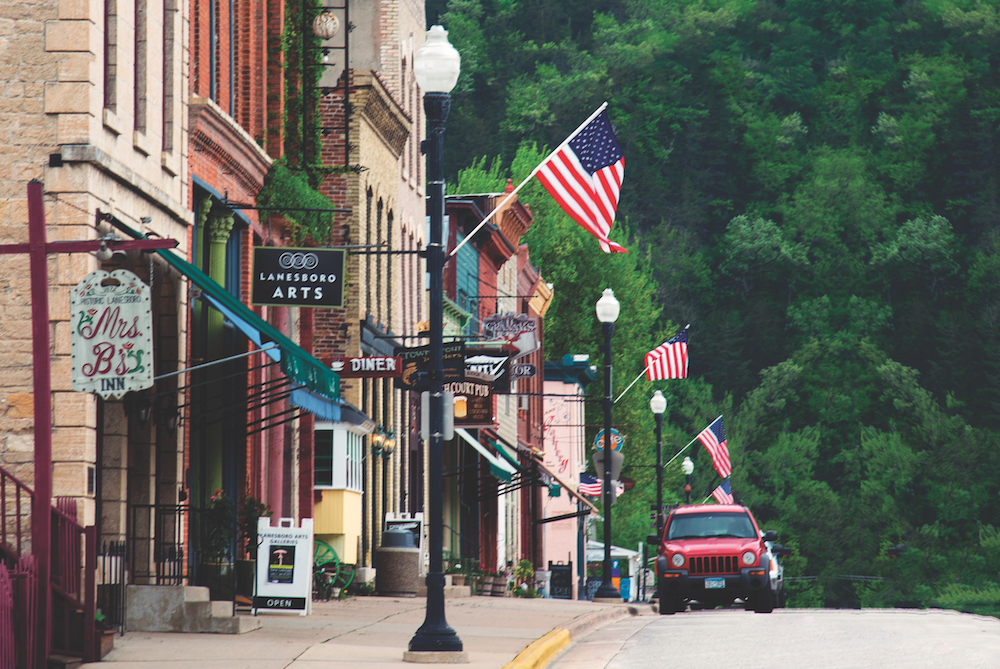 Askov (est. pop. 359)
Once a Danish enclave, the northern Minnesota town remembers its heritage on streets with names like Kobmagergade and Engvej. Its annual Rutabaga Festival, dedicated to a notable local crop from generations past, is set to return at the end of August.
Biwabik (est. pop. 598)
Bavarian charm and architecture are a big part of this Iron Range community's personality. Not far from Giants Ridge Resort, the Mesabi Trail, Embarrass Lake, and bright-red exposed remnants of the area's mining history, its outdoor charms lie in every direction.
Frontenac (est. pop. 227)
The unincorporated community of Frontenac comprises about 400 acres packed with historic architecture evoking an 1850s resort town. Its attractions near the Mississippi River's Lake Pepin section span the stunning, refurbished event space Villa Maria; the birdwatching bluffs of Frontenac State Park; and the comparably bustling community of Lake City.
Read more:
Go Hiking at Frontenac State Park
Grand Marais (est. pop. 1,332)
Truly where the mountains meet the sea, this loaded North Shore destination combines an arts colony, magnificent lodging, the wonders of the Gunflint Trail, and the rocks and lighthouse out on Artist's Point. The annual Fisherman's Picnic is expected to return to downtown Grand Marais in early August.
Read more:
The New Grand Marais: Modern Vacations on the North Shore
Henderson (est. pop. 888)
Aside from the Twin Cities, this southern Minnesota community is a favorite for Prince fans because it was the scenic backdrop for his outdoor motorcycling scenes in Purple Rain. A mural, statue, and memorial bench honoring the musician are in the center of town.
Lanesboro (est. pop. 673)
This Driftless Area wonder is an arts enclave with a classic downtown. With the Root River and its accompanying bike trail running through, it's ideal for pedaling and paddling trips, too. The quaint and even tinier Whalan (pop. 37) is a scant 5 miles east.
Read More:
Driftlessly Devoted to Lanesboro
Your Weekend in Lanesboro: A Spring Guide
Marine on St. Croix (est. pop. 733)
A tiny time capsule with a stretch of buildings conjuring up the 19th century, this postcard-ready area reverberates with small-town charm. Home to the Marine Mills Folk School, it's a haven for Scandinavian crafts and newer artistic and culinary maker traditions.
New London (est. pop. 1,197)
Called "the city on the pond," this adorable Willmar Lakes town (not far from equally approachable Spicer) hugs Mill Pond and is nestled in a region rich with water-based activity. The rolling hills and prairie add to Sibley State Park's beauty nearby.
Read more:
Destination: Explore the Triplet Cities
Wabasha (est. pop. 2,673)
The biggest town on the list, this bluff-situated river community is home to the National Eagle Center and the late-July spectacle that is Riverboat Days.
Read more:
The Wabasha Wander
Walker (est. pop. 938)
Perched on the shore of Walker Bay on Leech Lake's western edge, Walker basks in the wonder of Minnesota's third-largest lake. Fishing aside, this lake community is also within reach of Chippewa National Forest, the Paul Bunyan and Heartland trails for cycling, and a prime segment of hiking on the North Country National Scenic Trail.
Read more:
Going Up North? Here Are 16 Things To Do in Walker, Minnesota
Happy Trails in Walker
Facebook Comments