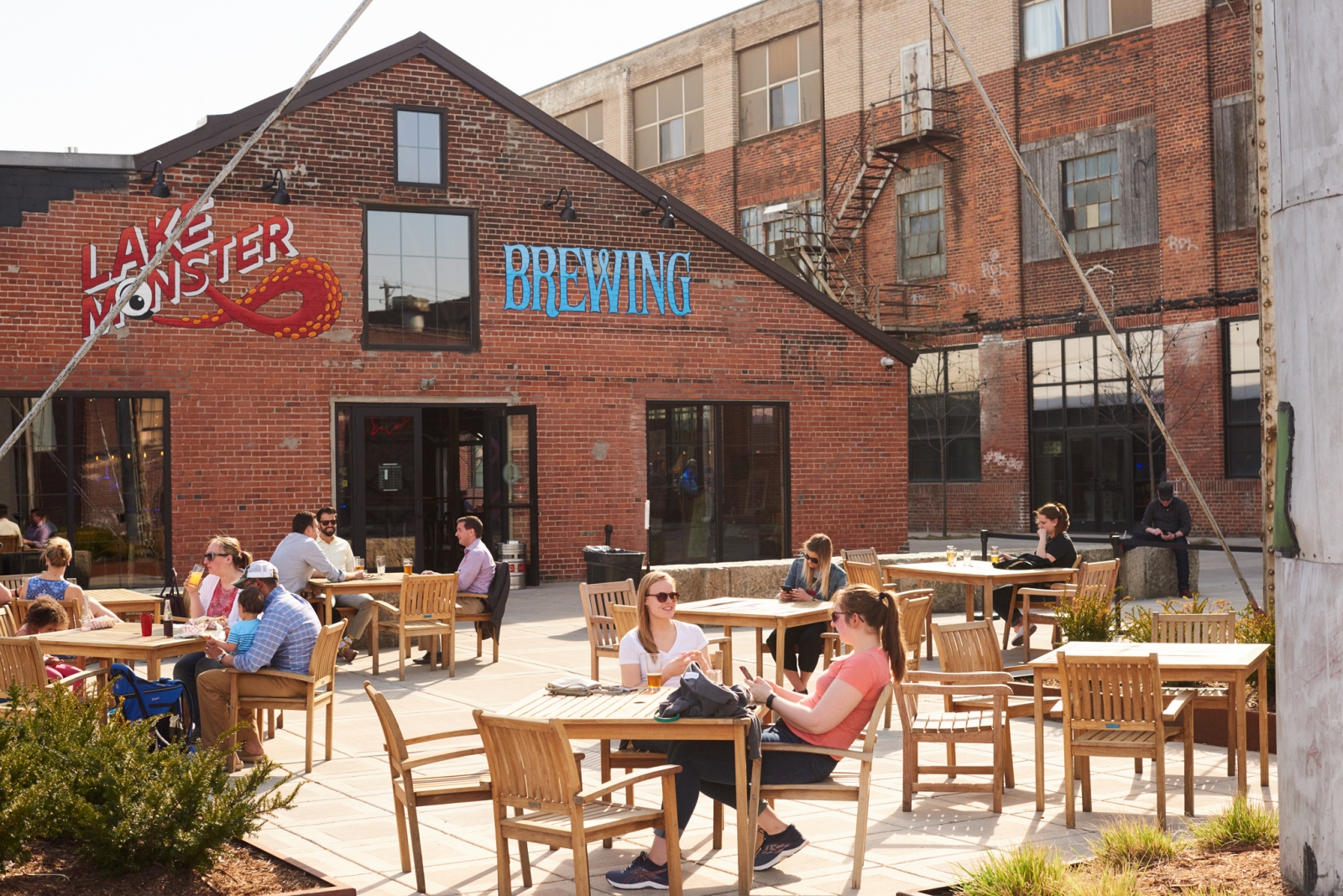 Everyone knows about the Minnesota brewing giants Surly, Summit, and Schell's but what other breweries should be on your list? Whether you're hoping to explore a newer or smaller brewery in the metro area or venture off away to the northern or southern parts of the state, we have some suggestions for you.
Metro Area
Lake Monster Brewing
Located on Vandalia St., just north of I-94, Lake Monster Brewing is tucked away in a back corner, right next to St. Paul Neighborhood Network. In the summer, Lake Monster's patio is always hopping, with yard games and food trucks that make regular appearances, but the breweries' open indoor space makes for a cozy place to drink beer no matter what time of year it is. Enjoy twists on classic beer styles with monster- and lake-themed names like Serpent Saison, Monster SMASH 11.0, Empty Rowboat IPA, and Calhoun Claw Pilsener.
Broken Clock Brewing Co-Op
Broken Clock Brewing Co-Op is the second brewery cooperative in Minnesota (the first being Fair State Brewing Co-Op) and while the co-op has been selling crowlers to liquor stores and kegs to restaurants for a couple of years now, its taproom in Northeast Minneapolis is celebrating its one year anniversary this month. The space is complete with a custom-built kids area and an ADA bar counter, with the goal of welcoming and serving every guest that walks through the door. Try the popular 2Brew (a coffee Kolsch) or the Minute Man, Broken Clock's take on the New England IPA.
Finnegans Brew Co. 
If you haven't been to Finnegans' new downtown Minneapolis location yet, put it on the top of your list. Centered around the idea of "barstool philanthropy," Finnegans is the first beer company in the world to donate 100 percent of its profits to local charities, with an emphasis on fighting hunger. The new space consists of the taproom (of course) and production facility on the first floor, the Brewer's Den (a private event space) on the second floor, some event space on the third floor, and Finnegans' Finnovation Lab (an entrepreneur co-working space in partnership with SKU and SEED Spot) on the fourth. Crazy, right? Located right in Elliot Park in downtown Minneapolis, it's definitely a doable happy hour location if you're in the area.
Wild Mind Artisan Ales
Looking for something unique and bold? Try Wild Mind Artisan Ales located in South Minneapolis. Wild Mind specializes in, you guessed it, wild and funky beers. You're likely to find a wild, sour, farmhouse, saison, and rustic-style ale here no matter what season it is. Boasting flavors of pineapple, pickle, cucumber, passionfruit, mango, guava, and peanut butter, these brews are anything but ordinary.
Modist Brewing
Another Twin Cities brewery pushing the boundaries is Modist Brewing in the North Loop. Creativity and unconstrained experimentation is what Modist Brewing is all about. No guidelines here! Head brewer Keigan Knee enjoys creating recipes from scratch, adding whatever amount of an ingredient he sees fit to complete the next custom beer. With talent like that, the beers are bound to be memorable. Modist's lineup includes Orange Dreamsicle IPA, Fruited Smoothie Sour Ale, Bite Size Chocolate and Vanilla Stout, and Sour Gummy Worm Double IPA. Need we say more?
HeadFlyer Brewing
Located in the Miller Textile Building in Northeast Minneapolis, HeadFlyer Brewing offers a variety of beer that pleases the masses. They serve everything from a honey wheat ale and pineapple blonde to a milkshake IPA and barrel-aged stout. And their names are catchy, too. Holla Honey, Wicked Jump Shot, Bavarian Lumberjack, Baby Got Peach, It Was All a Dream, BAMF'D, and Southern Hospitality are only a few of the brewery's selections.
Northeast Minnesota
Fitger's Brewhouse
As Duluth's original brewpub, Fitger's Brewhouse prides itself on serving up superb burgers (including its famous Wild Rice burgers) alongside award-winning brews, handcrafted in small batches with pure Lake Superior water. Fans of darker beers will swoon over the ever-popular Big Boat Oatmeal Stout (available on nitro) and if you make a visit this fall, make sure you try the Devil's Track Pumpkin, Fitger's seasonal pumpkin/yam beer.
Earth Rider
Just across the river from Duluth in Superior, WI, Earth Rider is small, new (they celebrated their first birthday in September), and impressive, and serves up some of the best beer in the Twin Ports. Head over to Cedar Lounge, home to the official Earth Rider Brewery taproom, and try the Superior Pale Ale or one of its sour ales including Raspbecrush and Crisp High Five, a collaboration with Dangerous Man Brewing.
Castle Danger Brewery
If you decide to be a tourist in your home state and visit Split Rock Lighthouse, as many of us do each year, stop by Castle Danger Brewery before heading home. Castle Danger is nestled on the North Shore of Lake Superior. It not only boasts a gorgeous view of the lake, but it offers superior beers including Castle Cream Ale, North Shore Lager, Brut IPA, Nordic, Honey Raspberry Wheat, Hefeweizen, and Maple Märzen.
Bent Paddle Brewing Company
Bent Paddle Brewing Company is all about bending the tradition of classic-style beers. Located in Duluth, Bent Paddle is a 30-barrel brewhouse that boasts flagship, specialty, and seasonal beers as well as infusions. Order a pint of Kanu, Venture Pils, or Bent Hop year-round, or try one of the brewery's monthly infusions including Pineapple Jalapeno Venture Pils, Chocolate Raspberry Black, Bluegrass Kanu, Blackberry Roof Rack, or Gingersnap Black.
Canal Park Brewing Company
A visit to Duluth isn't complete without strolling Canal Park to watch giant ships come into harbor, but now you can grab a cold one at Canal Park Brewing Company. Try a Scotch ale, Belgian Dubbel, Munich Dunkel or the brewery's award-winning Nut Hatchet Brown or Drag Kolsch. And don't forget to come hungry. Canal Park Brewing offers an extensive menu you won't want to miss.
Northwest Minnesota
Revelation Ale Works 
Located in Hallock (pop. 908), Revelation Ale Works opened its doors one and a half years ago by brothers Ryan and Josh Evenson. Revelation Ale Works has a simple goal: create the best brews for beer drinkers everywhere—even in the out-of-the-way places. You can find the taproom in the remodeled historic Johnson Standard Building in downtown Hallock. Try the grapefruit hazy pale ale, the Revelation IPA (American style) or the blonde ale if you enjoy your libations with a little less hop.
Disgruntled Brewing
Disgruntled Brewing, located right off Highway 10 in Perham makes a promise to every visitor that walks through its doors—you might be in a bad mood when you walk in, but you'll leave with a smile on your face. Try Toasted Blonde, Disgruntled's take on the American Blonde Ale, or Two-Tarted, a Berliner Weisse sour.
Junkyard Brewing Company
Junkyard Brewing Company is a brewery in Moorhead that recently expanded, adding a 1,500 square-foot taproom. The taproom features an imperial coconut dark ale, imperial stout with peanut, cream soda sour with pomegranate, cherry, blueberry, and vanilla, and a sour ale with peach and apricot—coming soon. But you may want to grab a bite to eat nearby because many of Junkyard Brewing's beers carry a high alcohol level—from 4.7 percent up to 11.6 percent.
Central Minnesota
Copper Trail Brewing Co.
Copper Trail Brewing Co., in Alexandria, strives to offer only the best for the city's residents and all of its out-of-town visitors alike. Stop by for a Midwest Midnight (a milk chocolate stout), Indigo Wheat (a blueberry wheat ale), or Hopper Trail (American IPA), and order some pizza, too, while you're at it.
22 Northmen Brewing Co.
Alexandria's 22 Northmen Brewing Co. would make ancient Vikings proud with its old-world and new-world style beers. Brews made using ingredients sourced from various European countries help this Norwegian-inspired brewery offer authentic beer that Vikings enjoyed during voyages. Stop by to try a Norse Lager, British Imperial Stout, London Brown, Vienna Lager, Munich Helles, and more. And don't forget the Valkyrie wood-fired pizza.
Beaver Island Brewing
If you're in the St. Cloud area, Beaver Island Brewing is a necessary stop. It snagged No. 40 on the Brewers Association's 2017 List of Fastest-Growing Breweries and it's easy to see why with its popular year-round brews like Sweet Miss (chocolate oatmeal stout), and '39 (red IPA) and its tending for a cause program where local celebrities tend for local charities.
Roundhouse Brewery
Roundhouse Brewery might be one of the most unique brewery locations we've ever seen. Located in the Clock Tower of the Northern Pacific Center in Brainerd, Roundhouse celebrates the old rail yard through the names of its beers—Coal Train Porter, Cinder Dick IPA, Fog Bank IPA, Golden Spike, Runaround Rye, and Whistle Stop Blonde to name a few. The family-friendly brewery doesn't offer food, but encourages visitors to bring their own or order delivery from local establishments.
Big Axe Brewing Company
Big Axe Brewing Company is a big axe deal in Nisswa, where many Minnesotans vacation each summer. The next time you're strolling through Nisswa's shops, stop by Big Axe for some of Central Minnesota's best brews. Try the Axe Kicker Double IPA, Agropelter Mosaic Pale Ale, Bildad Blonde, Wapaloosie American Wheat, Fire Cat Habanero IPA, or one of their limited releases. If you're feeling hungry, Big Axe also offers a generous food menu.
Southern Minnesota
Lost Sanity Brewing 
Named as the best brewery in Southern Minnesota for 2018 by Southern Minn Scene, Lost Sanity Brewing was created by father/son duo Caleb and Doug Fenske after honing their brewing skills for numerous years. Located in Madelia, 20 miles south of New Ulm, Lost Sanity serves nine beers at all times with five year-round brews and four rotating. Try the Manic Black Lager, Batty Belgian Blonde, or the Full Pulp IPA if you're in the mood for a Hazy & Juicy NEIPA.
Oswald Brewing Co.
Located in downtown Blue Earth in an old bank building, Oswald Brewing Co. is just over two years old and features seven craft beers at all times with Nordic-themed names like Fjord Farm Ale, Berserker NPA (Norwegian Pale Ale) and Erik the Red. At Oswald Brewing Co., people might come for the beer but they stay for the hospitality and friendly atmosphere owners John and Tami Oswald have created.
Facebook Comments