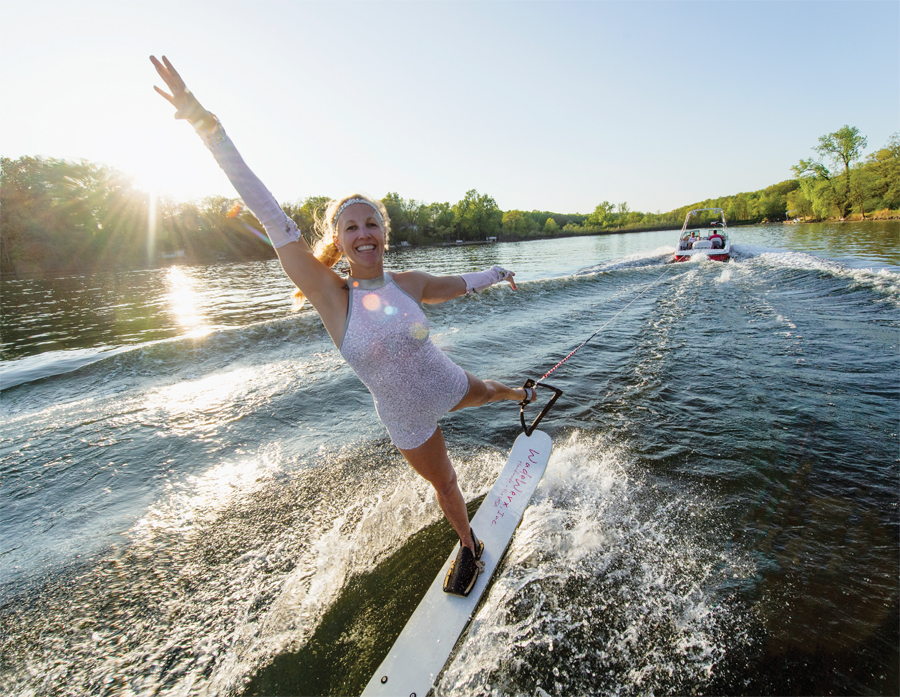 When Anne Judd was 5, her parents moved into a house on Keller Lake in Maplewood, Minnesota. By then, she had already been water skiing—the sport invented in 1922 by Ralph Samuelson in Lake City, Minnesota—for two years. "My mom would put a lawn chair in the shallow part of the lake," Judd recalls. "She would sit us on the chair, hop in the boat, and take off." Sitting helped her learn how to balance on the water skis.
Their new neighbors were a couple of pro water skiers, one of them a barefooter and the other a "swivel skier," who performed one-legged on a binding that spins 360 degrees. They offered pointers: If young Judd wanted to compete someday, she should learn to water ski on her right leg—not her left, which she had favored up to that point—for consistency with the other girls on her team.
At 16, Judd won the national championships in the swivel ski, and she reclaimed her title nine years later in 2016. (In between, she took up speed skating and qualified for two Olympic trials.) That year, she became the first to complete a 1440 (four rotations, with the rope overhead) at a national tournament. Judd performs alongside her family with the Twin Cities River Rats on Thursday nights in the summer on the Mississippi in Minneapolis.
"My entire family's involved," she says. "My brother's a skier. My husband drives the boat. My dad is the 'boat coordinator' on shore, who makes sure the boats are in the right place at the right time. My mom helps behind the scenes. There aren't many sports where you can all participate, but water skiing is one where you can." This September, Judd will represent the U.S. at the World Championships in Ontario.
---
Get Started
Learn
Twin Cities River Rats, Ski Otters (White Bear Lake), SkiDox (Oronoco), Shockwaves (Shakopee), Little Crow (New London), Bald Eagle (Centerville), Ski Loons (Brainerd), and other teams statewide provide lessons throughout the summer. Lessons start at $50 per session.
Equipment
Life jacket, water skis, rope, handle, "trick release" for advanced skiers doing tricks without using their hands, and motor boat.
Tips
Keep your water skis together. If they go out to the sides, you'll do the splits. Avoid sitting on the back of your skis. "There is no workout that can prepare you for water skiing," Judd says. "You can be strong, but still, every summer when you start skiing, you get sore. It's your arms, it's your back, legs; it's a full-body workout."
Difficulty
Two skis: **++++++++
One ski: ****++++++
Swivel Ski: *********+
Barefoot skiing: *********+
---
Strap into the adjustable bindings of these excel combo skis for ready, steady shredding ($150, hosports.com)
---
Gear Up for Water Skiing
Water Skis
If you're a beginner, stick to combo skis. On slalom (single ski), you'll go faster, turn sharper, and cut bigger waves—but you have to walk before you run. Combo skis' greater width makes for better stability and easier maneuverability. Consider a stabilizer bar, which connects your water skis to keep them straight and the proper breadth apart. Once you reach intermediate or expert level, try shorter, wider trick skis for more turning and sliding options.
Rope and Handle
Get a polypropylene rope which has some stretch to it—crucial to provide give as a skier changes speed and direction. At typically 70 feet in length, it should be able to pull up to 800 pounds. For a handle, you'll want aluminum with a rubber grip, usually between 11 and 18 inches long.
This vest's snug fit makes it flexible and flattering ($60, connellyskis.com)
---
Life Jacket and Wetsuit
Strap yourself into a Type I life vest, since that's the kind that turns skiers chest-up in the water. Also consider investing in a neoprene wetsuit to lessen the blow if you fall.
Facebook Comments