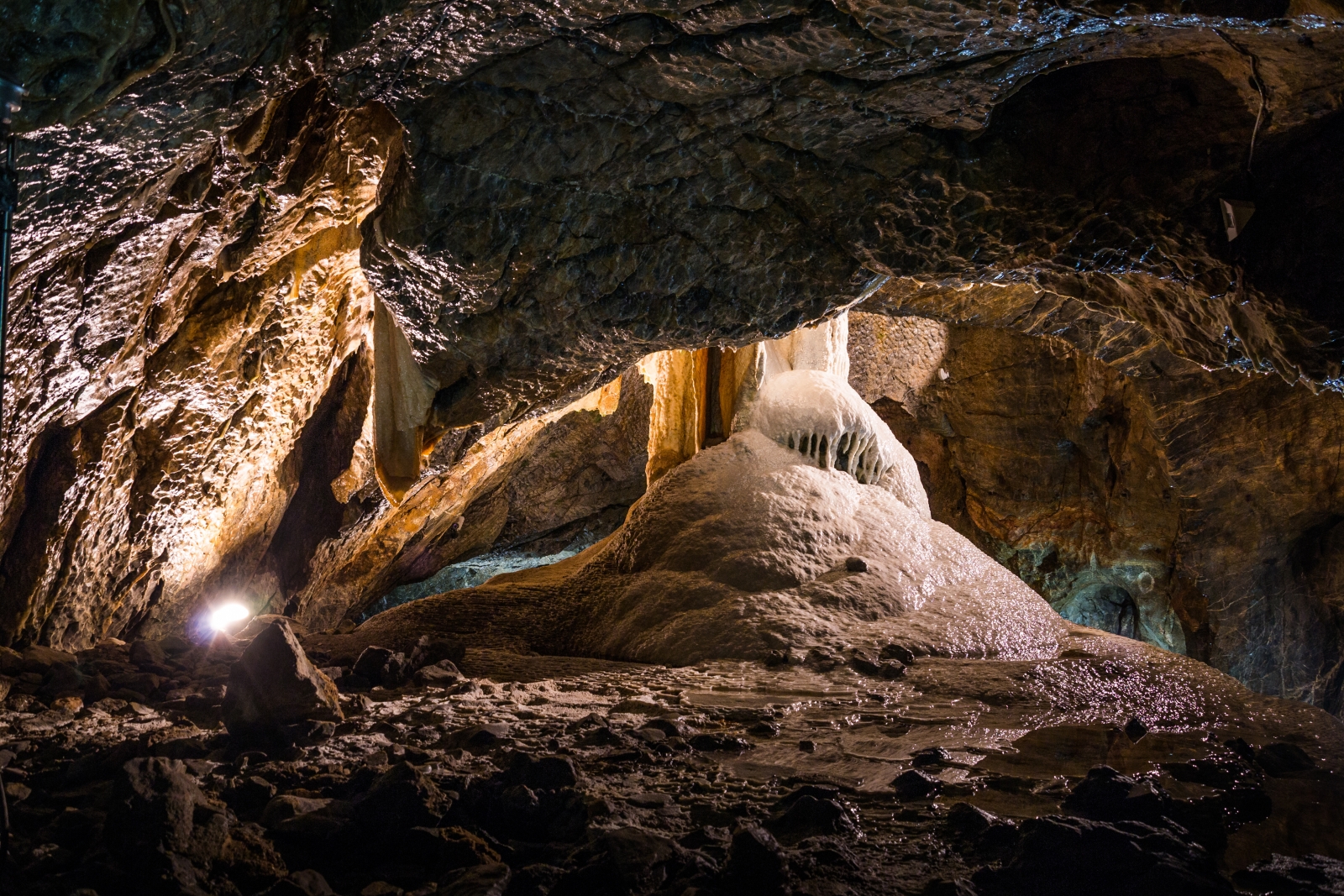 courtesy kaycco/fotolia
If the walls of our state's caves could talk, they'd have stories to tell—of their origins and their founders, their frequent visitors, and their still-undiscovered containments, all unique, all utterly mysterious, and all full of untold narratives. With eerie bat lairs, crisp year-round temps, and a series of guided tours, Minnesota's geological spectacles have plenty of standing room (and upstanding history) for exploration, education, and exhilarating sights.
---
Niagara Cave
Descend one mile below the earth's surface to discover 450 million-year-old fossils, a 60-foot underground waterfall, and unusually massive cave formations. Niagara Cave's one-hour passageway tour will guide you through one of the nation's top-rated, water-sculpted wonders, which was discovered more than 90 years ago.
Mystery Cave
Stalactites and stalagmites stun cavers and spelunkers inside the 13-mile Mystery Cave at Forestville State Park. Deemed the longest cave in all of Minnesota, cave dwellers can take on seven different daily tours, including their popular scenic tour and a challenging four-hour introductory tour to wild caving. 
Carver's Cave
Some underground tunnels and corridors will require the courage to crawl and the curiosity to discover. Carver's Cave is no exception. With only two feet between the floor and ceiling of the entrance, you will have to drop to all fours to delve deep into this natural cavern. Located near the Mississippi River at the base of Dayton's Bluff in St. Paul, the 100-foot, spring-cut cave is mostly taken up by an underground lake, limiting the room to thoroughly investigate.
Soudan Underground Mine
Travel a half-mile underground for a 90-minute tour and experience the life of a 19th-century iron-ore miner. Home to nearly 15,000 bats, the cave stays at 51 degrees Fahrenheit year-round and requires patrons to trek up and down narrow spiral staircases—why this history-rich underground oasis deserves a spot on our must-visit caves list.
Cool Cave
Lesser-known but equally awesome, Cool Cave on Sorin's Bluff at Memorial Park is 70 feet below the designated scenic outlook. The cave's origins are unknown, but this graffiti- and carving-covered Red Wing cave is home to several bat species and is a popular adventure spot for locals. Across the park is Horseshoe Cave—a man-made, limestone kiln with two rooms and entrances.
Other notable (but closed and inaccessible) Minnesota caves include Schiek's Cave under the city of Minneapolis, the Stillwater's Brewery Caves, Fountain Cave. During the winter months, the Ice Caves of the Apostle Islands National Lakeshore in Duluth are open to the public. 
Facebook Comments