I can't remember anymore how my husband and I stumbled across Hok-Si-La Park and Campground. It may have popped up on a Google search, or a friend of a friend of a friend may have suggested it. I like to pretend that we "discovered" it all on our own, like we were cruising along Lake Pepin one afternoon and just happened to come across this little gem of a campground, located in Lake City.
Over the years I have camped with friends at Father Hennepin State Park,  Hayward KOA Campground (great mountain biking trails), Mille Lacs Kathio State Park, Rice Creek Campground in Centerville, Yogi Bear's Jellystone Park in Warrens, Wis., and River's Edge on the Apple River (back in high school)—and while those campgrounds were all fun in their own way, at those particular times in my life—they didn't make my heart sing.
Hok-Si-La does.
There are 42 sites in the 252-acre park, each designated for tent camping. No offense to those who camp in RVs or pop-up campers, but I love the "tents only" aspect of Hok-Si-La. (I also love that you have to park your car in a separate lot after you unload your gear, ensuring a more rustic camping experience.) The land borders the Minnesota side of scenic Lake Pepin, and it's so pretty I completely understand why the property has had a few different uses over the years. In the late 1800s it was the site of Hotel Russell, then it was the Rest Island Silver Fox Farm, then it was a Boy Scout Camp before the city acquired the land in 1974. Lake City does a great job of keeping the park and campground clean and making sure guests have what they need for a memorable trip. You can even buy camping supplies at the on-site park store, in case you forgot something.
Our group of friends first started camping at Hok-Si-La in 2004 or 2005—before many of us had kids—and oh, how I anticipate this camping tradition, especially now that everyone seems so busy with career and family obligations. The weekend gives us a chance to reconnect without the usual distractions of everyday life. It allows us to notice Mother Nature—a full moon on a summer night, the mesmerizing glow of a campfire, the crickets chirping, the sound of the wind in the trees, even that spider crawling in the tent (I like to think of that as mosquito control). It gives us a chance to go at a slower pace, no meetings, no appointments, no schedules. It gives us an appreciation for what we take for granted at home—running water, soft, warm beds, indoor plumbing, and electricity. Food just tastes better when cooked over a fire, and the stories and jokes somehow seem more funny. I love that we all sit around the fire in hoodies and worn jeans, our hair in bandanas, ponytails, or hidden under hats. The usual fashion and style rules are replaced with the rules of practicality. Will you be warm? Will you stay dry? Will you be comfortable? Do you care if it gets ruined? Ok, it's suitable for camping.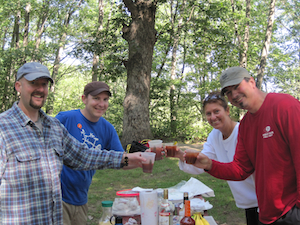 We never run out of activities while we're at Hok-Si-La. There is a clean, sandy swimming beach on the shore of beautiful Lake Pepin, decent fishing, a public boat launch, a basketball court, a volleyball court, a wide-open space for kickball or soccer games, and hiking/biking trails. You can even bring your dog along, although no one in our group has done that (yet).
From St. Paul, Hok-Si-La is about an 80-mile drive, just about the perfect distance. Quaint towns—like Red Wing—are along the way. Downtown Lake City can also be fun to explore. (Fun fact: The town of Lake City is the birthplace of waterskiing. Lake City native Ralph Samuelson invented the sport, on Lake Pepin, back in 1922.)
The campground is open from mid-April to mid-October; the park is open year-round. Call 1-651-345-3855 for rates or reservations. 
Hok-Si-La Municipal Park and Campground
2500 N. Highway 61 Blvd., Lake City, MN 55041
 
Facebook Comments