I was a little late jumping on the Grumpy Old Men bandwagon, having seen the film for the first time only a few years ago, but I love it. Between the snarky but lovable old men and homage to the state, I have no trouble seeing why it is a favorite among Minnesotans.
Although only a very short amount was actually filmed in Wabasha—the town where the movie takes place—it is still considered to be the "Home of Grumpy Old Men." (Fun fact: Wabasha is the approximate halfway point between Hastings, where Screenwriter Mark Steven Johnson was born, and Winona, where he spent time at school.) That's why each year the town celebrates with the Grumpy Old Man Festival, now in its 20th year.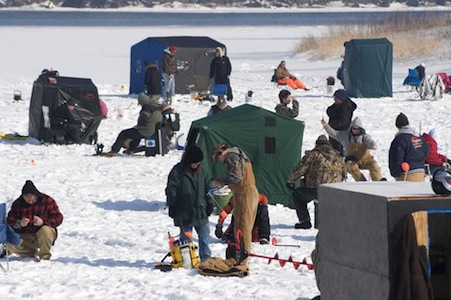 Photo courtesy of
Wabasha-Kellogg Chamber of Commerce & CVB
The festivities will take place on Feb. 23 at various spots around town, including Slippery's Bar & Restaurant, a formally fictional spot that the pair frequented, and the VFW, a place you also hear mentioned in the film. The day is jam-packed with activities, starting at 8 a.m. and lasting through 1:30 a.m. Participate in the ice fishing contest, a favorite pastime of John and Max, take the Grumpy Plunge, or choose to compete in or judge the chili cook-off. Other events include a grumpy breakfast, minnow races, cribbage tournament, bingo, Texas hold'em poker tournament, spaghetti feed, and nighttime entertainment. And, if you're lucky, you just might be able to spot a couple of real grumpy old men yelling out a "you schmuck." 
If you're able to make it down, there's still time to nab a Grumpy Old Men Package, which includes one-night lodging at your choice of one of eight area hotels, two $15 restaurant gift certificates, a grumpy gift basket, and gift specials from participating merchants.    
Facebook Comments