Oktoberfest revelers
photo by don borstad
---
Beyond the gift shops and German-themed restaurants that serve more burgers and ribs than spätzle and schnitzel, German heritage isn't just a tourist gimmick in New Ulm. It's a way of life.
Thrice daily, the elaborate Glockenspiel clock tower—inspired by a centuries-old landmark in Munich, Germany—puts on a performance that resonates throughout downtown with a clanging impossible to ignore. Figures depicting the town's history emerge from beneath the clock—a bricklayer, a dancing couple, a man in lederhosen hoisting a stein—and start a slow rotation.
Yes, the town of about 13,000 in south-central Minnesota has a welcome center blasting oompah music from a loudspeaker and selling T-shirts emblazoned with "Germans Have More Fun," but it's actually one of the most German places in America. According to the 2016 American Community Survey, 61.8 percent of residents claim German ancestry. (For comparison, 22.3 percent of Minneapolis residents are of German descent.)
Sarah Warmka relocated to New Ulm to raise her family and was surprised to discover homemade sauerkraut and dumplings on the buffet table at a neighborhood party. "The pride in New Ulm's German heritage is so real," says Warmka, who works for the local chamber of commerce. "At festivals, locals dress up in dirndls [traditional German dresses] or lederhosen—I bought a dirndl a couple years ago!" During Oktoberfest—2018 dates are October 5-6 and October 12-13—everything intensifies, with extra Glockenspiel performances, parades, live music, and a stein-holding contest.
Like the Glockenspiel, the monument known locally as "Hermann the German" is hard to miss. Perched atop a 70-foot tower, the 32-foot statue is of Hermann the Cherusci, a first-century chieftain who defeated the Romans and became a symbol of unity and freedom during the unification of Germany in the 19th century. Climb the spiral staircase (open Friday through Sunday during Oktoberfest) for a breathtaking view.
Visitors will find New Ulm's heritage in unexpected places. The Way of the Cross, a hillside shrine tucked behind the New Ulm Medical Center, features exquisitely carved Bavarian statues. When the shrine was built in 1904, German was widely spoken by New Ulm's first- and second-generation residents, and local newspapers were published exclusively in German.

The Hermann Heights Monument
photo by new ulm cvb
---
The town's identity is explored in the "Loyalty & Dissent" exhibit at the Brown County Historical Society, housed in a brick German Renaissance-style building that used to be New Ulm's post office. Much of New Ulm's German-American population was sympathetic to Germany during World War I and felt that the U.S. should remain neutral—which led to a massive 1917 anti-draft rally. A particularly fascinating section of the exhibit examines dissent and constitutional rights, tying history to issues that remain timely.
To learn more about New Ulm's history—and quench your thirst with a glass of locally brewed Schell's—stop by the Turner Hall restaurant and bar. Portions of the building date to 1873, and a sign out front declares the establishment "Minnesota's oldest bar!" Inside, the walls are decorated with 19th-century murals of faraway castles along the Rhine river. Personal beer steins line the shelves behind the bar, most dating back decades. While the menu features plenty of modern American fare (burgers, pizza, wraps, and salads), other entrées include jägerschnitzel ("hunter's cutlet" with mushroom gravy), spätzle (a soft egg noodle) with cream sauce, and an impressive selection of authentic, delicious brats.
Like the city of New Ulm, Turner Hall was founded by the Turners, a radical group of freethinkers whose values included gymnastics, patriotism, and liberal principles. Today, New Ulm's Turner Society is more of a community social group than an idealistic ethnic organization (although they've retained the gymnastics team component, operating the longest-running program in Minnesota).
German might not be heard in New Ulm's shops and schools anymore, but at Retzlaff's Ace Hardware, the modest kitchen section includes something not typically stocked at small-town hardware stores: a selection of spätzle makers.
---
Eat, Play, Stay in New Ulm
The Backerei & Coffee Shop
Classic bakery offering bread, cookies, buns, and over 40 varieties of donuts. Be sure to try the giant, bargain-priced cinnamon rolls. Cash or check only.
Lola – An American Bistro
Funky cafe and coffee shop serving breakfast, sandwiches, salads, flatbreads, pasta, and house-made baked goods. Several options for vegetarians and occasional vegan specials.
Schell's Brewery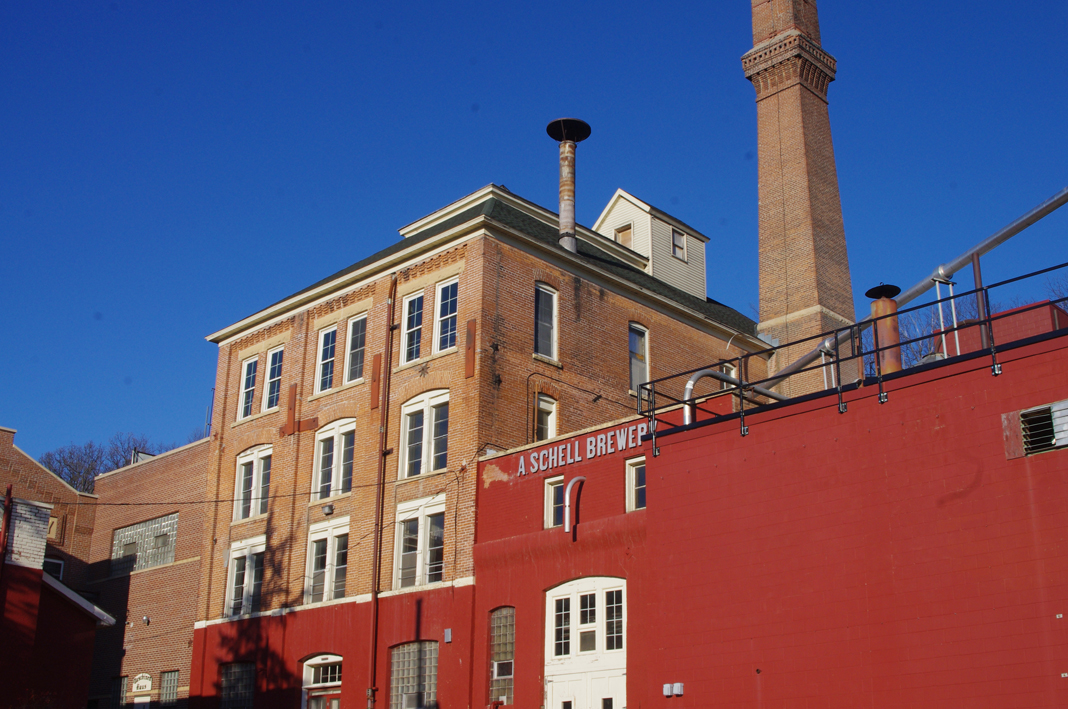 Schell's Brewery dates back to 1860, making it Minnesota's oldest
photo by lori wingert
---
Brewing German craft beer since 1860, Schell's is the second-oldest family-owned brewery in the U.S. Tours include a stop at the Museum of Brewing, a behind-the-scenes peek at production, and beer tasting.
Morgan Creek Vineyards
Minnesota's only underground winery, specializing in German, French, and American-style wines. Pair a wine tasting with wood-fired cuisine from the winery's cafe.
Bingham Hall Bed & Breakfast
Housed in an elegant Victorian mansion with rooms that feature fireplaces, whirlpool tubs, and massage chairs.
Best Western Plus
Amenities include an indoor pool, fitness center, game room, and complimentary hot breakfast.
Facebook Comments