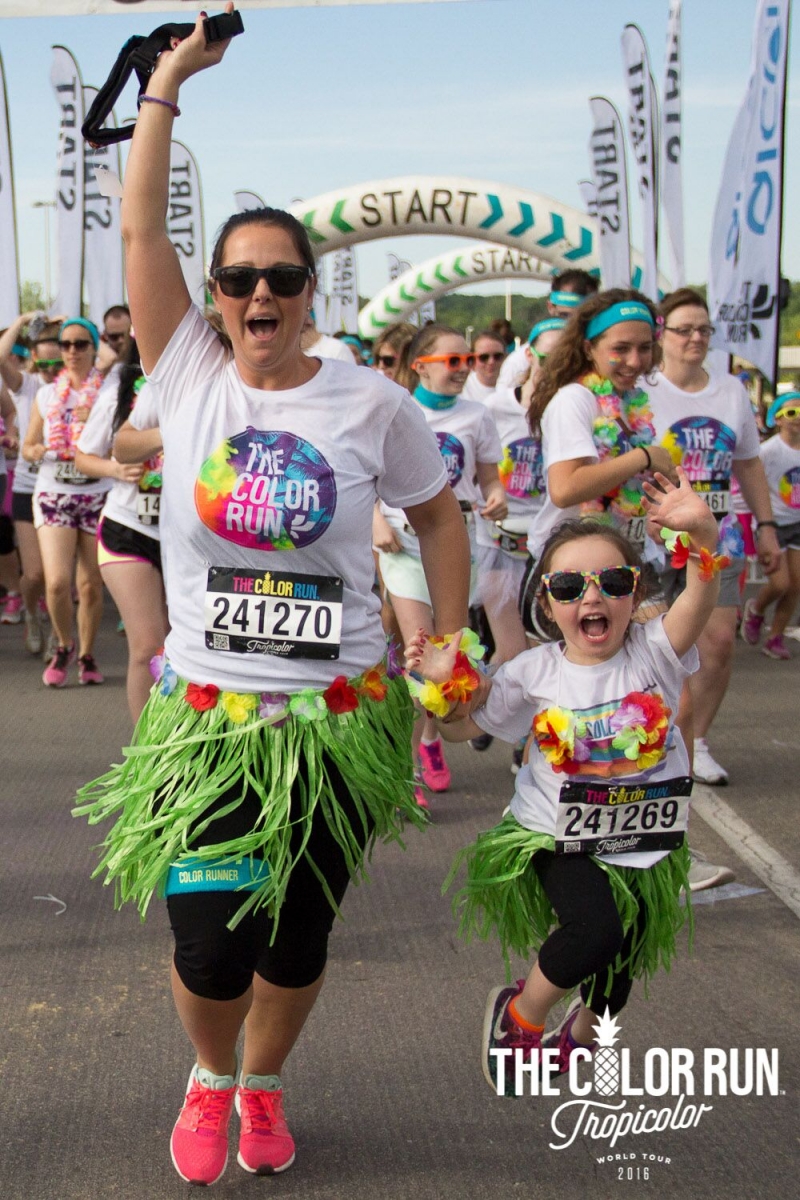 Photo courtesy of the Color Run
Running a traditional 5K in shorts and a t-shirt is so last race season. The Twin Cities is hosting a variety of races this summer, giving you an excuse to dress the part. Plus, if you can't impress with your speedy sprint, at least you'll look good. Get started on your 5K look with the tips below.
Do: Check your closet before you shop.
Believe it or not, you might already have the components of a great race costume. A Superman t-shirt, leggings, and a sheet or towel creatively folded and pinned into a cape will instantly transform you into an epic superhero. Drawing round glasses and a lightning-shaped scar on your face with waterproof eyeliner will turn you into Harry Potter. Add a cheap pair of cat ears paired with an all-black running outfit will make you the fastest cat in town. You don't have to spend a fortune on a race outfit—just get crafty.
Don't: Go to the race without a back-up costume.
You could have the best costume on the course, but it won't be an enjoyable race if you're freezing, soaking wet, or overheating. Think of ways to add or remove layers just in case the weather turns. Almost any costume can be created with leggings and a long-sleeve Spandex shirt as a base layer, and moisture-wicking shorts and tank tops will make hot runs more bearable.
Do: Practice running in your costume before race day.
Fix problems before race day by jogging down the block in your full costume. (Your neighbors may stare, but it's only because they're jealous!) Test to see if you can breathe in your mask, that your shorts don't chafe, and everything stays fastened in place. Remember not to exert yourself—you don't want to rip your costume or get it too sweaty before race day.
Don't: Take the race (or yourself) too seriously.
You probably won't set your personal record while wearing a tutu, and that's okay. Focus on having fun instead. Run the race with friends in a group costume, or wave at every spectator you see. You'll have such a great time that you'll forget to look at the clock. Remember that costume and themed races are about the joy of running—don't feel pressure to perform at your best.
Do: Play into the race's theme.
You don't have to follow the theme or guidelines, but how often (besides Halloween) do you get to dress up in bizarre costumes? Are you participating in the Color Run? Throw on a lei, grass skirt, or floral Hawaiian shirt. The Glo Run? Go all-out with the '80s theme by wearing neon clothes, a fanny pack, and big hair. The Super Run? Break out your cape and tights. The camaraderie of runners in costume is what makes a 5K extra memorable, so start planning your outfit now!
Need a 5K to run? Check out these unique races in the Twin Cities.
Facebook Comments