I used to live in Uptown, before its shaggy bohemian vibe was overshadowed by the rise of the Apple Store and high-rent concierge condos. While I still like to hang out there, I've since moved to Northeast, along with a lot of young families and rising artists drawn to its affordable housing stock and creative infrastructure of galleries and studios. Northeast is a part of Minneapolis perhaps best known for supporting enough breweries to make a pub crawl stretch out over a weekend, and also for hosting Art-A-Whirl's annual festival of creativity that draws big crowds from around the Cities every May (as it should). But if you want to experience the neighborhood as I do, visit Central Avenue, where eateries and shops lend a feel of discovery and where moms with strollers, urban hipsters, and a United Nations of languages and accents help you rediscover what you've always loved about city life.
Central boasts more and varied eateries than just about any other stretch in the Cities—so many that even the locals have wish lists of places they haven't yet had a chance to visit. My favorite brunch spot? Glad you asked. It's the American-style Mill Northeast, a sit-down joint with a chef-driven menu and craft cocktails for the night before—housed in a repurposed greasy-spoon space that demonstrates the Northeast spirit of reinvention.

The Mill Northeast, El Taco Riendo, Holy Land, Photos courtesy of El Taco Riendo and TJ Turner
This stretch is also a Little Mexico rivaled only by East Lake Street and West St. Paul's District del Sol. My favorite tacos in town, offered with a variety of meats and spice levels, are found at Maya Cuisine, a taqueria that's just a couple of years old. The venerable and recently expanded El Taco Riendo, my choice stop for a burrito, is open until 10 or 11 every night; cozy leather booths and goblet-size margaritas beckon at Adelita's, and new-kid-on-the-block Pico de Gallo offers fresh juices and smoothies as well as more veggie-oriented takes on traditional dishes.
There are other international destinations here worth stamping your passport. For Thai, try Sen Yai Sen Lek for curries and sticky rice (and a few nice sidewalk tables on warmer days), or home-cooking stir-fries at Karta Thai, which recently opened a satellite up the road just over the border of Columbia Heights. There are a few worthy options for Mediterranean and Middle Eastern dining on the avenue, but the best known is Holy Land, with a deli that satisfies vegetarians (falafel, hummus, baba ghanouj) and meat eaters (tandoori chicken kebabs, lamb shawarma) alike.

Aki's Breadhouse, Recovery Bike Shop, and Eastside Co-op, Cinnamon roll photo by Kelsey Anderson, other photos by TJ Turner
The Holy Land complex also includes one of the best imported grocers in town, containing a bakery and a butcher window where you can order fresh lamb and goat for your more adventuresome recipes. If your dish also calls for fresh vegetables and herbs, hit up Eastside Co-op, one of the Cities' flagship natural-foods stops.
So you've picked up some lamb shoulder at Holy Land, along with sunchokes and fresh rosemary at Eastside? Sounds like you might need to invite me over. I'd be happy to contribute a loaf from newcomer Aki's BreadHaus, which has an array of specialty breads and rolls baked onsite. A typical Saturday morning sees a line out the door, drawn by the smell of fresh braided loaves and bread pudding.
After all this eating, you might be in the mood for a bike ride—I recommend heading north for a loop around Columbia Golf Club and its well-tended public course and driving range. Don't have a bike? No problem: Recovery Bike Shop (recoverybikeshop.com), in addition to regular classes on bike repairs and a full range of gear, has a basement full of used bike frames. Last summer I picked one in my size, and within a week the staff had tricked it out with new tires, brakes, and gears…and sold it to me for about half of what I would have paid for a new ride. Chances are by now you're feeling like a real local, so detour to gift shop Bloom & Buttercup for an I♥NE T-shirt.
Finally, this is Northeast, after all, craft-beer epicenter of the Upper Midwest (612Brew, Bauhaus, and Indeed are all within blocks of the former Grain Belt site, which is fundamental to the 'hood's history), so you're not getting out of here without a stop at Fair State Brewing Cooperative with a taproom where you can order Arnie Palmers for the kids while you sample one of the best IPAs in town and let them beat you at Settlers of Catan. If it's a weekend afternoon, I might well be the guy watching sports on the TV over the bar or reading my iPad—and angling for a dinner invitation. After all, now we're practically neighbors.
A Central Avenue Local's Favorites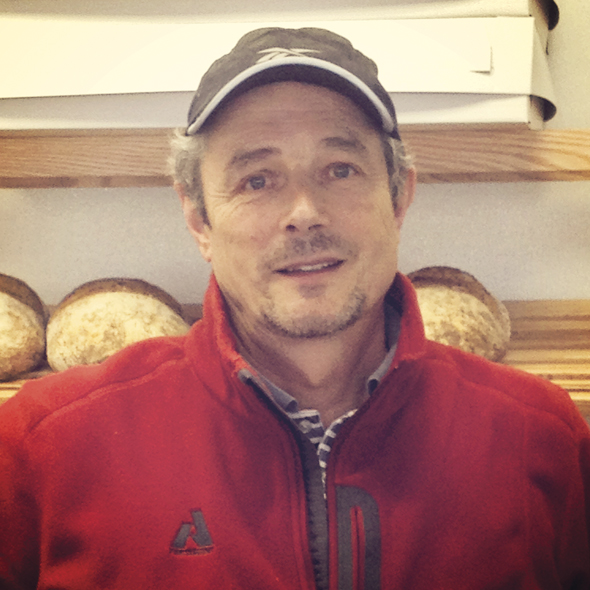 Photo by Quinton Skinner
Aki's BreadHaus opened in 2014 after its owner, Aki Berndt, wowed customers at area farmers' markets with breads and pastries from his native Germany.
"There's so much good food here. My favorite Thai place is Sen Yai Sen Lek, and I go to Holy Land when I'm in a hurry—you can get a meal for seven bucks there. And there's Eastside Food Co-op; when my wife calls me before I come home, I pick up stuff there, and sometimes I buy onions there for the mustard that we make. I also love the diversity here: On Friday, I see the people going to the Islamic Cultural Community Center down the street, headed for prayer. And then a lot of them stop in for coffee afterward."
Facebook Comments