duluth lakewalk photo by tj turner
Picturesque beauty. Historical sites. Quirky characters. Two avid Twin Cities sketchers capture their travels to Duluth, Pipestone, and Sioux Falls with pen, paint, and paper.
Our region has more than its share of picturesque scenery, from the natural beauty of its lakes and forests, to skylines and landmark buildings in its cities. When Minnesotans visit these places and record their experiences, they are likely to capture the scene with a digital camera or cell phone. However, a growing number of travelers, not all of them professional artists, are packing paper, pencils, and paint instead of a camera and preserving their memories by sketching instead.
Ken and Roberta Avidor sketching at Mears Park in St. Paul
My wife, Roberta, and I have been sketching for years, and after we moved into a loft in the Union Depot train station in downtown St. Paul, we decided to travel by train and bus throughout Minnesota and record the sights and our experiences in our sketch journals.
We bought two Brompton folding bikes to enable us to more easily travel after we arrive at our destinations. (Both Jefferson Lines and Amtrak will allow folding bikes to be stored in the luggage compartment.) Our Brompton "C" bags attach to the front of the bikes and carry our art supplies; Roberta made garment bags to fit inside the Brompton "B" bags we use to pack our folded bikes for traveling.
So far, we've made car-free trips to Duluth, Pipestone, and Sioux Falls via Jefferson Lines, and illustrated the highlights of our adventures in the following pages.
---
Duluth

Roberta and I got married on July 14th and decided to spend our 30th anniversary in Duluth hoping Lake Superior's breezes would cool us off while we biked and sketched around town. We caught the Jefferson Lines' "Rocket Rider" bus early Sunday morning from Union Depot and, after a comfortable ride up I-35, we arrived at the bus station in Duluth before noon. We unfolded our bikes and rode the 3.5 miles to downtown via an on-road bike trail through a gritty industrial area on broken pavement, some of which was being repaved. (There are plans to make a better bike path along this stretch, connecting the Willard Munger State Trail with Duluth.)
Right, top: Crabby Ol' Bill's
Bottom: Roberta sketching Tischer Creek, photo by ken avidor
The bicycling is much better along the lakeshore north from downtown Duluth. We biked the Lakewalk, a paved trail with lots of great scenery, and stopped to sketch at Leif Erikson, Congdon, and Lester parks (duluthmn.gov/parks). We also sketched a thick fog rolling in while we enjoyed the deck of Fitger's Restaurant (fitgers.com), and found a lot to capture in Canal Park—the famous Aerial Lift Bridge from the deck of Grandma's Saloon & Grill (grandmasrestaurants.com) and the fishing-boat-turned-snack-shack called Crabby Ol' Bill's. There is also a lot of sketchable stuff at the Duluth Depot (duluthdepot.org), including the William Crooks locomotive in the Lake Superior Railroad Museum (lsrm.org). There's so much to see (and sketch) in Duluth that we will have to make another trip!
---
Pipestone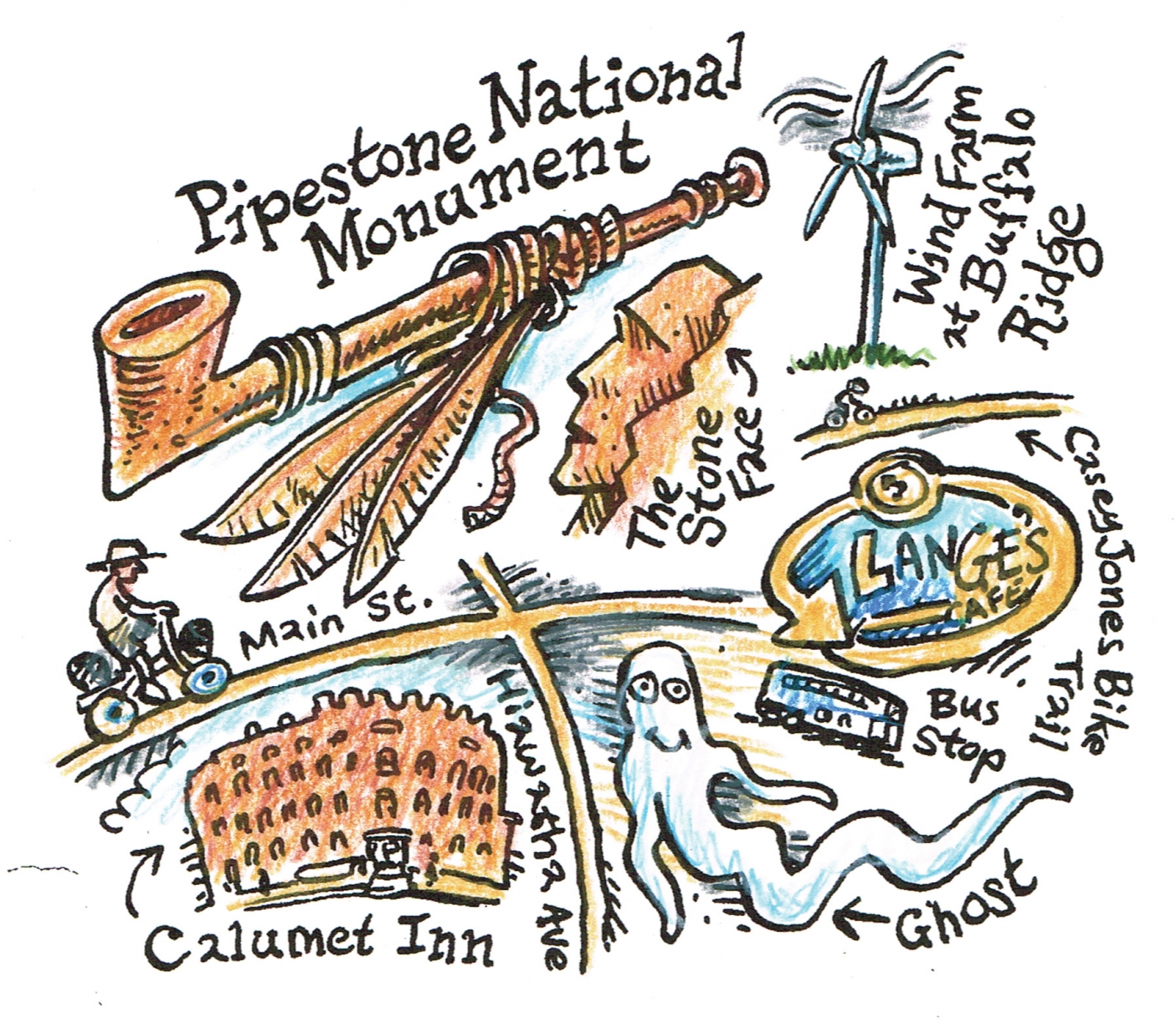 For our next sketching excursion, we chose Pipestone, a charming city in southwestern Minnesota with a population of 4,317 residents—not counting the many ghosts reputed to inhabit it (more on that later). This time, we traveled from St. Paul to Minneapolis by taking the Green Line from Union Depot to the Hawthorne Transportation Center. After a five-hour bus ride, we were dropped off beside Pipestone's famous Lange's Café, which is open 24-hours a day.
Right, Top: Winnewissa falls, photo by julie carrow
Bottom: lange's cafe
The city is named after the red quartzite that Native Americans have quarried there for hundreds of years and carved into ceremonial peace pipes (calumet). There are several fine old buildings in Pipestone faced with the ruddy stone, so we sketched the sights around town and in the nearby Pipestone National Monument (nps.gov/pipe), as well as the activities staged for the city's Paranormal Weekend (pipestoneminnesota.com).
We stayed at the Calumet Inn (calumetinn.com), a nice, historic hotel with a lot of character. It's rumored to be haunted by a ghost named Charlie who once worked there as a handyman, until a fire at the Inn on Valentines Day 1944 transported him to the realm of the supernatural.
---
Sioux Falls
T
o visit Sioux Falls, just across the border in South Dakota, we took the same "Big Bluestem" bus route about an hour further down the road from Pipestone. For many Minnesotans, Sioux Falls is a convenient place to stay on route to Mount Rushmore and Wall Drug, but we found the city to be a worthy destination in its own right with a picturesque waterfall, good restaurants, museums, and a pleasant bicycle route connecting several parks along the Big Sioux River.
right, top: the Victorian b&b
bottom: the birdcage, photo courtesy of sioux falls convention & visitors bureau
Upon arrival, we unfolded our bikes and pedaled our way to the splendid Victorian Bed & Breakfast (thevictorianbedandbreakfast.com) in the Cathedral Historic District on a hill overlooking the city. Our first day in Sioux Falls was rainy, so we headed next door to the Pettigrew Museum (siouxlandmuseums.com), the former residence of South Dakota's first senator, where I sketched some of the artifacts and curiosities in display cases. Later we biked downtown to the Old Courthouse Museum (siouxlandmuseums.com) where Roberta sketched an exhibit about the history of purses and I sketched an old automobile fabricated by a local inventor. After the rain ended, we biked downtown for some fine dining (and sketching of the crowd) at Parker's Bistro (parkersbistro.net) and then to the nearby SculptureWalk (sculpturewalksiouxfalls.com), an impressive outdoor exhibition of 3-D art.
For the next two days, Roberta and I captured many highlights: from scenic beauty, to a vintage iron lung (in the quirky Sioux Empire Medical Museum, visitsiouxfalls.com), to our hometown team, the St. Paul Saints, who played the Sioux Falls Canaries at "The Birdcage" (sfcanaries.com).
---
More Artistic Travel
Bryan Hansel Photography
Grand Marais-based photographer Bryan Hansel leads year-round workshops offering tips for capturing the best of the North Shore each season. Small groups ensure one-on-one instruction, and as a trained wilderness guide, Hansel teaches how to stay safe while setting a shot. bryanhansel.com
Craig Blacklock Photography
Nationally acclaimed nature photographer Craig Blacklock shares his knowledge each summer by leading photography workshops through the Apostle Islands on Lake Superior. Farther afield, Blacklock's fall classes include trips to Utah's North Lake Powell to shoot its Anasazi ruins and red sandstone. blacklockgallery.com
Grand Marais Art Colony
Grand Marais is an artists' town if there ever was one, with its scenic overlooks for painting and abundance of galleries and stores selling handmade jewelry.  While workshops at the Grand Marais Art Colony, including the Art of Personal Writing and Fall Colors in Oil, are offered for students of ranging abilities (even kids), the school also offers explanatory courses such as How to View Contemporary Art. grandmarisartcolony.com
Madeline Island School of the Arts
Madeline Island, just a few miles from Bayfield, Wisconsin, is a haven for creatives in search of inspiration—and a little peace and quiet. The School of the Arts offers multi-day workshops in writing, painting, quilting, and photography for artists of all abilities into the fall season. madelineartschool.com  
North House Folk School
The North House Folk School in Grand Marais offers the chance for tourists to hone a specific craft over several days, from moccasin-making to boatbuilding, both offered this fall. northhouse.org
Red Wing Pottery Classroom
Red Wing may be best known for its boots, but as much craftsmanship goes into the region's iconic pottery. Red Wing Stoneware & Pottery offers classes in wheel throwing and tray making, but for the even less artistically inclined, pre-made mugs and crocks are available for decorating. redwingstoneware.com
---
Behind the Scenes with the Avidors
Facebook Comments