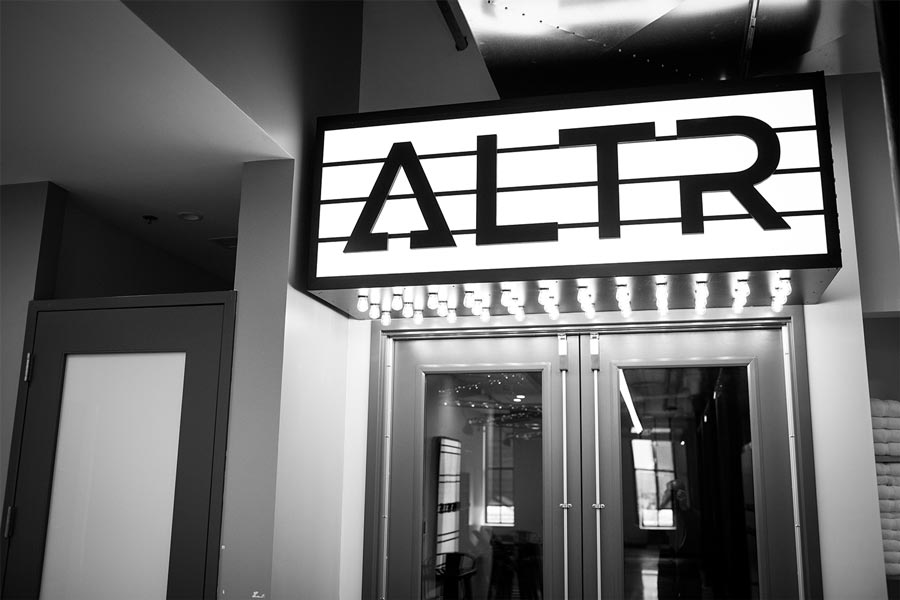 photos by Gabe Photography
---
Whenever I step foot in a gym for a new HIIT (high intensity interval training) fitness class, I always feel pretty good about my chances—a confidence built upon countless games of football on the playground and friends' backyards, a high school tennis career, and the countless miles I've logged in my running shoes since I learned to put one foot in front of the other. But that confidence shouldn't be there. Because at the end of every class, I end up lying in a puddle of my own sweat, gasping for air, my ass thoroughly kicked and my confidence having run for the hills from the pulse-pumping music and numerous wall sits and push ups. My time at ALTR (pronounced like alter) in Minneapolis' North Loop was no different. But despite the mental and physical exhaustion, I relished every plank, row, and bicep curl.
But first, some background information: ALTR is the brainchild of Kari Ament and Vincent Amendola, two fitness gurus who cut their teeth at CorePower Yoga (Ament as the chief operating officer for eight years, and Amendola as director of operations, also for eight years), helping the brand grow to more than 160 studios nationally. That experience was an invaluable asset to the duo when they decided to make the leap from their lofty positions to one where they had to build their vision from the ground up.
"We were ready," shares Ament. "We built CorePower to a national brand with 160-plus studios, but there isn't much creativity left when you get to that size, and that's what we love. And that's what was exciting, to envision something and help it come to life."
That accrued experience pops out at you as soon as the elevator doors open (ALTR is located on the second floor of the Washington Building). Walking in, you are greeted by a hanging bike rack where cyclists can park their favorite two-wheeled vehicles; a seating area with coffee tables and charging ports where business professionals—or any sort of professional—can catch up on emails and relax before or after work; a space where the latest and greatest in ALTR fashion is sold; and a bar where cold-press coffee and kombucha on tap are slung.
"The whole idea behind this space was to take advantage of busy professionals and make it convenient for them," says Amendola.
That convenience isn't just inside the entry, either. From there, a wall of lockers—each complete with charging capabilities—guides you to an open space where private dressing rooms, blow dry bar, and showers—fully stocked with high-quality amenities, including shampoo, conditioner, body wash, lotion, and hair-styling tools and towels—can be found for all of your pre- and post-workout needs.
This convenience hits you in the wallet, as well. In a world of Netflix, Blue Apron, Dollar Shave Club, and other subscription services, Ament and Amendola have opted for the pay-to-play model. Visitors have the no-strings-attached freedom of choosing from one session at a time all the way to a monthly pass where they're entitled to one session per day (and one session is all you need, trust me). The best part? They never expire.
"We really put ourselves in the mindset of today's fitness consumer," Ament says. "There are so many fitness choices, and there are so many people who want to belong to not only one place, but maybe two and maybe three, and it gets very expensive. So, we wanted to have an option everywhere in between to fit any individual who's coming in for a workout."
Now that the informational portion of the presentation is over, it's time to talk a little bit about the star of the show—the classes. Each one is 50 minutes in length and built around the philosophy of HIIT. What's HIIT? To put it simply, it's 50 minutes of ass kicking. But in the words of ALTR:
"It's a science," Amendola says. "There's a certain amount of work. You've got to work your body at a high level of intensity, and then you need to have some active recovery periods. And what happens during that is your muscles are fighting for oxygen, you give them the oxygen, and then you go back into that period of high-intensity work again. And it boosts your resting metabolism. So, you're not only burning calories during the class, you're burning calories up to 48 hours after class."
If your first thought is, "How can I survive a workout like this for 50 minutes? The most exercise I get is running from my desk to the doughnut shop," never fear. There's still a spot for you on their custom-engineered, spring-loaded floor (designed for energy return and to help keep your joints happy).
"There's an intimidation factor to workouts, and I get it. I've been intimidated by workouts myself," Amendola shares. "This really is a workout for everyone. So, if you're a fitness enthusiast and you want to come in here and go balls out, you totally can. Likewise, if you're new to fitness, we have an option to take every single movement we do to a place that gets you to the next level. We don't want anyone to feel they have to already be fit to come to ALTR and have to understand kettle bells or squatting, or rowing. We'll teach you."
Who does the teaching? Enter: the ALTR pros. A group of personal trainers and pseudo cheerleaders—helping you power through the final seconds or reps of an exercise—from around the Twin Cities, handpicked by Ament and Amendola themselves not only for their fitness IQ but for their ability to connect with clients as well.
Before all the pulse-pumping action begins, these exemplars of exercise give the participants a rundown of the movements that'll have them sweating in the upcoming 50 minutes, and from there it's one big, exhausting blur of push-ups, Nordic skiers, kettle bell swings, and whatever other surprises they have brewed up.
All of this takes place on the battlefield of determination—or, the gym, as they like to call it. But in all honesty, it could be a battlefield. The booming speakers blast high-octane hits. The custom light system flashes and pulsates to the rhythm of the music, the rest of the class, your brothers and sisters in arms—or fitness—just trying to survive. Water bottles line the window sill, your canteens hydrating you throughout your journey. And the pros, your platoon leaders, shout out directions, words of encouragement, and high-energy woos while handing out congratulatory high-fives.
It's not easy. But as the old saying goes, "Anything worth doing isn't going to be easy." You won't find that line framed on the walls at ALTR, but it's a spirit they embody. Your fitness journey should be filled with challenges, it should be filled with pushing yourself to greater heights, it should be a rollercoaster of fun and excitement—and you can find all three of those on the menu at ALTR.
Facebook Comments