This past weekend, I camped with good friends at Hok-Si-La park in Lake City. Despite the rain and cold, we had a great time. A campfire never felt so good.
One of the best parts of the weekend was hiking at Frontenac State Park (one of the few times it wasn't raining). I had no idea the park was right there all those years we'd gone camping, waiting to be discovered and explored—just five miles northwest of Lake City off Highway 61 and County Road 2; approximately 10 miles southeast of Red Wing.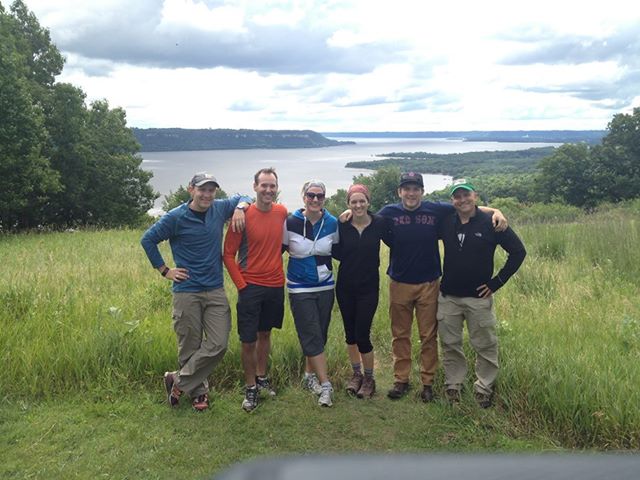 Frontenac is a nearly 3,000-acre park on Lake Pepin, a natural widening of the Mississippi River. We parked at the main lot and were welcomed nearly immediately by an incredible vista.  It seemed like a natural photo op, so we took advantage of Minnesota's lovely scenery (our group is at right). Frontenac is known for two things—beautiful views and birds. Serious bird-watchers flock to this park (get it? flock?), hoping to see some of over 250 species of birds, many bald eagles among them. As a matter of fact, we saw two bald eagles before we started our hiking journey. I kept my eye on the sky but didn't see as many birds as I thought I would in the clearing, but definitely heard them while we were hiking.
Our well-marked hike started out gradual, with conversation flowing easily, and after awhile the landscape changed to a series of steep wooden stairs and lung-busting switchbacks as we climbed up the river bluff. At this point, conversation was practically non-existent, we were all concentrating on the task at hand!  Interpretive signs guided us along the way, and just like water stops during a long road race, I was glad to have an excuse to slow down for a few seconds and take a little break.
We hiked along shaded forest trails to In-Yan-Teopa, a Dakota name meaning "Rock with Opening." It's a natural limestone rock balancing on a bluff. As legend has it, the rock had religious importance to American Indians. I could see why. A rock formation like that seems more at home in a desert than Minnesota. We all admired it before moving on.
I also learned that one of the first Europeans to see this area was Father Louis Hennepin and his exploration party in 1680, the area later became home to French posts before the territory was ceded to Britain, and in (somewhat) recent years, a stone quarry operated within the park boundaries, providing high-quality limestone.
The best lessons of all, though, were that hiking can be a great bonding opportunity with new (and old!) friends, southeast Minnesota is often overshadowed by the North Shore, and it's just as pretty!, and I'm more out of shape than I thought I was.
Facebook Comments