My mom used to say that for some things in life you need to "acquire a taste"; she usually said this after I sipped her wine or coffee and made a face. "Oh, you have to acquire a taste for it. And you will." As with pretty much everything, she was right. I made a slow progression from hot chocolate to mochas to lattes; from pinot grigio to cabernet sauvignon. My appreciation for and education of tea came via a similar journey. My two best friends loved tea in college; I was still drinking hot chocolate. I wanted to see what all the fuss was about, but to me tea tasted like warm, watered down, flavored, um, water. My girlfriends started me on the pinot grigio (i.e. sweet/flowery) of tea: Tazo Passion. It got me started, and eventually became much too sweet. Now I drink English breakfast and Earl Grey with the rest of them, and I prefer loose leaf over bags. I started buying tea cups for my collection and registered for a tea set for my wedding (and my girlfriends made sure I got it—thanks ladies!).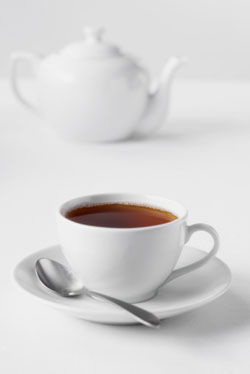 I'm thankful for my tea education because it meant I could attend high tea with my girlfriends, where not only is there good tea, but delicious goodies like scones, sandwiches, and cupcakes. With last night's season three premiere of Downton Abbey, it got me thinking about tea, real sit-down-and-spend-time-to-savor-it tea. If you want a taste of an English tradition right here in Minnesota, you don't have to look too far. Grab your girlfriends, add in some shopping, and make a day of it. (Tip: Reservations are always recommended, if not required, no matter where you're contemplating.)
The Saint Paul Hotel: One of our most elegant and historic properties in the Twin Cities, the Saint Paul Hotel offers a five-course tea event several times nearly every month (even more often during the holiday season).
Brit's Pub: Our most famous, and favorite, British pub in town, Brit's in downtown Minneapolis serves high tea nearly every afternoon. Not only is the event perfect for girlfriends, but also mother-daughter outings, with the kid's tea offered at a reduced price and with kid-friendly snacks and beverages.
The Mad Hatter Tea Room: Downtown Anoka is a quaint, yet popular, destination for ladies who lunch and antique. The Mad Hatter is just the spot for a break in the afternoon with formal teas offered nearly every day.
Avalon Tea Room: Located in White Bear Lake, the Avalon not only serves up tea and other offerings nearly every day, but also hosts special events around the year.
Lady Elegant's Tea Room: Set in a cozy atmosphere in St. Paul, Lady Elegant's tea menu provides several options (parlor tea, tea sampler, dessert tea) at different price points. A children's menu (for kids older than five) also is offered.
Maudie MacBride's Tea in the Woods: You'll think you've traveled much farther than West St. Paul when you overlook the lawn, pond, and wildlife of Maudie's property while you sip your tea or frozen hot chocolate.
Wisteria Twig: Travel down to Red Wing for a very traditional take on tea; Wisteria Twig not only offers four-course tea every day, but also a scrumptious cafe menu.
Facebook Comments