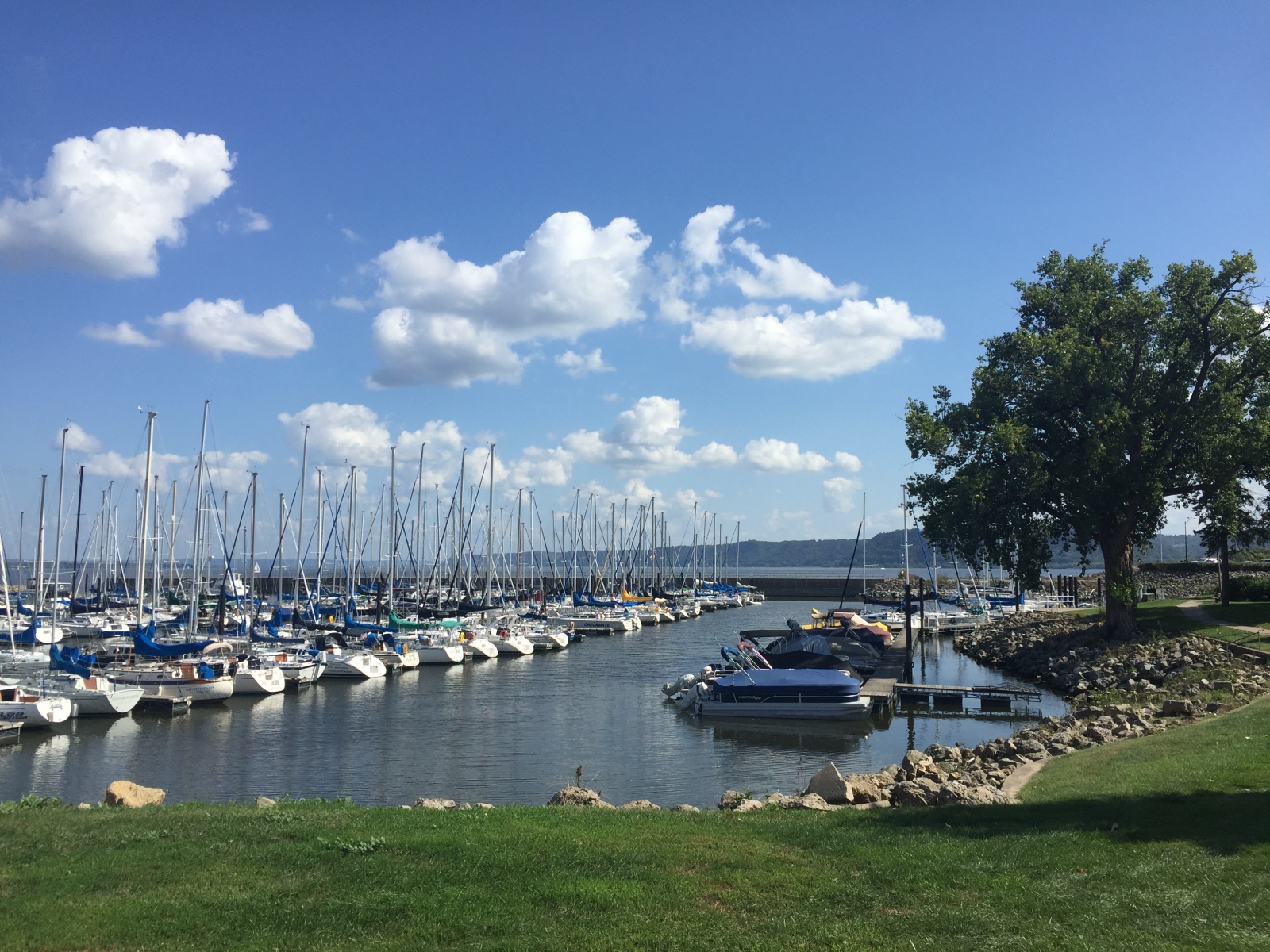 Photo Courtesy Katie Ballalatak
I am Minnesota born and raised, a hobby farm girl at heart, and a city girl in training—but somehow I've never managed to make it to the southeastern part of the state. After catching up with an old childhood friend who had come up to visit me from Lake City, we decided I needed to make the trek down there. We invited a mutual friend and set up a plan to climb the Barn Bluff, walk around Red Wing's historic downtown, and spend some time in Lake City. While our plans shifted as the day got hotter (90 degree weather in the middle of September? No, thank you), we still managed to hit many things on our to-do list and then some. Here were the top stops of the day to inspire your own trip:
The Lemon Poppy Seed Ice Cream at The Scoop Ice Cream Parlor
I'll be honest—ice cream isn't my favorite treat. I know, I know, it's a crime. But this lemon poppy seed gem was incredible. I felt like I was eating a lemon poppy seed muffin and I was pretty happy about it. Plus, The Scoop Ice Cream Parlor was right across Lake City Marina, so the view was fantastic and conveniently located to the little pier that jutted into the water. A note for chocolate fanatics, too—you'll really want their fudge ice cream.
Lake City Marina
Lake City Marina (pictured above) on Lake Pepin (the largest section of the Mississippi River) is gorgeous. Even though it was later in September, sailboats decorated the water and speed boats pulled tubes with excited kids enjoying the last hot day of the year. We finished our ice cream while we sat on the pier, and one of my friends explored on the rocks below.
Fair Trade Book Store
I fell in love with Fair Trade Book Store right away. Besides briefly meeting the book store's customer service dog, Reveler, my friends and I wandered in and around book shelves before both employees came up to say hi. The woman informed us that newcomers were always gifted a book. She asked us what we liked to read and proceeded to find books that matched our reading habits. I couldn't have been happier, leaving with my "new" book and a whole list of other books and Minnesota authors to check out. 
Downtown Red Wing
This might seem rather vague, but I couldn't pick just one store. Besides, it's the whole experience that I loved so much—the buildings were pretty, and my friends and I talked while we walked and explored. We specifically stopped at a number of shops besides Fair Trade Book Store, including Red Wing Shoes, Uffda Shop, Mandy's Coffee & Café, and Hanisch Bakery & Coffee Shop.
The Drive Down to Red Wing
If there was one thing I took away from my day trip, it's that I had yet (in my 22 years of life) experienced the beauty of Minnesota's bluff country—why did it take me so long?! I very quickly decided that I needed to find more reasons to visit southern Minnesota.
Due to the unusual heat, we decided climbing the Barn Bluff wouldn't be the smartest idea (we were literally sweating just walking down the street) so we did the next best thing and scheduled another day trip for mid-October. Next time, the leaves with be changing, and the crisper weather won't stop us from climbing and exploring one of the southeastern Minnesota's best bluffs.
Facebook Comments