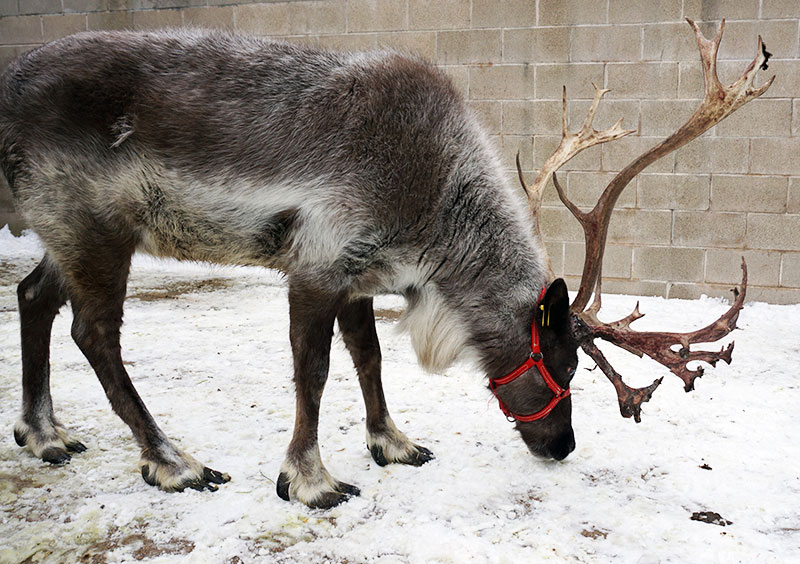 The newest reindeer on the Minnesota Zoo's Northern Trail needs a name, and the Minnesota Zoo wants you to help pick it.
Photo courtesy Minnesota Zoo
"You know Dasher and Dancer and Prancer and Vixen, Comet and Cupid and Donner and Blitzen. But do you recall the most famous reindeer of all?" Okay, so the song may say Rudolph, but the Minnesota Zoo is hoping to get one of its own to help Santa this year.
Starting Dec. 3, the Minnesota Zoo's newest reindeer is looking for a jazzy name so that Santa will pick him out of the lineup as a backup reindeer. You have until Dec. 22 to submit a name, and maybe, just maybe, he'll be picked by Santa for his Christmas sleigh ride.
The Minnesota Zoo is one of the few places in Minnesota where you can see reindeer and their close sub-species relatives caribou. While reindeer farms like Crystal Collection, Johmar, Kendalville, and Bluestem have reindeer that they take care of and lend to holiday and private parties, the closest you'll see wild reindeer is probably Scandinavia and the closest you'll see wild caribou is Canada and Alaska.
At the zoo, the now nine-animal herd (five caribou, four reindeer) lives on two acres along the Northern Trail. Zookeeper Cindy Bjork-Groebmer has been at the zoo for 29 years, and she loves the herd's habitat because of how natural it truly is—she's seen coyotes cross in and out of it and bald eagles flying down to the water lake.
When you visit the Minnesota Zoo's caribou and reindeer herd, Bjork-Groebmer has some insight for you on the herd and how to tell the two animal types apart.
---
"We used to have reindeer years ago in a separate children's zoo—that's actually where our current zoo director [John Frawley] worked. He worked with reindeer and he loves reindeer. Anyway, in the past, we kept the reindeer in a separate area, but it's probably been three years since they've joined the same habitat as the caribou. They're mixed together, and they do pretty well. They're a herd animal, so they're happy to have more animals.
"Caribou seem taller, lankier; reindeer are shorter, stockier. The color of the reindeer can be more varied with different colors than I would say caribou are. They say reindeer are more grazers, and caribou are more browsers. Grazers like eating grass, but browsers might eat more shrubs or different branches and leaves and things. The reindeer have thicker fur.
"The reindeer young we found to be kind of different. When they give birth, mothers nurse laying down, but caribou are always standing. In the wild, the caribou calf would be ready to run whereas reindeer have a few days, then stand up and nurse. Their personalities are different. Caribou are much wilder and more wary about things. Reindeer are more people oriented and not as spooked.
"Because they're in a herd, you kind of get attached to them at a distance. My favorite part of my job is being able to watch the animals every day after you've fed them or cleaned up or done all the husbandry part of taking care of them—to just then observe them in their habitat. I'm happiest when I know that at the end of the day, I did my best to take care of these animals."
This interview has been edited for style, clarity, and length.
Facebook Comments