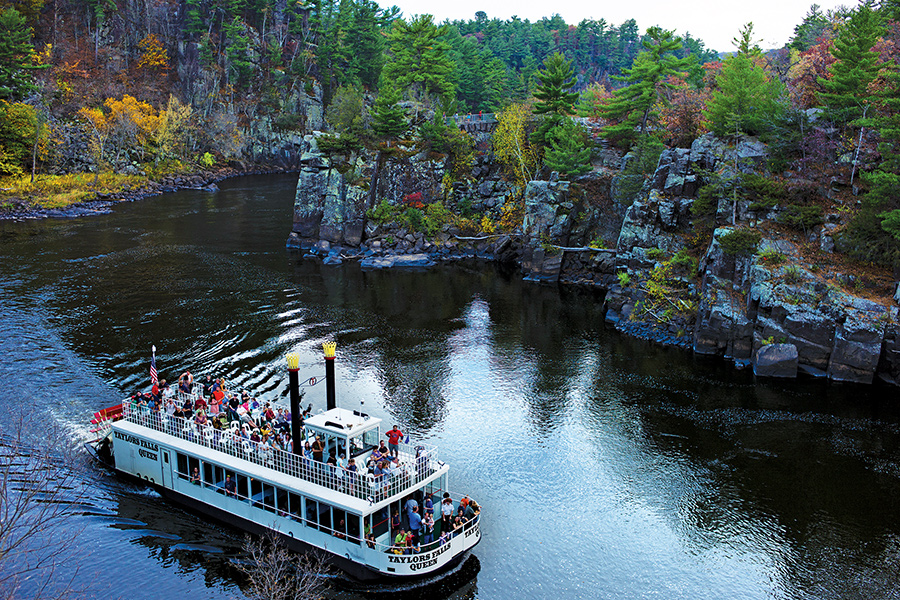 photo by Andy Richter
---
It's easy to get bogged down and worn out by big city living. Sometimes you just have to head out and get back to nature. Luckily, outdoor adventure is easy to find in the Twin Cities. From downtown parks to nature preserves just a short drive away from the city lights, locals love enjoying the natural beauty of Minnesota.
A favorite getaway for many Twin Citians is the short trek to Taylors Falls, a small community nestled within the craggy bluffs that tower over the St. Croix River, delineating the border between Minnesota and Wisconsin. The hour-long drive north is well worth it for a day of hiking and scenic views at Interstate State Park. Beautiful in any season, it is especially popular in the fall when the brilliantly-colored foliage is in full effect along the bluffs.
The bulk of the park is located on the Wisconsin side of the St. Croix. On the Minnesota side, however, there is a half-mile trail that winds around glacial potholes drilled in the rocky bluffs from years of water erosion. Make sure to stop by the information center and buy a parking day pass before hitting the trails. Hikers can venture down a trail formed by ancient lava flows and walk down a set of stairs into a pothole at least 15 feet deep. Rock climbing up the bluffs is another popular past-time and visitors often spend an afternoon gliding down the river on a boat tour with history lesson included.
After exploring the Minnesota side of the park, grab a bite to eat at The Drive In, a 1960s burger joint just down the block, and fuel up for the day ahead. Then, cross the bridge into Wisconsin and re-enter the park.
Here's a tip: Grab a trail map before you start exploring. While the trails are clearly marked, it's a good idea to map your route ahead of time. Hop on Summit Rock Trail to wind your through forest and rocky landscapes to reach the highest point of the park. With spectacular views of the gorge and river below, this trail lends itself to prime selfie locales. And keep an eye out for Old Man of the Dalles rock on the Summit Rock Trail—you'll know it when you see it.
Interstate's winding trails take hikers from the shores of the river to the highest point of the bluffs and back down again. Surrounded by forest and glacial rock outcrops, the park provides a peaceful escape from city life, without having to travel hours to get your nature fix.