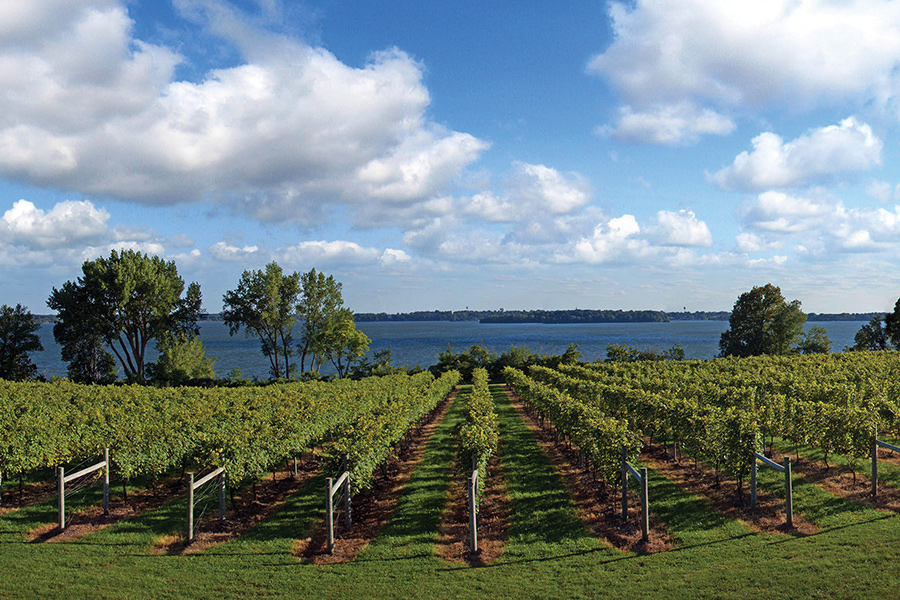 The Winery at Sovereign Estate
photo courtesy Sovereign Estate
---
Known as the "paradise of the northwest," the breezy lake town of Waconia is beautiful to visit any time of year. Take a short 40-minute drive from the Twin Cities through scenic Chanhassen and Victoria. The drive west on Highway 5 will also take you past the University of Minnesota Landscape Arboretum—if time allows, we highly recommend you stop and smell the roses.
Once you arrive, start your day on a caffeinated note at Mocha Monkey Coffeehouse. Located in a unique, century-old home, the cafe features inventive drinks like the dark chocolate and hazelnut Jungle Mocha and the Lucky Monkey Mocha with white chocolate and crème de menthe. Plus, their food menu includes fresh baked goods, gourmet soft pretzels baked from scratch and twisted by hand, and soups and sandwiches.
Even if you fall in love with the city's main street shopping, make sure to get out on Lake Waconia. The more than 3,000-acre lake is one of the largest in the area and hosts a number of species of fish and other wildlife. Family-owned boat rental shop Towne Marina is located on the southern shore of the lake and has everything you'll need to enjoy an afternoon on the water. You can even dock your boat and explore the hiking trails and picnic areas on Coney Island—Waconia's lush counterpart to Brooklyn's roller coaster-studded peninsula.
With three wineries in Waconia, sipping a glass of wine made from Minnesota grapes is a must. Sample from a robust lineup of award-winning, locally grown red and white wines in Parley Lake Winery's historic barn built in 1885. Wind down the road and transport yourself to Napa Valley at The Winery at Sovereign Estate, where rolling hills of vines and views of Lake Waconia pair with cold-climate vintages and a seasonal bistro menu. Or visit Schram Vineyards Winery & Brewery for a variety of wine and beers, plus bocce ball courts, food trucks, and live music that is sure to make you want to visit again.

Lola's Lakehouse
photo by todd buchanan
---
Cap off your trip by grabbing a bite to eat on the lake. Lola's Lakehouse serves perfect lakeside-vacation fare: crisp fish and chips, a large selection of fresh oysters, and some of the best crab cakes in the Twin Cities. The restaurant's wide doors open onto its deck, which reveals spectacular views of the lake and makes the whole place feel like it is outdoors—which in Waconia is right where you want to be.
Facebook Comments