The Midwest is home to an abundance of historic sites, bike trails, cultural opportunities, interesting architecture, state parks, phenomenal dining and shopping, lakes, lakes, and more lakes, and unique lodges and resorts. It truly is a vacation mecca. We'll help you find destinations that are perfect for relaxation (if that's what you want), outdoor adventure (if that's what you want), romance, quality family time, or a girlfriend getaway, from lodges in the deep woods to hotels with a more urban vibe. You work hard so that you can plan a spring or summer trip. Make the most of it.
 
North & Northwest
BEARSKIN LODGE
Distance from the Twin Cities: Approximately 285 miles, or a 5.5-hour drive  • A 10-word summary: First-class secluded cabin lodging, edge of Boundary Waters wilderness, Gunflint Trail.  The appeal:  Visitors travel from all parts of the U.S., Europe and Asia to stay at Bearskin Lodge, the only resort located on East Bearskin Lake, a quiet Boundary Waters Canoe Area Wilderness (BWCAW) entry point. "Our guests want to experience the wonders of a BWCAW adventure by day, but return to a cozy fireplace, warm shower, and soft pillow at night," explains Sue McCoughlan, who co-owns the resort along with her husband Bob. Lodging options include four lodges and 11 classic cabins with fully supplied kitchens, private docks, and privacy within a deep woods setting. It's the perfect blend of wilderness and luxury. Area attractions: The Great Outdoors are the main attraction: area wildlife viewing, excellent fishing, kayaking, canoeing, and hiking. For those wanting to drive out of the deep woods, Grand Marais is 26 miles away. The Towering Pines Canopy Tour zip line experience is 20 miles up the Gunflint Trail, and the Chik-Wauk Museum is 28 miles away, at the end of the trail. bearskin.com
 
RUTTGER'S BIRCHMONT LODGE
Distance from the Twin Cities: 235 miles, on the northwest shore of Lake Bemidji • A 10-word summary: North Woods solitude, amazing beach/lake views, tradition of hospitality. The appeal: When the same family has successfully run a resort for more than 110 years, you know that family takes great pride in what they do and do it well. This is the case at Ruttger's Birchmont Lodge, run by the Ruttger family. The resort offers a consistent, personal experience and a warm, friendly ambiance. Guests can stay in a lakefront room, townhome, cottage, or romantic whirlpool suite with a fireplace, all spread out along 1,700 feet of natural sand beach. Families return year after year for the location, the supervised kids' activities, the chef offerings at the on-site restaurant (try the walleye), and the "rainy day" options, including an indoor pool, sauna, whirlpool, and game area. When the weather cooperates, enjoy dinner and a glass of wine on the patio while the kids play 15 feet away on the beach, take a canoe or kayak out on the lake free of charge, then make s'mores at twilight. Area attractions: Golf on nearby championship courses, bike along the Paul Bunyan Trail, or head to the Putt-N-Go Amusement Park for bumper boats, mini golf, and go-karts. The college town of Bemidji is a short drive away. ruttger.com
 
LEECH LAKE
Distance from the Twin Cities: About 200 miles, or a 3.5-hour drive. • A 10-word summary: Nationally recognized fishing getaway, unforgettable fun with family and friends. The appeal: Whether fishing for musky, walleye, pike, or panfish, the Leech Lake area is an angler's paradise. It's so much more than a fishing destination, though. It's also a great place for hiking and biking on scenic wilderness trails, playing a round (or three) of golf, exploring state parks and forests, and checking out the town of Walker. Area attractions: Forestedge Winery and Farm, Leech Lake Brewing Company, Cass County Museum, Northern Lights Casino, and fun festivals and events. leechlake.org
 
THE LODGE ON LAKE DETROIT
Distance from the Twin Cities: Approximately 200 miles, about a 3.5-hour drive in the city of Detroit Lakes. A 10-word summary: Award-winning, affordable, eco-friendly upscale lakefront hotel and day spa. The appeal: Not only is The Lodge on Lake Detroit the newest hotel in the Detroit Lakes area, offering beautiful modern accommodations, all 54 rooms are lakefront to show off dramatic sunsets over Big Detroit Lake. "Our guests frequently comment about the spectacular service they receive from our team, and about the cleanliness of our rooms and suites," says Chris Holland-Mehlaff, who co-owns the lodge with her husband Scott. "People keep coming back for our complimentary full hot breakfast each morning—we make our hot egg frittatas using freshly grown herbs—and the indoor swimming pool, 24-hour fitness facility, The Spa Within, LoLaD's bistro and lobby bar, and frequent 'Live at the Lodge' music events for guests to relax and unwind." Guests also love fishing, playing—or relaxing—on the beach, and the focus on regional artists and sustainable initiatives in the guest rooms, in the rain gardens, and in the locally-made furniture, décor, and artwork throughout the space. Insider tip: Book a room from now through May 22, 2014, and reserve a one or two night reward package, including a resort credit to truly customize your getaway. Stay April 5 for an 80s-themed "Murder High Reunion Class of '84" murder mystery event, May 10 (Mother's Day weekend) for live music and a delicious wine tasting dinner, or June 13 for a Father's Day shrimp boil and live music event. thelodgeonlakedetroit.com
 
North Shore
LUTSEN RESORT
Distance from the Twin Cities: 250 miles, in the Lutsen-Tofte area, about a 4.5-hour drive. A 10-word summary: Lakeside setting on Lake Superior's rugged shore, romantic, rejuvenating, relaxing. The appeal:  "In spring, the waterfalls and rapids are quite a site," says Nancy Burns, owner of Lutsen Resort. With the amount of snow we've had this year, she anticipates a pretty dramatic spring melt. Spring is also a great time to relax, enjoy the food, enjoy live music in the lobby, enjoy the wine (Lutsen Resort's unique menu and wine pairings landed it on Wine Spectator's list), and take advantage of discounted rates and specials through the end of May, like the two-for-three special, when you stay two nights and get a third night free. Spring is also a good time to think ahead to summer vacation, when guests can sign up for memorable guided sea kayak tours, yoga on the beach, fly fishing lessons, and beach campfires. Lutsen Resort offers complimentary naturalist programs, guided hikes, kids' camp, pitch and putt golf, a nine-hole disc golf course, shuffleboard, and two swimming pools with hot tubs and saunas. Insider tip: Make time for relaxation. The Adirondack chairs along the expansive beach are a great place to sit and watch the lake, or pamper yourself with a massage at the WatersMeet Massage and Wellness Center. lutsenresort.com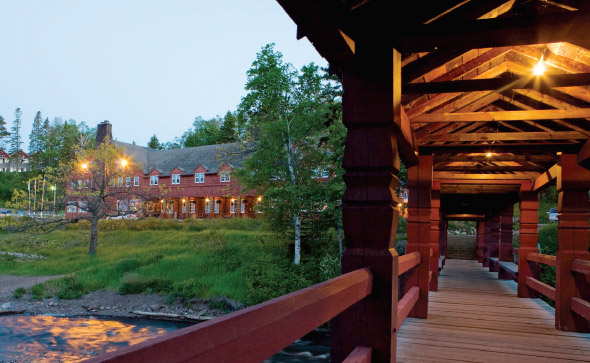 BLUEFIN BAY ON LAKE SUPERIOR
Distance from the Twin Cities: 240 miles, in the Lutsen-Tofte area, about a 4.5-hour drive. • A 10-word summary: We bring you closer to the lake, unforgettable vacation experience. The appeal: At Bluefin Bay, the many moods of the world's largest freshwater lake can be observed from a walk along the beach, along the rocky shoreline, along the boardwalk—or from right within Bluefin's luxurious lodging accommodations (think in-suite fireplaces, whirlpool baths, and modern conveniences). Whether visiting in the spring or summer, the area is home to beautiful waterfalls, miles of hiking and biking trails, in-land lake canoe launches, chartered fishing or sailboat excursions, and kayak adventures. Other Bluefin Bay amenities include an indoor and outdoor swimming pool, yoga, a fitness facility, a heated outdoor hot tub, complimentary kids' activities, naturalist programs, and free use of canoes, kayaks, and bikes. Insider tip: From a spa treatment at Waves of Superior Spa, to fun Friday night BBQs, lakeside dining, or beach bonfires, every aspect of the resort draws inspiration from its close proximity to Lake Superior. bluefinbay.com
 
BEST WESTERN SUPERIOR INN
Distance from the Twin Cities: Approximately 250 miles (about 4.5 hours) in downtown Grand Marais. • A 10-word summary: Affordable lakefront lodging, renovated rooms, relaxing destination, great weekend getaway. The appeal: This hotel has a reputation for attentive and friendly service, as well as modern and comfortable lakefront rooms and luxury suites overlooking Lake Superior. Guests appreciate the affordable rates, complimentary hot breakfast, and pet-friendly designation (in certain rooms).  The real draw, however, is the location on Lake Superior. "Imagine lying in bed, resting, enjoying a quiet peaceful environment," one guest commented of his recent stay. "All you can hear is the methodic crashing of the waves against the shore." Explore the nearby town of Grand Marais, and walk to Artist's Point. Insider tip: Get up early enough to watch the sun rise over Lake Superior. You can snap some amazing photos from the balcony. bestwestern.com/plussuperiorinn
 
COOK COUNTY
Distance from the Twin Cities: 230 miles, about a four-hour drive (Cook County consists of four communities, Lutsen-Tofte-Schroeder, Grand Marais, the Gunflint Trail, and Grand Portage. A 10-word summary: Minnesota's playground! Lake Superior, Boundary Waters, Sawtooth Mountains, endless adventure. The appeal: Cook County has been referred to as "the Boulder of the Midwest," and for good reason. It's an outdoor adventure paradise, home to Lake Superior, Boundary Waters Canoe Area Wilderness, High Falls (Minnesota's Niagara), the Sawtooth Mountains, Eagle Mountain, the Superior National Forest, and the Gunflint Trail. National Geographic featured Cook County as a dog-friendly destination in The Dog Lover's Guide to Travel. Even getting here is scenic. From Duluth, you drive legendary Highway 61, also named the North Shore National Scenic Drive. (That's right—the drive to Cook County is so scenic, it's officially scenic.) Area attractions: Amidst Cook County's wild beauty, there is culture, history, and a little bit of quirkiness. There's North House Folk School and the Grand Marais Art Colony; the lighthouse and Artists' Point in Grand Marais; four of the North Shore's uncrowded state parks; over a dozen eateries, including perennial favorites like Sven & Ole's, the Angry Trout Café, and World's Best Donuts; a destination spa and a treetop zip line tour; and mountain biking, family biking on the Gitchi-Gami State Trail, Boundary Waters paddling, sea kayaking, and virtually infinite hiking. In short, there's always something new to see and try.  "In addition to the beauty, adventure, and endless culture of the Arrowhead region, we have year-round festivals and events that draw a diverse group of travelers from all over the world," says Linda Kratt, executive director of the Cook County Visitors Bureau. "We indeed are "Way North of Ordinary" and think our visitors agree." Insider tip: For spring waterfall travel inspiration, check out VisitCookCounty.com/Waterfalls.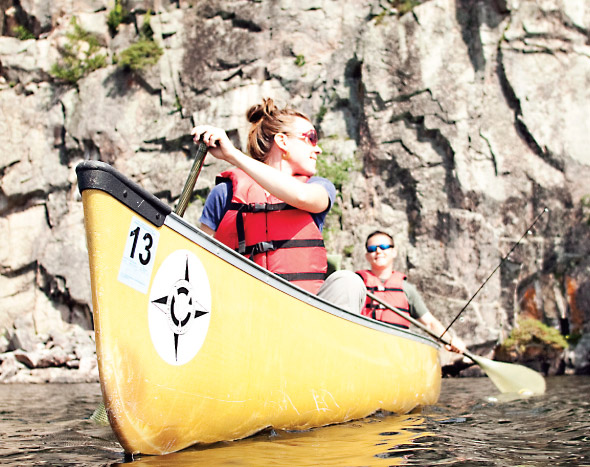 West
ARROWWOOD RESORT
Distance from the Twin Cities: 145 miles, in Alexandria • A 10-word summary: Pet-friendly indoor waterpark hotel, on-site spa, restaurant, golf, family activities. The appeal: After a brutal winter, a 38,000-square-foot indoor tropical waterpark can cure the blues for parents and kids alike. Other popular features include the Darling Reflections Spa, a full-service marina (rent a pontoon), an 18-hole golf course, childrens' activities, horseback riding, and evening bonfires. Lodging options range from lodge rooms and suites with lakefront views to luxurious four bedroom townhomes. Insider tips: A gluten-free menu is available. arrowwoodresort.com
 
DICKERSON'S RESORT
Distance from the Twin Cities: 100 miles, about a two-hour drive in the town of Spicer. A 10-word summary: Small family-friendly Minnesota cabin resort with a great beach! The appeal: In less than two hours, you can be relaxing in a beachfront cabin, without the traffic you'd encounter going "Up North." In addition to guests coming from cities throughout Minnesota, visitors travel from Wisconsin, Iowa, Nebraska, South Dakota, Michigan, Illinois, and Missouri. "We've had guests from every state," says Connie Dickerson, who co-owns the resort with her husband Bob. "We've had guests from Canada, Japan, France, Australia, and one family coming from Germany for the tenth time this summer!" The main attraction is the peaceful setting on an amazing sandy beach on Lake Florida, but another draw is the little touches personalizing the experience—fresh chocolate chip cookies upon arrival, donuts in the morning, pizza parties, hayrides for the kids, campfires and s'mores, water activities (guests have use of complimentary water bikes and kayaks). "We hope people keep coming back because they feel comfortable here," Connie says. "They meet new friends and want to vacation with them again, year after year—same time, same place!" A special occasion: This year is the 90th anniversary of Dickerson's hosting family vacations. Bob's great grandfather purchased a farmer's pasture and started the resort with seven cabins in 1924. In 1946, Bob's parents bought the resort. Bob bought the resort in 1976, and will be adding the ninth cabin this season. Area attractions: Sibley State Park, Prairie Woods Environmental Learning Center, Glacial Lakes Bike Trail, Little Crow Water Ski Team performances, Glacial Ridge Winery, shopping in the unique art community of New London, and five golf courses within 20 minutes. dickersonsresort.com
 
South
NORTHFIELD
Distance from the Twin Cities: 35 miles south  • A 10-word summary: Quaint college town, Cannon River, excellent shopping, dining, architecture, history. The appeal:  The Riverwalk Market Fair every Saturday from June through October, local art on display at the Northfield Arts Guild, and unique shops downtown, such as the Northfield Olive Oils and Vinegars store—a destination unto itself. The beauty of Northfield can also be seen in the 900-acre Cowling Arboretum ("The Arb") on the Carleton Campus, in the Japanese Garden, and along the riverwalk. Insider tip: Northfield Olive Oils and Vinegars has over 65 varieties of infused extra virgin oils and balsamic vinegars at some of the lowest prices in the country, along with a helpful, knowledgeable staff. They also offer one of the largest selections of ultra premium virgin olive oil in the Midwest.
visitingnorthfield.com northfieldoliveoilsandvinegars.com
 
WINONA
Distance from the Twin Cities: 120 miles south along the Great River Road Scenic Byway 61.  • A 10-word summary: Sculpted river bluffs, natural beauty, urbanity and old-world charm. The appeal: Trails that wind through hardwood forests offer adventure-seekers and novices alike a scenic stage for outdoor activities on land. The Mighty Mississippi beckons paddlers, boaters and swimmers with its wide channel, intimate backwaters and sunny beaches meant for lounging. Visitors love unique signature festivals like the Great River Shakespeare Festival and Minnesota Beethoven Festival, fun events, the Minnesota Marine Art Museum (with pieces by Monet, Renoir, and Van Gogh) and the award-winning Winona County History Center. Insider tip: Winona's Park and Recreation offers free canoeing/kayaking, and visitors can try stand-up paddleboards. One of the best panoramic views of the river valley is from the Garvin Heights Overlook. While you're up on the bluffs, stop at Garvin Heights Vineyard. visitwinona.com
 
Illinois
TRUMP INTERNATIONAL HOTEL & TOWER – CHICAGO
Distance from the Twin Cities: About a seven-hour drive, or a 1.5-hour flight  • A 10-word summary: Deluxe guestrooms, sophisticated dining, spa services, signature programs, breathtaking views. The city: Chicago has the Magnificent Mile, Millennium Park, the Art Institute, Second City, 'da Bears, deep dish pizza (and nationally-acclaimed restaurants), jazz clubs, sandy beaches, and a really beautiful skyline. Chicago also has the world-famous 92-story Trump Hotel, making the Windy City the perfect close-to-home-yet-world-away destination. The hotel: Classy. Modern. Five-star. Spoiled. Spa-like. Impeccable service. Luxurious. Guests consistently use those words to describe their stay at the hotel, where guests of all ages are treated like royalty. (Kids especially love the "junior VIP" treatment.) Amenities include fully stocked state-of-the-art kitchens, three restaurants, a top-of-the-line fitness center and spa, indoor pool, and extra details like plush robes and slippers, neck warmers, sound machines, soaking tubs, and turndown service for a blissful night's sleep. Insider tips: The hotel is within walking distance of shopping, restaurants, museums, and the House of Blues. If you don't want to walk, a town car will take you anywhere within a one-mile radius of the hotel. trumphotelcollection.com/chicago
 
Wisconsin
HAWKS VIEW COTTAGES
Distance from the Twin Cities: 105 miles from St. Paul, about 45 minutes north of Lacrosse in Fountain City, Wisconsin (a very scenic two-hour drive). A 10-word summary: Deluxe forest cottages with hawks-eye views of the Mississippi River. The appeal: Since opening in 2000, visitors from every state in the U.S., and guests from different countries, have stayed at Hawks View. The unique treehouse-like cottages—built on steep bluffs, high in the treetops—are comfortable, luxurious, private, and provide truly inspiring views. Many guests come once or twice every year to relax and recharge. The area is great for hiking, biking, canoeing, kayaking, wine tasting, and exploring along the Great River Road. Area attractions: Elmer's Auto and Toy Museum, Prairie Moon Sculpture Garden, Minnesota Marine Art Museum (Winona), art galleries (Fountain City, Winona and Alma), the Mississippi River, Seven Hawks Vineyards, and other wineries on the Great River Road Wine Trail. hawksview.net
 
Iowa
OKOBOJI
Distance from the Twin Cities: Three hours south • A quick summary: Iowa's No. 1 family vacation destination! The appeal: The Iowa Great Lakes, collectively known as Okoboji (or "Boji" to the locals), is made of several communities surrounding Lake Okoboji and Big Spirit Lake. This beautiful chain of lakes area is a fun, affordable, close-to-home vacation destination. Visitors come for the abundance of water (and land) activities, the nightlife, the affordable rates, and the memories. For many families, an Okoboji vacation is tradition. Popular activities and events: Okoboji is possibly best known for excellent boating, fishing, and biking. The walleye opener/tournament is May 3-4, and 52 miles of bike routes helped race organizers select Okoboji as an overnight stop July 20 for the Register's Annual Great Bike Ride Across Iowa, or RAGBRAI, the oldest, largest, and longest bicycle touring event in the world. Other popular events include the Fourth of July Fireworks spectacular and the Third Annual Smoke on the Water BBQ Competition June 20-21. Area attractions: Historic Arnolds Park Amusement Park (free Saturday evening concerts in the summer), miles of multi-use trails, an off-road go-kart track, numerous golf courses, Preservation Plaza, Pearson Lakes Art Center, museums, Summer Theatre, Treasure Village Children's Theatre, and great shopping and dining. Insider tip: You can rent pleasure boats, pontoon boats, and paddleboats throughout the Iowa Great Lakes area, or relax on a scenic sunset cruise. vacationokoboji.com
 
#OnlyinMN
Gooseberry Falls, Nickelodeon Universe, the Minnesota River Valley Scenic Byway, an 18-foot-tall Paul Bunyan, the headwaters of the Mississippi River, the world's largest ball of twine. These all share a common theme—they're unique to Minnesota. Starting in April, Explore Minnesota will launch its "Only in Minnesota" campaign to celebrate what inspires local pride and draws visitors to the state. "Beyond our state borders, many travelers don't know why a Minnesota vacation would appeal to them. This is our chance to educate and inspire people by talking about the specific things that make us special," says Leann Kispert, marketing manager for Explore Minnesota Tourism. The campaign hallmark is the hashtag #OnlyinMN, and social conversations will be a key way to convey what makes Minnesota a unique vacation destination. It's also an opportunity to differentiate the state from other midwestern states. "We want anyone who loves anything about Minnesota to share it online with the hashtag," says Kispert. "I would love to see the hashtag as a trending conversation on social networks, but overall, the goal is to show people that they can pursue their travel passions during a memorable Minnesota vacation." The campaign and hashtag will be promoted through traditional and non-traditional media throughout the Midwest, including some new markets—Denver, Kansas City, and select cities in Canada. Consumers and businesses are encouraged to participate in an effort to show others what makes the Land of 10,000 Lakes such a great place to visit.  Join the conversation! #OnlyinMN