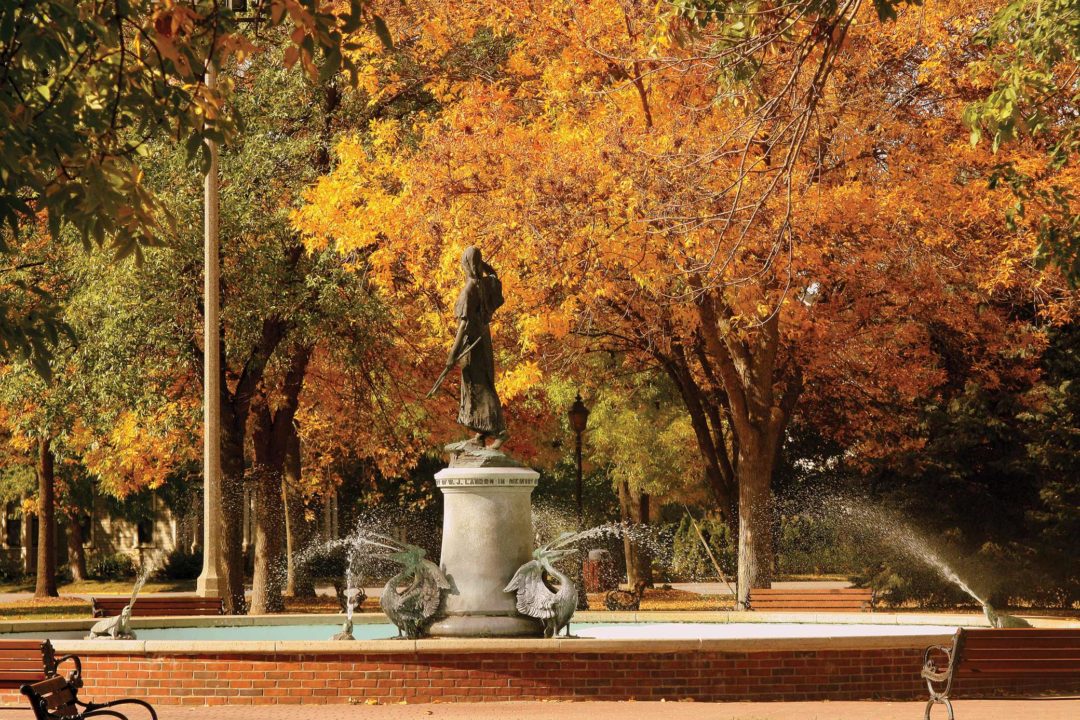 Windom Park with Princess Wenonah, Winona
photo by mary farrell
---
Mississippi River Valley: Rich in History
History unfolds in the Mississippi River Valley & Historic Bluff Country, where rolling hills and coursing waters tell of years gone by. Experience life in a late 1800s settlement, ride in a traditional Amish horse-drawn buggy, or stand next to a century-old working power dam.
Located a short drive southeast of the Twin Cities, Red Wing is the home of Red Wing Shoes. Learn about the history of the iconic brand at its flagship store and museum, and be sure to get a photo with the world's largest boot. Book a room at the historic St. James Hotel and enjoy luxurious suites, a full-service spa and more at the hotel built in 1875.
Travel further southeast along the Mississippi River to Winona and pay a visit to the Watkins Heritage Museum & Store. Learn about J.R. Watkins and the beloved company's 146-year history through vintage products, photographs and other memorabilia.
Learn about 19th-century life at the Houston County Historical Society located near Caledonia. The site features historic facilities like the First Presbyterian Church of Sheldon, built in 1862; the Flatten-Swenson Pioneer Home, a Norwegian-style log home built in 1880; and the Daley School, a one-room country schoolhouse.
Head southwest to the neighboring  towns of Harmony and Canton, which have two unique historical sites worth adding to your itinerary. The sinkhole at Karst Exhibit and Interpretive Site in Harmony displays the distinct geological makeup of the region. Limestone rides extremely close to the earth's surface, and heavy rain can cause it to collapse and create a sinkhole. Just a few miles south in Canton is the Mitson House Museum. The house, built in 1882, was the lifelong home of Florence Mitson, who kept the home and all its belongings in pristine condition.
Take a step back in time with the self-guided Historic Walking Tour of Preston. You'll learn about over 30 sites, including a 1902 Historic Milwaukee Grain Elevator and authentic Milwaukee Road boxcar and caboose, the O'Hara one-room schoolhouse on the county fairgrounds and more.
About 20 minutes southwest is Historic Forestville. Guides dressed in period clothing invite visitors to join them in daily tasks and conversation about settlement life in the 1800s. Located within the Forestville/Mystery Cave State Park near Preston, the attraction features original stores and buildings.
Nearby Lanesboro is a small town with many historic influences and attractions. The downtown district is listed on the National Register of Historic Places—many of the brick and stone buildings have changed very little since they were built more than a century ago. The town is home to the Lanesboro History Museum, located next to the Root River State Bike Trail. The museum features various historical pieces including Buffalo Bill memorabilia.
Home to one of Minnesota's largest Old Order Amish groups, the Mississippi River Valley & Historic Bluff Country is the perfect place to experience Amish culture firsthand. See horse-drawn buggies in Lanesboro, Harmony and Canton and take part in the culture with an area guide such as Bluffscape Amish Tours or R&M Amish Tours.
Head north to experience the Fillmore County History Center and Genealogy Library in Fountain. This county was one of the earliest ones settled in Minnesota, making it the perfect place to explore our region's history and personal family histories.
Many are familiar with Laura Ingalls Wilder's accounts of settlement life in the Midwest in her "Little House on the Prairie" series. From Fountain, travel a short distance west to Spring Valley and get a further glimpse into Wilder's life at Spring Valley Methodist Church Museum. Wilder and her husband, Almanzo Wilder, attended the 1876-built church.
Travel north to Rochester and tour Mayowood Mansion, the historic home of three generations of the Mayo family. Located just a few minutes from downtown Rochester, the five-story mansion contains 100 rooms and features Dr. Charles H. Mayo's personal art collection and antique furnishings.
Heading north on Highway 52 will take you to Zumbrota to see Minnesota's only remaining original covered bridge. The bridge, which has been restored, is located within Covered Bridge Park, an 80-acre expanse of natural and historic beauty. If you find yourself in the area during the third weekend in June, be sure to check out the annual Zumbrota Covered Bridge Music & Arts Festival.

Root River Fly Fishing, Preston
photo by explore minnesota
---
Mississippi River Valley: Outdoor Exploration
With six state parks, miles upon miles of trails and plenty of picturesque small towns to explore, the Mississippi River Valley & Historic Bluff Country is the ideal destination for you and your family. Enjoy biking the near 20-mile paved path that runs along the former Chicago Great Western Railroad line. The Cannon Valley Trail, located in Red Wing, offers stunning views of the Cannon River, the immense valley and diverse natural scenery. The trail is open year-round for walking, biking, cross-country skiing and more.
A short drive south along the Great River Road is Lake City, home to the widest natural lake on the Mississippi River, Lake Pepin. Get out on the water and experience firsthand the birthplace of water skiing, or sit back and relax on a Pearl of the Lake paddleboat cruise.
Don't forget to look up as you travel further south down the Great River Road—Wabasha is the region's greatest place to spot eagles soaring high in the sky. Pay a visit to the National Eagle Center for organized eagle-viewing trips year-round.
In the southernmost part of the region is Niagara Cave in Harmony. Named for its underground waterfall, Niagara Cave was rated one of the best cave attractions in the country. If you're looking for more underground adventures, visit Mystery Cave, a 13-mile long underground expanse in Spring Valley.
Get close to nature during your visit at one of the area environmental centers. The Houston Nature Center at Trailhead Park offers beautiful scenery and wildlife and connects with the Root River Trail System, making it easy to hop on a bike and see more of the landscape. The Natural Playground is a 1-acre playground where kids can interact with nature—there are buried fossils, a hand water pump and sluice, stone tunnels, caves and more.
Also in Houston is the International Owl Center. The center offers classes, camps and seminars to teach you all about these birds and give you the opportunity to see their natural beauty up close. Eagle Bluff Environmental Learning Center offers more opportunities to connect with nature. Located in Lanesboro, the center provides nature programming for children and adults including outdoor skills classes, live raptor demonstrations and more.

Sheldon Theater, Red Wing
photo by a.d. drumm images
---
Mississippi River Valley: Eat, Shop, Play
Shop, sip and dine your way through the Mississippi River Valley & Historic Bluff Country, home to one-of-a-kind diners, picturesque storefronts, farmers markets and more.
Visit The Oaks Wine Bar in Winona for a unique dining experience. This local favorite takes a new and thoughtful approach to wines of all varieties, along with serving a carefully crafted food menu, classic cocktails and craft beers.
Enjoy a made-from-scratch meal at Estelle's Eatery and Bar in Harmony. Located right on the town's main street, the family-owned restaurant is the perfect place to stop in to refuel during a day of exploring.
Head north to Lanesboro for delectable food and refreshing drinks. High Court Pub in the historic downtown district features outdoor dining, live entertainment, unique cocktails and tap beers, and a menu with everything from pub fare to artisan flatbreads. During your stay in Lanesboro, be sure to check out Dry Run Distillery. Owner Phil Bailey shares his great-grandfather's moonshine, whiskey, bourbon and rye recipes at this Prohibition Era-themed distillery.
Right across the street from the Root River Trail in nearby Whalan is a timeless favorite. Aroma Pie Shop entices guests with delectable baked goods and, you guessed it, great pie. Bikers enjoy penciling in a stop at this locally owned shop on their tour of the region, and for good reason. Head south for another destination to enjoy homemade treats and shop for unique home goods at the recently renovated Blossom Hill Orchard and Farm in Preston.
Head east to Burdey's Cafe, located in Peterson. Situated right off the Root River Trail, you can enjoy homemade soups, hearty breakfasts and decadent desserts, all while enjoying views of the trail.
The Mississippi River Valley & Historic Bluff Country is also home to craft breweries and vineyards. Winona claims one of the most scenic wineries in the state: Garvin Heights Vineyard. The family-owned winery hosts wine tastings, grape picking and more. Head southwest to Spring Valley to learn about the winemaking at Four Daughters Vineyard and Winery. Craving a glass of local, craft beer? Travel north along the Mississippi River and try Reads Landing Brewing Co., then continue north and visit Red Wing Brewery for a pint and a slice of handmade pizza. While in Red Wing try the wine at Falconer Vineyards.
For a healthy dose of retail therapy, visit downtown Winona's A-Z Collectibles. Antiques, books and myriad home goods fill this locally owned store that has been open more than 20 years. Don't miss out on the region's many farmers markets, such as the Rochester Downtown Farmers Market, the Winona Farmers Market or the Red Wing Farmers Market. Also in Red Wing is the original Red Wing Shoes store. The well-known work boot maker has been selling its line of footwear for more than a century.
---
Historic Highlights: Mississippi River Valley
1. Red Wing Shoe Co. Museum – Red Wing
Discover the iconic shoe brand's humble roots through hands-on exhibits, a virtual factory tour and the world's largest boot at over 20 feet tall.
2. 

Watkins Heritage Museum – Winona

Take a scenic drive south down the Great River Road (US-61) to the home of longtime natural bath and body brand J.R. Watkins. See displays of original products and advertisements and take home soaps, lotions, spices and more.
3. 

Amish Tours – Harmony & Lanesboro

A visit to this region isn't complete without experiencing Amish culture. You may notice horse-drawn buggies if you travel south along Highway 52. Learn more with Bluffscape Amish Tours or R&M Amish Tours.
4. 

Historic Forestville – Preston

Located 20 minutes west of Preston within Forestville/Mystery Cave State Park, this replica 1800s settlement takes you to a different era where you can experience frontier life firsthand.
5. 

Mayowood Mansion – Rochester

Head north and tour this mansion just three minutes from Rochester's downtown district. Three generations of the Mayo family resided at the estate, so you can learn all about the founders and original doctors of the Mayo Clinic.
Facebook Comments