On a recent morning, a friend and I arrived at Union Station in St. Paul. We were in for a weekend jaunt south to Red Wing by train. Within sight: small-town stillness and hilltop hiking.
I had only ever ridden coach on Amtrak, the country's modern-age passenger-rail system, but we decided to test its old-world allure in a private room. COVID-related restrictions have given passengers reason to book private arrangements—as well as an excuse to rediscover Amtrak's upper-deck appeal, intact even as states reopen. (Check the Centers for Disease Control and Prevention's website for travel guidelines.)
Before we left, I had trawled Instagram for cozy, curated shots of pandemic-era Amtrak setups. One post by influencer Ali Wunderman (@aliwunderman) presents a tiny window-side table extended for discreet picnicking. The caption mixes delicacy and dreaminess: "Tonight I ordered the chicken marsala and it was delicious, but I'm excited to try some of their vegan dishes as well. Now excuse me while I go stare out the window for the next two days to watch the whole of the northern U.S. pass by."
Like other Minnesotans, I would take the Empire Builder route. Between Chicago and Seattle, it visits six stations in state and stops near Glacier National Park in Montana—the closest national park to an Amtrak line. On parts of the 40-station route, park rangers might drop in for on-board commentary, lest the whole of the northern U.S. simply pass you by.
Our morning ride to Red Wing covered considerably less ground. Within an hour, I chased an egg sandwich with coffee in a welcoming dining car, noted the menu's selection of wine and spirits for a night trip home, and checked out floor-to-ceiling views in the couch-lined observation car. We swayed, we clanked. I sensed the train hobbyist's enchantment.
Private Comforts
For a private experience, you can reserve a bedroom or a roomette. The bedroom has a tiny sink and mirror, its own closet-size bathroom (with shower head, even), an armchair, a sofa that converts to a bed, and a fold-down upper bunk. The smaller roomette also has an upper bunk, plus two reclining seats that pull into a bed. As in a hotel room, you'll find towels, linens, bottles of water. For overnight trips, a personal attendant provides turn-down service and coffee.
But the main features of this choice of travel become whatever book you're reading, discussion you're having, or sights you're seeing. Hurtling along, our hour fled. It's nice to sit on the receiving end of prairies, lakes, and trees as they stream past your window or revolve in the distance. A shoulder of bluffs here, the speckle of an eagle there.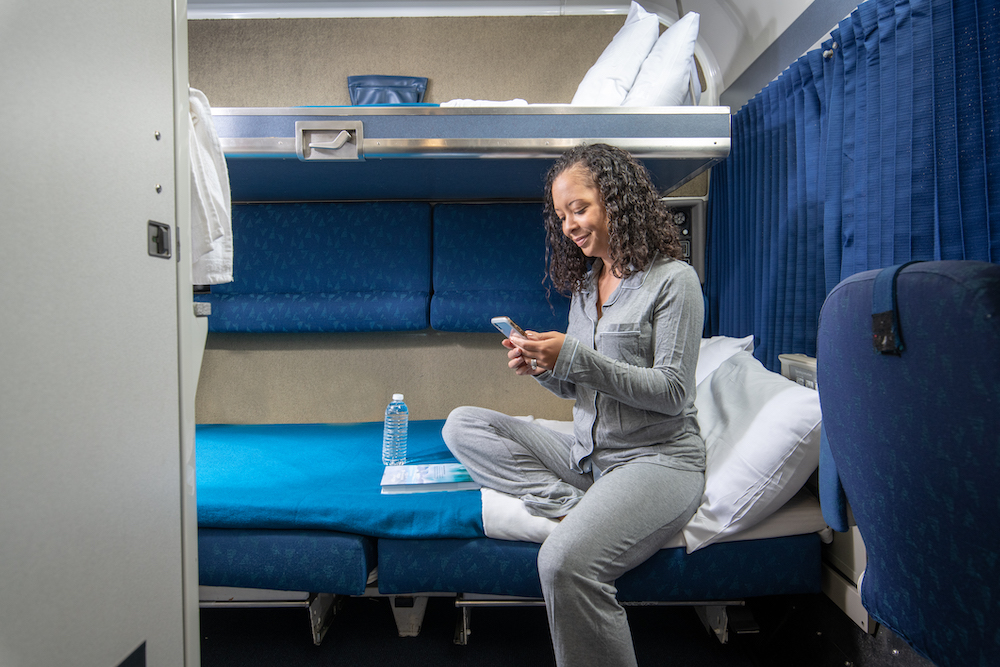 Amtrak has its share of detractors, as any public transit system does. Some have bemoaned its utilitarian design as compared to the comfier accoutrements of our fantasy European luxury lines, full of plush and mahogany—and long gone. Other than the plastic interiors, I struggle to note what's so different from our charming cinematic rail coasters.
Granted, trains are not what they were two centuries ago. Rail travel dropped off after automobiles and planes roared in. And yet, as recently as 2019, hopes seemed fairly high for Amtrak. The company had settled into its economic status as an old-fashioned airline alternative, having survived on subsidies since its inception as the National Railroad Passenger Corporation in the 1970s. But then, Amtrak board chairman Anthony Coscia was ready to prophesize, at a news conference, "Our expectation is that in 2020, [Amtrak] will actually make money." Of course, in spring of 2020, as the coronavirus pandemic spread, ridership nosedived about 95%.
The Route to the Future
The future of Amtrak is now up in the air (airplane pun only lightly intended), although it could bounce back for reasons environmental, financial, and experiential.
Trains practically always emit less carbon dioxide than planes—often by well over half, or even by around 90%, according to different studies (electric trains moreso than diesel). A 2020 report by TRIP, a transportation research group, also describes thickening road congestion and the worsening disrepair of U.S. highways. "We can't put all those cars on the road," Richard Anderson, former president and CEO of Amtrak, opined to WBUR in 2019. "And Amtrak is the best environmental answer."
Often greener and more hands-off than a road trip—with round-trip tickets that cost $327, although mine was comped—railroading is also more sentimental. Trains hold an iron grip on the American imagination. They're free-range enough for Marilyn Monroe to host a top-bunk cocktail party in Some Like It Hot. Wistful enough to convey the ache of 1973's hit "Midnight Train to Georgia" by Gladys Knight & the Pips. Slower than a plane, they're also more settling—conducive to day dreams, enough for J.K. Rowling to envision the Harry Potter series during a delay.
Today's trains have descended from the heaving icons of the Industrial Revolution, and they still feel like engines of the future. Mark Twain marveled as his gentle drawing-room car "rushed into the night and the Wild" in the late 1800s. Today, Tesla and SpaceX scion Elon Musk has suggested intracity travel by electromagnetically powered "pods"—or, trains.
They will remain stubbornly of the present, too. Whistle-stop campaigns freighted politicians starting in the late 1800s, and last year, then-candidate "Amtrak Joe" Biden staged a train tour in Ohio and Pennsylvania. Our current president has reportedly racked up 2 million miles by rail, preferring trains since he lost his wife and daughter in a tragic car accident. He has pushed for more funding and, on his campaign, livestreamed calming views of a receding track.
While the future brings uncertainty for Amtrak, greater investments could open more local rail routes. Amtrak has proposed adding a second daily round-trip route between the Twin Cities and Chicago, while reviving the Northern Lights Express line to Duluth. Meanwhile, the company plans to debut new diesel-electric trains and, in 2022, its first high-speed model.
Along the way, the service can count on its most romantic devotees: the "railfans"—who have a point. Returning to the Twin Cities in a roomette, my friend and I submerged in conversation alongside the ocean depths of Midwest hinterlands. Our journey had melted into destination.
For Minnesota Amtrak routes and information on private rooms, go to amtrak.com/empire-builder-train
Facebook Comments