I've been to some really great apple orchards in Minnesota—Aamodt's Apple Farm in Stillwater, Afton Apple Orchard in Hastings, and Emma Krumbee's Apple Orchard in Belle Plaine (mentioned last week by my friend Amanda on this very blog), and I've heard great things about Apple Jack Orchards in Delano and AppleWood Orchard in Lakeville, but my favorite orchard is the one that takes me back to my childhood—Pine Tree Apple Orchard in White Bear Lake.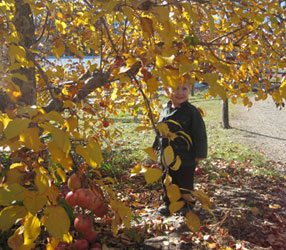 Not only did my parents regularly bring my older brother and I to the orchard every fall, my mom briefly worked at the orchard in 1984, and in 1998, my then-boyfriend introduced me to two of the Jacobsons, Sarah and JP, whose grandparents started the orchard—and whose family still runs it today. I vividly remember camping with them at Edgefest, but that's another story… Speaking of cool concerts, though, I bet the Jacobson family was front and center for this. Seriously—how awesome is that?!
Now when I go to Pine Tree, it's not really for the orchard itself (you can't pick your own apples), but for the drive out there (I love drooling over the million-dollar homes in Dellwood), the bakery (Apple donuts! Chocolate chip cider cookies! Fresh apple cider! Homemade apple pie with cinnamon ice cream! Apple butter! Apple jam!) and the beautiful autumn scenery. I like to get my cider and my cookie (or donut, or cookie and donut if I'm feeling really crazy) and sit outside near Pine Tree Lake. I like the mix of generations spending valuable time together on a nice fall afternoon. 
I like that there's a focus on the University of Minnesota apple varieties, developed specifically for our region (mmm, Honeycrisp). I like that Pine Tree is committed to using environmentally-friendly, sustainable methods when growing the apples. I like that you can watch the process of sorting and packing the apples from inside the barn. I like that there's free parking and no admission fee. I like that it's kid-friendly, with a corn maze and wagon rides for my little ones. I like that it's small enough to feel quaint, yet big enough to accommodate a crowd.
It's good to have family traditions—and I like that visiting Pine Tree every fall is one of mine.    
Facebook Comments