When I think about going to the races, my mind is instantly redirected to the likes of the Kentucky Derby where famous faces like Cyndi Lauper, Mary J. Blige and Steffi Graf don floppy hats, sip mint juleps, and spend a weekend partying before watching a two-minute race. But when I went to Canterbury Park in Shakopee for the first time, I was pleasantly surprised at how fun, casual, and inexpensive our night out was. Six of us lined the front row (better for drink runs and placing bets) and while I didn't understand the betting process when I walked in, by the end of the night I was on my feet cheering for my horse to cross the line (confession: I pick 'em by their name).
Photos courtesy of Canterbury Park
Canterbury Park opened its live racing season this past weekend and hosts races throughout the summer on Thursdays, Fridays (7 p.m. start both days), Saturdays, and Sundays (1:30 p.m. start both days) for only $5 admission—and general parking is free! As long as the weather cooperates, you'll get to watch and bet on multiple races. Each level of the facility is filled with food options, from your state fair-type picks like Pronto Pups and mini donuts to other great casual eats like tacos, hamburgers, ice cream, pizza, and pasta. (Racing also is held Memorial Day starting at 1:30 p.m.)
Canterbury offers weekly promotions including buck nights on Thursdays (starting June 14) where admission, hot dogs, and nachos are only $1 (beer costs $3 or less!); Minnesota's biggest happy hour on Friday nights, with food and drink specials as well as live music; social media contests on Saturdays; and family day on Sundays, with free pony rides, a petting zoo, and face painting. Other summer events to look for include Belmont Stakes Day (June 9), fireworks (July 3), and fan appreciation day (August 25).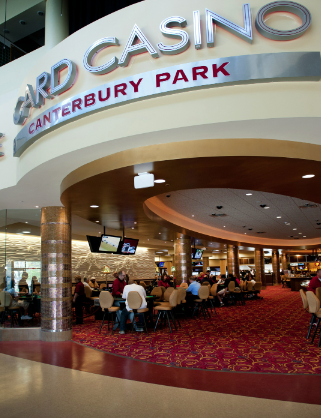 In addition to live racing, Canterbury has a year-round card club on-site open 24 hours a day and featuring high-stakes games like Texas Hold 'em, blackjack, and Let it Ride.
Head out to Canterbury if you're looking for some good, cheap, outdoor fun with a group of friends or the family; whether you place your bets or not, it's guaranteed entertainment and great people-watching. And while certainly encouraged, no floppy hats required!
* The area's other race track, Running Aces, is located north of Minneapolis-St. Paul in Columbus and opens for the season on June 6. Running Aces also houses a 24/7 card club.
* In Minnesota, the legal age to gamble is 18.
Facebook Comments