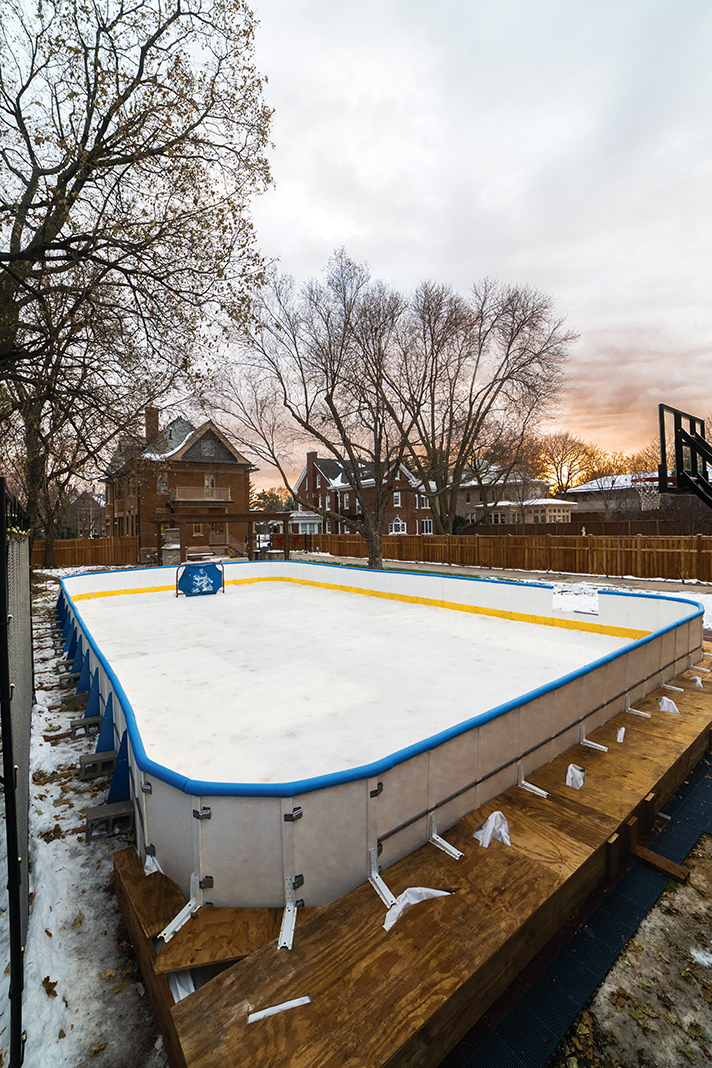 A lot of what we'd normally do this winter is "on ice" in more ways than one. There are plans postponed due to the pandemic, many indefinitely. But some among us are using the conditions to focus on outdoor winter traditions that can survive and deepen during these times. Namely, Adam Carignan.
His business, IceTimeMN, installs ice rinks of varying sizes and levels of sophistication around the Twin Cities and parts of Wisconsin. Some of these rinks are in backyards, but social gathering spots have also hired him for this unprecedented season. Carignan and his crews built rinks at Sociable Cider Werks in northeast Minneapolis, Forgotten Star Brewing Co. in Fridley, Maple Tavern in Maple Grove, and Cornerstone Pub and Prime up in Wyoming, Minnesota.
In the months ahead, expect boot hockey, free skating, and curling leagues at these public spots, as long as they align with state guidelines. "Giving families a place to bring their kids this winter, where they can feel safe and have fun, was a natural pivot for us," says Forgotten Star co-founder Andy Risvold.
The idea for IceTimeMN crystalized when Carignan saw a former coworker had built a rink in his yard a few years ago. "I thought it would be great to provide a service for people who maybe aren't handy to be able to have a space in their own yard," he says. "It was something I always took for granted when I was a kid."
Growing up near Green Bay, Carignan had two big ponds near his backyard that froze over each winter. Any time he and his friends wanted to ice skate, they'd clean the snow off and sail through the trees. Sometimes, they'd build a bonfire right on the ice. As for hockey, "I enjoy playing, but my high school didn't even have a team," he says. "We just played on the ponds or parks for fun."
Those pickup games continued when he studied engineering at the University of Wisconsin-Stout. There, he built a parking lot rink to put on a weekend boot hockey tournament. Then he moved to do corporate engineering work for Twin Cities companies like Honeywell and, most recently, 3M across the border in the "State of Hockey."
After building just a few rinks in his first year, IceTimeMN has grown to include partnerships with rink suppliers, and is working on community-level municipal projects. Spurred by word-of-mouth and a sterling Google search rank, he has had steady year-over year-growth. So much so that, in 2019, Carignan left the engineering job he enjoyed to focus on building rinks full-time with about a dozen seasonal workers. "I was having way more fun doing this," he says. "I liked creating my own opportunities and being able to act on them immediately. That's my personality."
This past year's challenges brought out a totally different attitude from clients. "As far as COVID this year, I think it's more of a sense of urgency," he says. "Everybody that calls is like, 'I gotta have one this year,' versus 'Ah, I'm just looking into it.'" By the time you're reading this, IceTimeMN is past its busiest stretch of the season. Carignan estimates that they've installed about 75 to 80 rinks in two months to close out 2020. Of those, 90% are repeat customers, where the rink is installed, torn down, stored, and reinstalled the following year.
Carignan's engineering background has helped with the problem-solving for each project, all of which are custom. "The number one challenge is slope," he says. "We've got to survey every yard or space yearly to ensure exact location for slope purposes. Most locations don't have a nice, perfectly flat spot." After a free survey, the next step is to provide a kit that fits that space, and then, most of the time, they install it. The size and complexity of the rink dictate the price, which can range from $1,000 for a small, bare-bones setup to past six figures for a refrigerated rink that can withstand milder winter weather. "They're skating when it's 45 degrees and sunny," he says. "In their T-shirts, essentially. It adds about two months to the skating season."
That skating season proves especially crucial as many mass ice-based activities, such as Hockey Day Minnesota and the U.S. Pond Hockey Championships, are pushed to 2022. For those not interested in strapping on a pair of skates, curling has grown beyond just a niche pursuit for Olympic hopefuls. Crokicurl, a hybrid of curling and Canadian board game Crokinole, has taken off with our neighbors to the north. Due to its lighter curling rocks (15 pounds instead of 45 pounds), smaller playing surface, and communal atmosphere, Carignan thinks the game could someday be a hit in Minnesota.
And by the way, does the man who makes backyard ice rinks for others have one for himself? "I have one of the worst possible yards for a rink," he admits. There's space enough for a small rink for his two young daughters to play on, where they have a fire pit and lights. "I've always been the person to provide the fun," he says. "That's been a big motivator for me. I'm just creating stuff I want."
IceTimeMN is booked for winter '20-'21, but learn more at icetimemn.com
---
A Coffee-Table Book to Break the Ice
More than 10 years ago, St. Paul-based photographer Matt Jasper began crossing the state to document humble-to-humongous examples of hockey country's holy ground: the ice rink. He has captured 72 rinks "in their purest form—empty, quiet, serene," he says, and has now compiled his shots into a 296-page coffee-table book—with the help of a successful Kickstarter campaign.
Home Ice spans sizes and settings; there's a Bemidji backyard (above) as well as St. Paul's Xcel Energy Center. They're majestic, seen from the rafters or via sky-high drone, and wistful, washed in streetlights. Jasper was first inspired in 1997, when his parents gave him a framed black-and-white photo of the Warroad Memorial Arena. "I never thought about rinks as a subject to be photographed until I saw that photo," he wrote as part of his Kickstarter campaign in 2019. Buy the book at homeice.mn.