Minnesota has four distinct seasons, each with its own unique flavors, colors, and activities. As we enter the middle of winter, many of you might want to settle into your warm homes and hibernate until the ice thaws and snow recedes. But there are many who embrace the outdoors instead, along with all the cold weather has to offer. Our Inside/Out ideas offer up activities to help you enjoy staying indoors or playing out in the elements. Pick and choose—or try them all over the next few months.
Conquer the Climb
Inside
Rock climbing is another popular activity that can be done inside and out. Gyms like Vertical Endeavors, with several locations around the state, offer indoor climbing walls and leagues for all levels of fitness and expertise. And a variety of fitness centers, like the RecWell Center at the University of Minnesota in the Twin Cities, feature climbing walls for monthly members or day visitors. The Pinnacle Rock Climbing Wall at the REI in Bloomington was closed at press time because of COVID-19 precautions, but it is free to REI members when in service. Otherwise, maybe your neighbors have installed a climbing wall in their home as part of a sport-court craze we're seeing among homeowners.
Outside
Ice climbing is rock climbing's outdoor equivalent with breathtaking beauty. A 2017 Minnesota Monthly story described the activity as "a fast-growing sport that uses ropes, spiky metal 'crampons' strapped to your boots, and ice axes (swung into the ice to gain a hold) to scale frozen waterfalls and man-made ice parks." From Duluth to Winona, you have your options. For key spots, check out Quarry Park in West Duluth, Sandstone Ice Park, Winona Ice Park, Cascade Falls on Cascade River, Nightfall on Devil Track River along the North Shore, Crosby Park, and Franklin Bridge over the Mississippi River in the Twin Cities.
Get Golfing
Inside
At first, golfing seems exclusively like an outdoor activity, practiced only during warm weather. But when the greens freeze over, there are still plenty of indoor golfing opportunities. Across the state, various businesses offer simulated golf on some of the world's best courses. Book a tee time at Burnsville Indoor Golf or Minnesota Golf Lab in Long Lake. You can even get a December-to-May membership to the indoor golf simulator at the Lincoln Community Center in Mankato. For a hybrid of indoor and outdoor golfing, visit Topgolf in Brooklyn Center, where you tee off from a heated and covered bay into an open-air target area. And don't overlook putt-putt golfing for some indoor fun. One of our favorite locations is at the quirky Can Can Wonderland in St. Paul.
Outside
Ice golfing is a popular fundraising sport that's also often included in communities' winter festivals. The Wayzata Chilly Open, Feb. 11-12, will feature three nine-hole golf courses on Lake Minnetonka. Since 1984, thousands of outdoor enthusiasts have been showing up with golf clubs and hockey sticks for this fun tournament. The Mill Pond Masters Ice Golf Tournament in Jordan's Lagoon Park, also on Feb. 12, is another chance to putt a tennis ball on ice.
Experience

Art
Inside
One easy way to stay warm and get some culture is to visit an art museum, indoor theater, or concert hall. And Minnesota has scores of them. We all know the big Twin Cities players (Mia, the Walker Art Center), so maybe treat yourself to something new or under-the-radar like the Somali Museum of Minnesota in St. Paul, the Minnesota Marine Art Museum in Winona, or the Hallberg Center for the Arts in Wyoming.
Outside
Enjoy the great outdoors and art at the same time across the state by visiting a number of sculpture parks and outdoor amphitheaters that may be hosting a show. Don't miss the ice sculptures at the annual Saint Paul Winter Carnival. The giant, iconic cherry that
is part of the Spoonbridge and Cherry sculpture in the Minneapolis Sculpture Garden at the Walker Art Center is scheduled to return fully refreshed in January. And you can tour Otter Tail County to spy the various animal-themed sculptures created by local artist Ken Nyberg. Meanwhile, the multi-city Ice Castles have returned to Minnesota in New Brighton's Long Lake Regional Park through February.
Enjoy the Games
Inside
Many Minnesotans love to spend an evening inside playing cribbage, Trivial Pursuit, and other favorite games with family and friends. If you're a puzzle fan, consider gathering a team for the Winter Carnival Puzzle Contest Jan. 29 at the Landmark Center in St. Paul.
Outside
There are plenty of outdoor games this winter to enjoy, as well. Beyond the athletic and sporting events, like the U.S. Pond Hockey Championships (Jan. 21-30), look for "orienteering" events, which challenge the mind in the outdoors. There are two Unlock It events that combine puzzle solving as part of an outdoor scavenger hunt. Download course maps for several parks anytime on the YMCANorth.org website for a self-guided event. Or join other families on Jan. 29 in Silverwood Park in St. Anthony, or on Feb. 5. in St. Paul's Battle Creek Park, as part of the Great Northern Festival's lineup.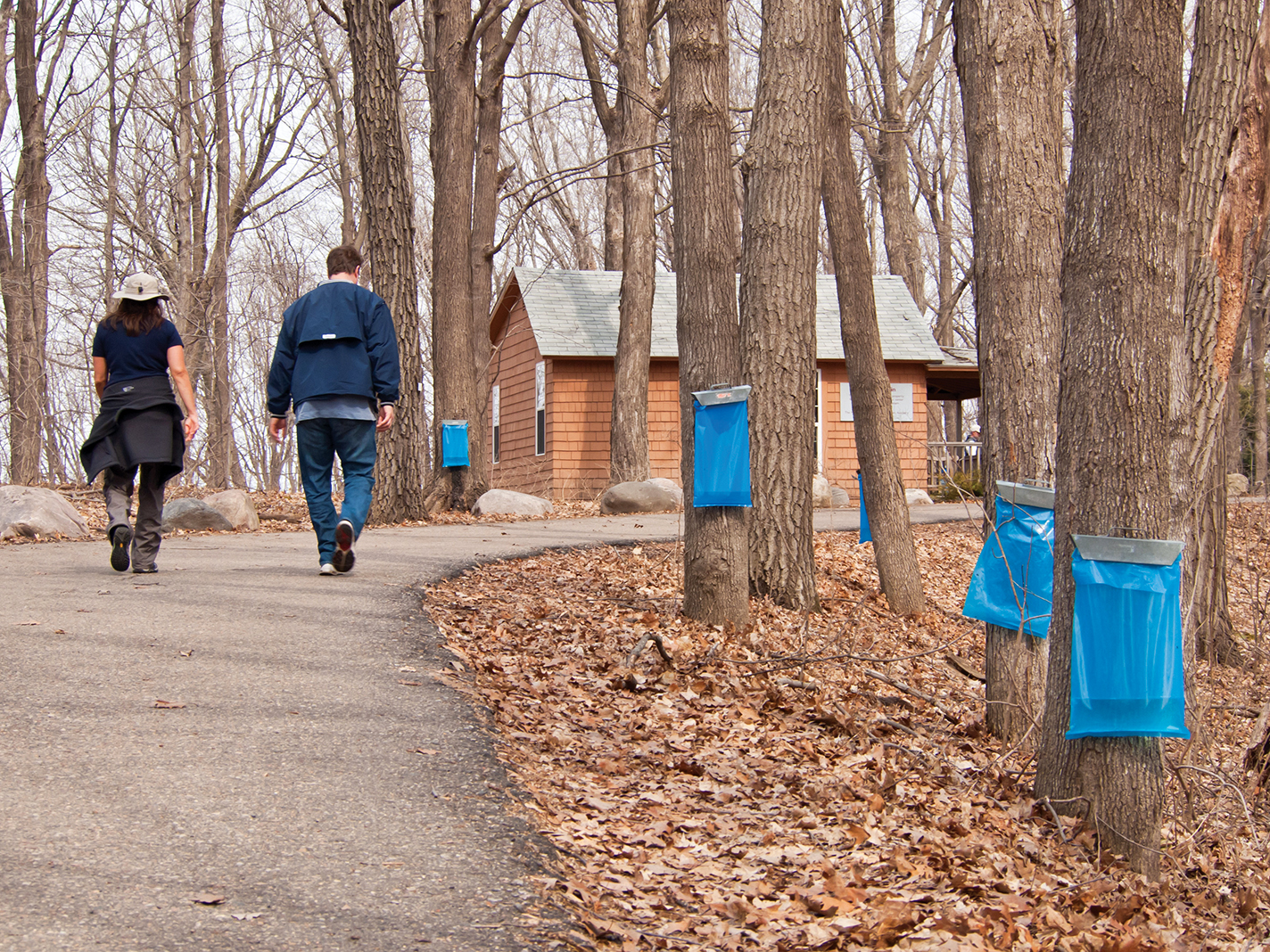 Make It Maple
Inside
Making your own maple syrup can be a bona fide hobby if you have the time and patience (plus maple trees on your property, and a makeshift evaporator, and lots of mason jars). Or you can skip the work and enjoy the flavor of Minnesota maples in a surprising form: as a nightcap.
It turns out your favorite dark liquor makes an excellent partner for maple syrup. Panther Distillery, located in Osakis, uses cold aging to make its whiskey, where the barrels contract and push the whiskey flavors back out of the wood. This embrace of the cold helps create the Minnesota 14 Maple, a blend of the distillery's own whiskey and all-natural maple syrup.
Meanwhile, Sapthre Farms in the southeast Minnesota town of Adams has turned maple syrup into whiskey. "Miskey" (a portmanteau of whiskey and maple syrup) is made over a 30-day brewing process that produces a whiskey so smooth the brewers have referred to it as a "bourbon-rum." Find it in liquor stores in southern Minnesota.
Finally, Lonsdale's Three Rivers Farm has put a twist on the breakfast staple with an assortment of flavored maple syrups, including a bourbon-infused syrup aged in an oak cask, plus creative concoctions smacking of blueberry, ginger, and habanero.
Outside
Looking for an activity that gets your kids outside during the winter months? For educational fun with a sugary reward, try tapping maple trees and making the syrup yourself.
According to the Minnesota Department of Natural Resources, "maple sap runs best when temperatures are in the high 30s to mid-40s and overnight temperatures are below freezing" for several days. Maple-syrup "tap tours" around the state begin in late February and go throughout March, where you can tap into the syrupy process.
In the Twin Cities, try the Minnesota Landscape Arboretum in Chaska, The Landing in Shakopee, and the Tamarack Nature Center in White Bear Lake to find sap and learn how to make your own delicious maple syrup.
In greater Minnesota, places to check out include the University of Minnesota-Duluth's Bagley Nature Area, the Wargo Nature Center in Lino Lakes, St. John's University in Collegeville, the Osprey Wilds Environmental Learning Center in Sandstone, and the city of Vergas—where maple-syrup events start in March.
Comfort Food
Wild Rice Soup
Inside
Wild rice, the official state grain of Minnesota, is a hearty fiber that is high in protein and gluten-free, making it a great, local alternative to other rice-based dishes.
This dish also requires a bit of patience to make, because wild rice takes a bit longer to cook, sometimes up to 60 minutes.
Start by boiling water and then taking it down to a simmer once you've added the rice. Sauté onions, celery, and carrots in butter, then add half a cup of flour to the mix. After your flour begins to bubble, slowly add chicken broth. Bring the soup to a low boil, add your cooked wild rice, and stir until you're ready for your warm winter meal.
To learn more about the history of manoomin (the "good berry" to the Anishinaabeg), read The Good Berry Cookbook: Harvesting and Cooking Wild Rice and Other Wild Foods by Minnesota author Tashia Hart (Red Lake Anishinaabe).
Outside
If you're not a confident cook or simply looking to take a night off, try the Cream of Minnesota Wild Rice Soup at the St. Paul Grill or the Chicken Wild Rice Soup at People's Organic. And if you're looking for the best wild rice soup in Minnesota, WCCO viewers bestowed that title to Monticello's Cornerstone Café in 2013.
S'mores
Inside
The Buttered Tin is a beloved Twin Cities bakery for many reasons. Founded by Cupcake Wars winner Alicia Hinze, the fresh ingredients are often locally sourced. Although known for their cupcakes, be sure to check out the s'more pie. Stop by one of two locations, in Lowertown St. Paul and northeast Minneapolis, to pick one up.
And for more s'mores: Did you know the Whitefish Chain of Lakes region bills itself as the S'more Capital of the World? In this north-central hub, near such towns as Crosslake and Jenkins, you may find variations on the gooey classic at area restaurants, including A-Pine Restaurant (s'more pie), Lake Country Crafts & Cones (s'more milkshake, brownie-s'more ice cream cake), and Lifehouse Coffee (s'more latte).
Outside
Of course, good old-fashioned homemade s'mores can still do the trick if you have a backyard or park fire pit at your disposal. To shake things up a bit, try adding smoked berries, caramel, or even your favorite Girl Scout Cookie. There are also books out there for gourmet s'mores—like S'more Cookbook by Stephanie Sharp (featuring a peanut butter s'mores brownie) and S'mores! by Dan Whalen (avocado s'mores, anyone?). And to source your  'mallows, consider the upscale Golden Valley-based North Mallow brand, with flavors like vanilla bean and caramel swirl available in select stores throughout Minnesota.
Pine Needle Tea
Inside
Pine needles are good for more than just a welcome pop of green in winter. In fact, pine needle tea is a good source of ascorbic acid (vitamin C) and vitamin A, with a long history of Native American use for medicinal purposes. (Find some instructions here.)
Outside
The key to harvesting for your pine needle tea is knowing where to source the needles. Do not pick from toxic cypress or yew trees. Instead, gather clean needles from Eastern white pine, fir, or spruce trees.
Hit the Bar
Inside
"Zymurgy" (or zymology) is as fun to say as it is to do. Basically, it's an applied science that deals with fermentation—as well as the heart of home brewing. Craft beer and wine have been popular for a while across the state, with plenty of stores offering expertise and supplies to keep us stocked up. We adore Northern Brewer in St. Paul and Midwest Homebrewing and Winemaking Supplies in St. Louis Park for kits, ingredients, and tools. There's also Make Me Wine in Wadena and Brew-n-Wine Creations in Mankato. While we had to move our latest creation from the garage into the basement because of the cold temperatures to finish brewing, we are looking forward to
bottling a batch and sharing with friends when it's ready.
Mulled wine—otherwise known as spiced wine—is a great seasonal standby for wine enthusiasts, and it's also easy to make at home. Heat up a rich red wine with mulling spices, cinnamon, cloves, cardamom, and nutmeg for a taste of what they serve at outdoor holiday markets all across Europe.
Outside
One alternative to brewing a batch at home? Embracing the cold at one of Minnesota's ice bars. Many winter fests, such as the Saint Paul Winter Carnival, and restaurants have begun adding ice bars that serve beers, wines, and mulled wines in recent years (when there were in-person events). We also suggest Volstead House in Eagan, a 1920s-themed speakeasy that has an outdoor patio with heaters, plus an ice bar in past years. While the ambiance of the ice is beautiful, Volstead House also provides heating torches and fire pits to keep you from getting too cold.
In Wayzata, Birch's on the Lake is a brewhouse and supper club with an ice-bar deck overlooking Long Lake. Beyond the beverage offerings from Tattersall Distilling, Birch's has ice shuffleboard and a real igloo where guests can take a seat inside, although they do recommend you bring a coat. And for those up north, check out the Igloo Bar at Zippel Bay Resort on Lake of the Woods. Every year, the resort installs a wooden structure on the ice so you can fish from the bar. And it's heated inside, so your fishing experience will be plenty comfortable.
Go Bowling
Inside
Bowling is back, baby! COVID-19 certainly put a dent in the popularity of this sport across the state, but the Minnesota State Bowling Association reports that many leagues are back to full strength. (And a film by Minnesota's own Coen brothers, The Big Lebowski, raised the game's profile.) Whether you want to use bumpers to boost your score, or regularly bowl weekly (or more) as part of a league, this activity can be a fun way to socialize, get some exercise, and wax nostalgic for the 1950s and  '60s, when bowling was one of the most popular group activities in the state because of the invention of the automatic pinsetter.
The variety of alleys across the state are worth a visit, too. At Bryant Lake Bowl in Minneapolis' Uptown neighborhood, you can bowl and catch a play at the theater in the same building. Ranham Bowling in St. Paul is an eight-lane alley in the basement of the Nook restaurant. And Town Hall Lanes, also in Minneapolis, is a cozy set of 10 lanes with a full pub attached. For larger alleys, we like Drkula's 32 Bowl in Inver Grove Heights, Tuttle's Eat Bowl Play in Hopkins, and Lew Flynn's Red Ray Lanes in Grand Forks (along the Minnesota border).
For something completely different, our friends to the north, in Canada, prefer fivepin bowling, so if you do cross the border, you can also check out a variation on Minnesota's traditional 10-pin game.
Outside
While bowling at an indoor alley may seem like the only option, there are a few outdoor alternatives. At Icebox Days in International Falls in January, there's frozen-turkey bowling. Sauk Center has featured an ice-bowling tournament annually, and St. Louis Park's ShamROC ice-bowling competition is March 12. Or start your own frozen version in your yard or on a backyard rink with some pins and balls, or even an oversize snowball.
Stargaze
Inside
Binge-watching the latest series on one of many streaming networks isn't just a winter thing, but we love curling up under a blanket to watch the stars. As we finish up You, Foundation, and Big Mouth, we are looking forward to a number of new shows to stream, including Yellowjackets, Tiger King 2, and a second season of Emily in Paris.
If seeing stars on your TV screen isn't enough, head to a local planetarium for a show. The Whitney and Elizabeth MacMillan Planetarium at the Bell Museum in St. Paul features a "Minnesota Night Skies" program Wednesdays through Sundays. And for more outstate options, there are eight registered planetariums across Minnesota: in Duluth, Mankato, Marshall, Moorhead, Rochester, and St. Cloud, plus two in St. Paul.
Outside
Maybe you want to get outside for your stargazing. Consider moonlight skiing in Voyageurs National Park or a night hike in any of Minnesota's 75 state parks that allow it. The Minnesota Astronomical Society offers a number of celestial events year-round, including a few public "star parties" planned for April 5 and 26 and lasting through November. Plus, Minnesota author and meteorologist Mike Lynch offers a variety of statewide classes and events to see stars.
Embrace Hygge
Inside
We're past the hustle and bustle of the holidays and ready to rest up, get cozy, and embark on a new year. And who better to inspire our winter comfort than the Scandinavians? After all, they have made an art of it. "Hygge" refers to the pleasure, contentment, and warmth found in simplicity. It comes from the Old Norwegian word for "well-being" but is now associated with Danish culture.
Try lighting candles with woodsy, comforting scents that remind you of home. Wrap yourself up in thick blankets (maybe even a heated or weighted one) and put on your fuzziest socks.
For food, make a traditional Danish open sandwich with fish, laying your sandwich fixings on a piece of rye bread. (Rye is a favorite of the Danes due to the reported positive effects on heart and digestive health, plus its hearty flavor.)
And of course, take some more inspiration from the Danes and treat yourself to some warm baked goods. For more authentic Scandinavian treats, try Krown Bakery & Eatery in Anoka or visit one of the Taste of Scandinavia bakeries in North Oaks, Little Canada, and Bloomington. The American Swedish Institute in Minneapolis offers a traditional "fika" (or, coffee-and-snack break) at the cultural center's café. And at home, try Swedish or Norwegian-style pancakes for a comforting breakfast, plus cardamom or limpa bread with lingonberry jam for a snack or lunch.
Nordic gift shops dot greater Minnesota and neighboring states. Road tripping, it can feel inevitable that you'll run into one of these places selling Norwegian wool sweaters, lefse gear, Nordic chocolates, and other hygge-adjacent things. To list a few: the Nordic Shop in Rochester, Swedish Kontur in St. Peter, the Scandinavian Gift Shop in Alexandria, Irma's Finland House in Virginia, and the Uffda Shop in Red Wing. The Chisago Lakes area—home to Minnesota's oldest Swedish settlement, Scandia—also functions as a Scandinavian-American tourism town, where Sven Clogs sells authentic arch support.
For comfort-seeking readers, we recommend the quintessential Little Book of Hygge by Meik Wiking, CEO of the Happiness Institute in Copenhagen, Denmark. Discover why Danes are so happy and how you can incorporate warmth and contentment into your daily life. Similarly, you can get a Swedish perspective by reading Lagom: Not Too Little, Not Too Much, a guide to subtle habits that claims to help you achieve balance in your life.
Fans of design know that Scandinavian furniture and interior décor is unmatched in its balance of function and form. Scandinavians often incorporate natural materials, like wood, and warm colors to help their homes feel cozy during the winter. For inspiration for your own home, read ScandiKitchen: The Essence of Hygge by Bronte Aurell or The Scandinavian Home by Niki Brantmark.
Outside
The hygge philosophy extends to a Norwegian expression that places the burden of coziness on us, not the elements: "Det finnes ikke dårlig vær, bare dårlig klær!" ("Every season is wonderful if you dress right for it!") This applies to camping. Because, yes, you can camp in the winter. For this, the Sierra Club recommends a few key items: sleeping-bag liners, sleeping pads (to stay off the cold earth), polypropylene long johns, down jackets, a coat with weather-proof lining like GoreTex, absolutely no cotton (it doesn't wick moisture), and a commitment to staying dry. REI also says to pack a backup stove—you can't count on a roaring fire when all the wood you find may be frozen.
Or just hole up in a yurt! The Minnesota State Parks system runs seven yurts for overnight stays. They have domed roofs, wood floors, tables, wood-burning stoves, outdoor fire rings, and beds. There are two yurts in Afton State Park, two in Glendalough State Park, and three in the Cuyuna Country State Recreation Area.
For something a little more on the nose, experience the annual Hygge Festival in Grand Marais (Feb. 11-17). This gathering along Minnesota's North Shore carries on a sense of tradition dating back to the 19th century, when millions of Scandinavian immigrants arrived in the U.S., many of them flocking to Minnesota.
At the fest, expect lots of family-friendly winter fun: Take the hygge "fireplace tour" through restaurants and businesses, go snowshoeing or cross-country skiing, or visit the hygge marketplace to find gifts made by local artisans.
Seek Out a Sauna
For our hygge seekers angling for a change of scenery, visit one of the many saunas around the state (or The Freehouse in Minneapolis). All saunas involve pouring water over hot rocks to generate steam and make you sweat. And if you're looking to get traditional, jump in a lake or fresh snow afterward.
Saunas are a big part of Finnish culture, so Justin Juntenen, founder and owner of Cedar & Stone Nordic Sauna (whose family is from Finland), wanted to bring that wellness experience to Minnesota. His Duluth-based company has several saunas around the country and also builds custom, heirloom-quality saunas for homes and cabins. 
Spending time in a sauna has reported health benefits. According to the Mayo Clinic, regular sauna use can reduce risk of cardiovascular and neurocognitive disease, as well as lower blood pressure.
The best way to reap the benefits is through the bracing cycle of "hot, cold, rest, rehydrate, repeat." "It's the lowest-impact cardio workout," Juntenen says. "You just sit there on the bench. Relax and enjoy. And then your heart starts beating faster."
Facebook Comments