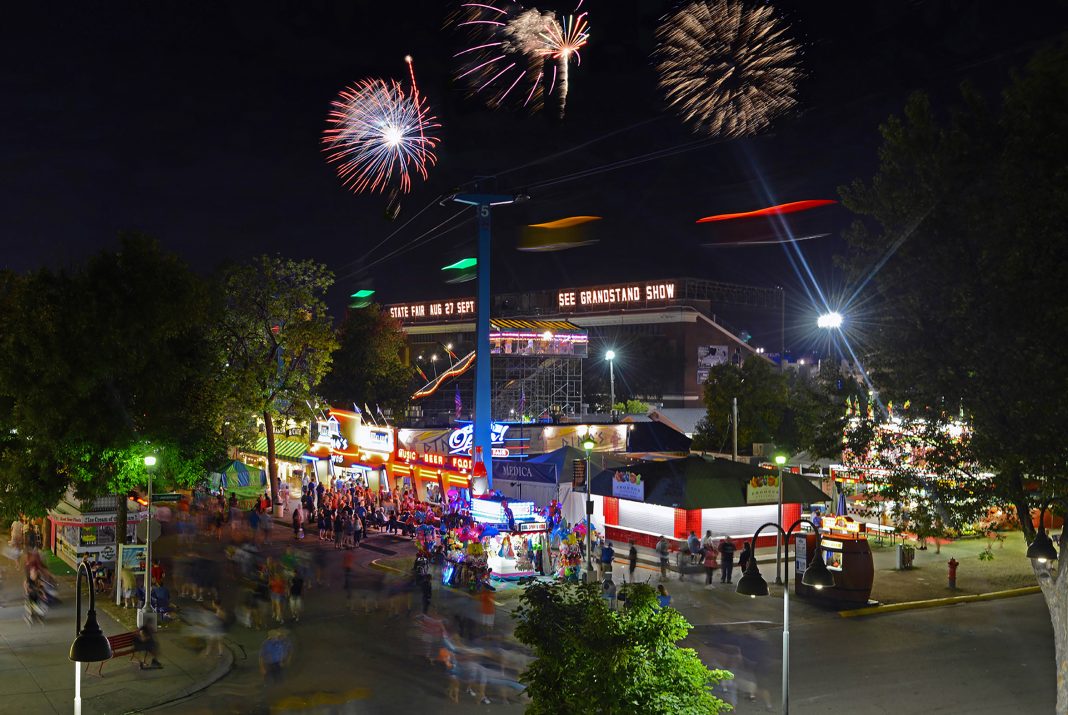 OK, State Fair people. Here's a resource guide for the last weekend of the Minnesota State Fair:
---
OK, non-State Fair people. Here are a few other things happening around and away from the crowds of the Twin Cities this Labor Day Weekend:
We Have Some Confessions to Make
What: Risk! Live
When: August 29, 8 p.m.
Where: Amsterdam Bar & Hall, 6 W. Sixth St., St. Paul
It's one of those shows, like Mortified, where folks share intimate, embarrassing yarns in a live setting. Hosted by comedian Kevin Allison, the award-winning Risk! is trucking in from the Coasts. Big-name guests of the past have included Sarah Silverman, Margaret Cho, Marc Maron, and Rachel Dratch.
Power in Performance
What: Mother Goose's Bedtime Stories Two-Year Celebration
When: August 30, 8 p.m.; August 31, 11 p.m.
Where: The Cedar Cultural Center, 416 Cedar Ave. S., Minneapolis
The Mother Goose's Bedtime Stories series has given a platform to local artists of color, many hailing from Native and LGBTQ+ communities, who perform across disciplines in self-described cabaret/variety show/theatrical productions. To celebrate the series' two-year anniversary, an evening of all-ages entertainment features poetry, music, dance, and comedy.
Elysian Shores
What: Fest du Nord
When: August 30-September 1, 6:30-8 p.m.
Where: YMCA Camp du Nord, 3606 N. Arm Rd., Ely
The YMCA of the Greater Twin Cities holds its eighth annual Fest du Nord on the shores of Burntside Lake, near Ely. The family-friendly music festival features 12 acts, including the Okee Dokee Brothers, jeremy messersmith, Koo Koo Kanga Roo, and Mason Jennings.
Beer Belly Dancers
What: Bellies & Beer at the Minnesota Renaissance Festival
When: August 31-September 2
Where: Minnesota Renaissance Festival grounds; Queen's Gate, 12364 Chestnut Blvd., Shakopee; King's Gate, 3525 145th St. W., Shakopee
The Minnesota Renaissance Festival unveils a new theme this Labor Day Weekend. "Bellies & Beer" does not mean beer bellies (necessarily). Instead, belly dancers do their snake-it-and-shake-it routine, offer lessons, and hold a contest open to the public. (Other contests include brat-eating and best steampunk outfit.) Schell's Brewery will pour suds on site. And, special on September 2, "Christmas in September" will tap into your premature longing for the holidays.
Harmonious Franconia
What: Music@Franconia presents Ipso Facto
When: August 31, 2-6 p.m.
Where: Franconia Sculpture Park, 29836 Saint Croix Trail, Franconia
Summer ends, and so does Franconia Sculpture Park's summer music series. Here's your excuse to check out the outdoor sculpture garden before the temperatures dip: Ipso Facto, the rock-reggae group from Minnesota, whose sound stews Jamaican influences with gospel and dance, takes the stage after kid-helmed opener School of Rock. Food vendors include Asase Yaa Global Foods, Yummies (Greek), and Cotton Candy Ice Cream.