I have a good friend from college who lives in Chippewa Falls, and aside from celebrating her wedding in the city, picking her up for a girls' weekend getaway, and driving past the city on the way to and from UW-Eau Claire "back in the day," I don't have a lot of personal experience with good ol' Chip (is that their nickname? I may have made it up).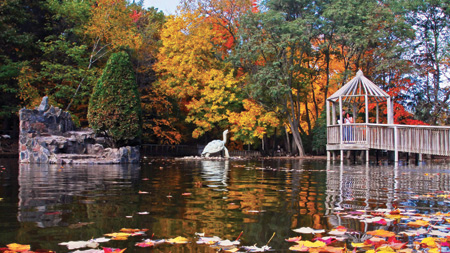 Irvine Duck Pond, Chippewa Falls. Photo courtesy of Chippewa Valley Chamber of Commerce.
I mean, I know Chippewa Falls is where the Leinie Lodge is located (the Honey Weiss is on my list of top five beers, local or otherwise, and a brewery tour is on my list of things to do in the coming year), and I know it's a short drive from the Silver Mine Ski Hill and ski jumping competitions (one of the oldest clubs in the U.S.), but I didn't know it was also home to a pretty amazing Oktoberfest celebration (in September), or the fact that there is a farmers market in town, and apple orchards and wineries like Autumn Harvest, River Bend, or O'Neil Creek. If you head to Chippewa Falls this weekend, you can partake in the Moonlight Journey at Klinger's Corn Maze and Pumpkin Bowling. Bring your flashlights! The event is from 6-9 p.m. Oct. 19 and 20.
The leaves are changing and it's so pretty along the river and back roads that the Chamber created a fall colors driving guide, available at the Chippewa Area Visitors Center, or by calling 1-888-723-00240.
Other favorite stops include local cheese shops (cheese is, after all, what Wisconsin is known for), historical museums, the free 300-plus acre Irvine Park and Zoo (with a bear, cougars, bison, tigers, the historic Sunny Valley Schoolhouse, the Pioneer Norwegian Log Home, and picnic shelters on site), and pedaling along the paved Old Abe State Trail. If you're planning on staying overnight, book a room at the Pleasant View B&B, on Lake Wissota.