One of my favorite winter childhood memories is of visiting the Saint Paul Winter Carnival's Ice Palaces (my first one in 1986)—I think we still have a certificate for an ice block. I took my "little" from Big Brothers Big Sisters to the last Ice Palace in 2004 and it was still amazing. Even when the Winter Carnival doesn't have an Ice Palace, it's the best way to kick the winter blues in January.
The 126th Winter Carnival kicks off this Thursday (Jan. 26-Feb. 5). The legend that marks the carnival is that of bitter enemies King Boreas, who rules the winds, and Vulcanus Rex, the god of fire. While Boreas celebrates winter with a carnival and is joined by the Queen of Snows as well as Klondike Kate, a lady of song and merriment, Vulcanus Rex and his Krewe storm in to put an end to the celebration (read the entire legend). You can see this excitement unfold during the carnival each year.
The Winter Carnival schedule this year includes a variety of (mostly free) events. View two historic exhibits (Memories on Ice: The History of the Carnival Wall and a display of past Ice Palaces), go ice skating at Wells Fargo Winterskate by Landmark Center, listen to live music in Rice Park (Thurs.-Sat. at noon), check out the orchid show (Jan. 28 & 29, 10 a.m.-4 p.m. at Marjorie McNeely Conservatory), cheer on the coronation of Winter Carnival royalty, and so much more.
My favorite part is the ice carving competition. There's always such variety, from large impressive sculptures to smaller detailed sculptures. Last year's winner, Trevor Pearson, spoke with us about his exciting back-to-back wins in the January issue.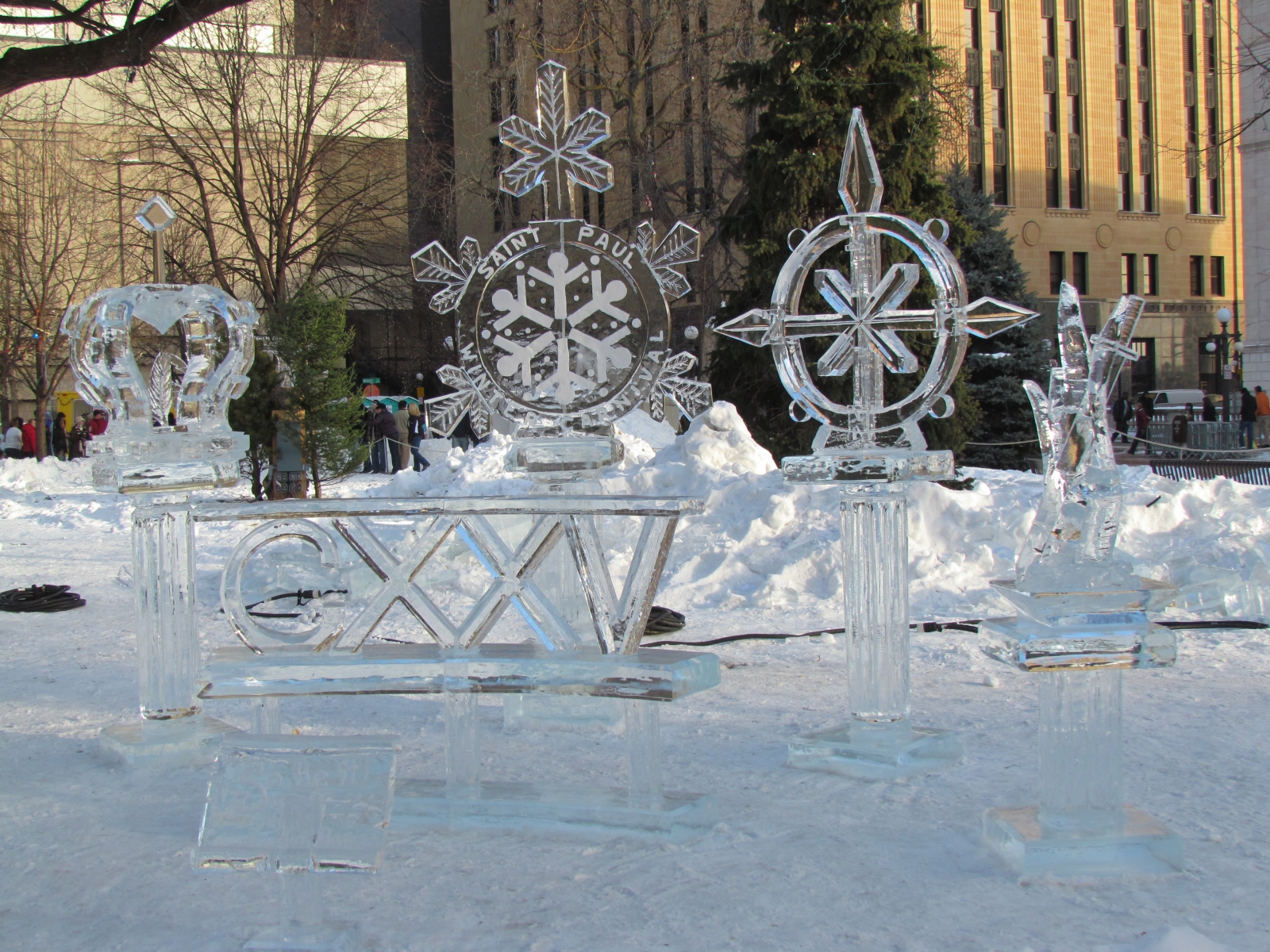 ice sculptures at winter carnival 2011 photos by ellie m. bayrd
Another popular event is the third annual Beer Dabbler, held this Saturday (from 4-8 p.m., must be 21 or older to enter, $30 advance tickets, $40 at door). Taste a variety of craft and micro brews over at the Saint Paul Farmers' Market grounds.
To kick things off in true Winter Carnival fashion this Saturday, the royal family will host the second annual Rock the Palace, a party and dance to welcome guests to this winter wonderland (7 p.m.-midnight, $15, at Crowne Plaza Riverfront). Enjoy live music from Bad Girlfriends and 8 foot 4. The carnival concludes with fireworks and the Vulcan takeover on Feb. 4.
Will you be there?
Facebook Comments