photo by John Magnoski
---
"Little Red Corvette" by Prince is playing in the background and we're stuffed on burgers and craft brews (for those of legal drinking age), waiting to settle our bill at Pike and Pint, the first stop on our Alexandria itinerary. The kids, Ben, 7, and Adam, 10, are getting hyper—their decibel levels increasing with each passing minute.
"Settle down," I tell them.
"Use your inside voices," my husband Aaron adds. "We're all right here."
An older woman—one of only a handful of people in the restaurant at the late lunch hour—catches my eye. Here we go, I think. We're going to get berated.
"I'm sorry," I apologize to her.
"They're beautiful," she responds with a warm smile.
Excuse me?
"I love their energy," she continues. "My kids are older, and I really miss them being little. Look at them giggling. They're so happy."
And I do something I rarely do—I stop and look and really see them. Their excitement is fueled by the anticipation of going to a hotel for the weekend. There's beauty in that innocence.
It's not a profound and earth-shattering realization, but I recognize that these days will be over before we're ready. I feel this wave of sentimentality whenever I look at their baby or toddler photos, but it's a necessary reminder. Pay attention. Savor the moment. Life unfolds in the present.
We're in Alexandria (aka Alex, pronounced "Alek," to the locals), about a two-hour drive northwest of the metro, just off I-94. The area has its own "chain of lakes" with 11 connected waterways, attracting boaters, fishing enthusiasts trying for largemouth bass and walleye, water skiers, jet skiers, wakeboarders, and paddlers. Lake life in the summer months is huge here, but as we're about to find out, the city is so much more than a summer vacation destination.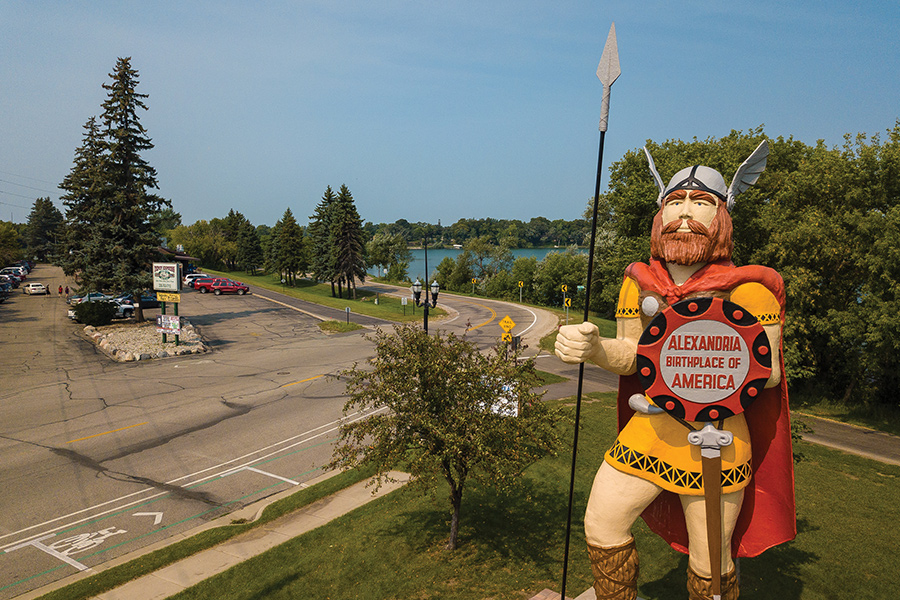 Big Ole welcomes visitors to Alexandria
photo by John Magnoski
---
Unlike a lot of museums in the Twin Cities, we almost miss the unassuming Runestone Museum. (Hint: It's down the street from the 28-foot-tall fiberglass Big Ole statue.) We pay our $20 family admission price and bypass the Viking helmets and stuffed animals in the gift shop to get to the museum entrance.
We stop first in a small room, where we watch a short movie explaining the history of the Vikings and the story behind the 202-pound Kensington Runestone. The stone, inscribed with the tale of an ill-fated voyage of Scandinavian explorers who arrived in America in 1362, was discovered in 1898 by Swedish-American farmer Olof Ohman, who unearthed it on his property several miles outside of Alexandria. If it's real, it's proof that Vikings were here first, more than 130 years before Columbus left Spain. If it's fake, Olof's attempt at a practical joke took on a life of its own. Whether authentic or an elaborate hoax, the runestone put Alexandria on the map, and those in the town of 11,000 embrace their Viking heritage, even claiming to be "the birthplace of America."
The famous runestone is only part of the museum's appeal. There's an exhibit on Anishinaabe Native American tribes, complete with an authentic 1920s tinkle cone "jingle" dress on display (one of only four dresses left in North America); a Minnesota wildlife exhibit; a re-created WWII-era living room; and the Childrens' Discovery Room in the back, with interactive games, dress-up clothes, and the opportunity for kids to pretend they are homesteaders. The boys write their names on a chalkboard using the Runic alphabet, which we didn't know existed until just now.

Moe Township schoolhouse at Runestone Museum
photo by Lisa Meyers McClintick
---
We walk outside in the back of the museum, where there's another Viking-era exhibit, a 40-foot-tall replica ship, and restored historic buildings in "Fort Alexandria," a replica of the original fort commissioned in 1862.
The fort includes a one-room schoolhouse, church, log cabin, general store, blacksmith shop, and stage coach stop. We spend a little extra time in the school, a highlight for Ben. He is fascinated by the idea of one teacher in charge of all the kids in that little space, the only teacher those kids will ever have.
After we leave the museum, we check in at Arrowwood Resort on Lake Darling. With 200 guest rooms and 16 townhomes, the resort should feel supersized, yet somehow it remains personal and quaint. The front desk receptionists are friendly and welcoming, and we receive honest restaurant recommendations from the woman in the on-site gift shop (who also suggests Arrowwood's brunch and caramel rolls).

Lazy river at Arrowwood Resort
photo by John Magnoski
---
It's too chilly for the beach, and that's ok. We're here for the 38,000-square-foot indoor waterpark. Unlike Wisconsin Dells, it's not overwhelmingly "Where's my kid?" gigantic, and unlike some hotels, it's not disappointingly "This is it?" small. There are three four-story waterslides, a lazy river, a hot tub for those ages 12 and up, basketball shoot-out, shallow designated area for the little ones, and the Banana Cabana Snack Bar with food and refreshments.
Ben is like a wind-up toy on the waterslides, bounding up the steps with his yellow tube and riding down again and again. Adam is more interested in basketball. They don't want to leave.
If you did need a break from the waterpark, Arrowwood has an abundance of recreational activities and on-site restaurants to keep kids and adults occupied, from paddleboat and jet ski rentals to an on-site spa and indoor tennis courts. There's also horseback riding (Arrowwood has a 30-horse stable) and golfing on the 18-hole Atikwa Championship Golf Course or the putting course in the warmer months, and snowmobile rentals, sledding, and broomball or hockey on the lakeside rink in the winter.
Later, we head to Eddy's Interlachen Inn, known for excellent prime rib, walleye, and seafood chowder. "Interlachen" is Scottish for "Between Two Lakes"—the restaurant is located between lakes Le Homme Dieu and Carlos off County Road 42. This place has personality plus: The exterior reminds me of an all-stone gangster's hideout from the 1920s. As we're told by more than one person, it gets really busy when Theatre L'Homme Dieu, just down the road, has a show. We're here during off-season, and the restaurant—decorated in your quintessential Minnesota rustic lodge style, complete with historic photos of Alexandria lining the walls—is still packed. A jovial group of middle-aged friends leave with a half-finished bottle of wine. An elderly man approaches an old friend, kisses her on the cheek, and grabs onto both of her hands while giving her his undivided attention. A couple in the booth behind us celebrates a recent engagement. Friends and neighbors in John Deere hats and flannels are mingling with friends and neighbors in Patagonia fleeces. It's refreshingly unpretentious.
The kids order meatloaf and chicken strips, Aaron orders the ribs with house made sauce, and I get the New York strip steak. It's all delicious. The server recommends an ice cream drink, but I stick with gin and tonic and am glad I did. It's perfection. We're all tired but don't want to leave; the atmosphere is too fun. We stick around to watch folk singers perform the first part of their set. This feels like the best parts of small-town life.

Friendly moose at Carlos Creek Winery
photo by Chrissy Sorenson
---
The next day, we drive to nearby Carlos Creek Winery, where people are waiting in the parking lot for the tasting room to open at noon. By 12:20, there are close to 50 people sampling wine, including three bachelorette parties, multiple families, and couples of all ages. When I ask a bartender if this is a typical Saturday, she laughs, "We're just getting started. It'll get crazy."
We sit at a round table, lounge music setting the tone, and sample our wine. I go the sweet route, Aaron goes with red, and other options are fruity and dry. Even though it's busy, there's never a long wait. The wine is tasty; the customer service is excellent. The boys drink soda, and we all nibble on cheese and crackers.

Sipping wine at Carlos Creek Winery
photo by Chrissy Sorenson
---
Shortly afterwards, we're treated to a family-friendly tour of the vineyard and production area (guests can arrange for a private tour in advance) with Michelle Bredeson, vice president of marketing and sales. We pass by bocce ball courts, oversized chess, a gazebo, and a patio. She mentions that in the summer months, you can share a bottle with friends while listening to live music outdoors.
As we walk and talk, we learn that they grow seven varieties of grapes on 22 acres of vineyards, including cold-hardy Frontenac, Frontenac Gris, and Marquette grapes, developed by the University of Minnesota. She takes us into the production facility and talks about their award-winning hard cider, oak barrel-aged port, merlot, and blends. She mentions their Minnesota Nice wines, Wobegon White, Hot Dish Red, and You Betcha Blush, which you can find in single-serving plastic bottles at Minnesota Wild games, concerts, and other events at the Xcel Energy Center.

Sugar Shack in historic downtown Alexandria
photo by John Magnoski
---
Afterwards, we head to Broadway, the main street in town. Historic buildings and interesting shops line the not-too-busy street. We buy gifts at Magpie, a cross-between Bibelot and Patina, check out a multi-level antique store, and spend way too much time in the Sugar Shack, where our kids lose their minds making candy selections. At a stoplight, we spot our server from Pike & Pint and she recognizes us and waves. I like it here. I even like the Ben Franklin, where you can find cheap junk you never knew you needed, perfect for our geocaching adventure.
We head to the 1,231-acre Lake Carlos State Park, where we tell the naturalist at the Visitor Center that we've never gone geocaching before and we're clueless as to what is in store. She explains that the boys will wear a Global Positioning System (GPS) unit around their necks, and receivers will pick up satellite signals and calculate their positions, leading them near a treasure, or "cache," hidden somewhere off the trail.

Geocaching at Lake Carlos State Park
photo by Kkolis – Fotolia
---
The first cache we find is in a coffee can behind a rock, and there's a hint, or clue, to the next cache. Soon, we're all invested in the scavenger hunt. We do two different challenges, an easy one to get started and then a more challenging one that requires a lot more effort. At one point, I am convinced the container has blown away. We look for at least 30 minutes before Aaron finally discovers it in one of those "how on earth did you find that?!" hiding spots.
I notice the woods in a way that I wouldn't otherwise. I appreciate Adam's tenacious personality (he is determined to find every last cache), so different from how his brother approaches the same task. There are rules and Adam will follow them. Ben, on the other hand, picks up a fallen branch and starts whacking the ground, the trees, the grass, quickly forgetting about geocaching. At the end, we're rewarded with a treasure chest of trinkets. We take two and leave two behind.

Gourmet steak dish at La Ferme
photo by Lane Olson
---
We have 6 p.m. reservations at La Ferme, a charming bistro-style restaurant downtown. When we walk in, there's no doubt that this is a romantic, special occasion place, with candles and fresh-cut flowers and linen napkins.
A sign on the wall states, "Farm to table and table to soul," and I'm glad that there's interest in a restaurant like this in Alex, where people see the value in supporting the local farm-to-fork concept. Matthew Jensen, owner and executive chef, worked under Chef Vincent Francoual at Vincent Restaurant and Chef Jim Kyndberg at Bayport Cookery, learning from some of the best in the state. In addition to supporting local farmers, he has an affinity for French cuisine and a talent for adding creative touches to each dish on his seasonal menus.
The server, in a long apron, black pants, and plaid shirt, brings warm bread in a little tin pail before delivering amuse-bouche (lamb sausage with pickled radish) to "cleanse the palate." The boys play it safe and order burgers. Aaron orders the sea bass—fresh fish is flown in weekly—with kohlrabi and stir fry. It is extraordinary. I order squash soup and chicken, with a glass of prosecco. For dessert, we share the molten chocolate cake with beer ice cream. It's one of the best desserts we've ever had. When we leave, there's a wait for tables.
On our last day in Alex, we stop at DJ's Tap House en route to home. Seven TVs are showing the Vikings game, every server is wearing Vikings gear, and the mostly young(er) crowd is sporting their purple and gold, too. This city, after all, is one of the reasons the NFL team got its nickname—they're at the center of Scandinavian-American culture.
We order the tacos, crispy sweet potato waffle fries, and burgers, and it's all on-point. The woman at the table next to ours orders the craziest Bloody Mary we've ever seen, complete with ribs, chicken, a mini bacon cheeseburger, pot sticker, shrimp, tater tot, beef stick, pickle, lemon, lime, jalapeno, and olives. Aaron is so impressed, he asks to take a photo. "It's a meal for sure," the woman laughs.
As we're cruising home along I-94, I think about how vacations make you appreciate your loved ones on a different level. I think about how refreshing it is to be without the usual distractions of day-to-day life. I think about the importance of being present and how Aaron does a much better job of this than I do. After a while—out of habit—I take my cell phone out of my purse, start scrolling and then stop. (How easy it is to forget.) Instead, I ask the boys questions. Tomorrow we won't have this long car ride and one another's undivided attention. All we have is the here and now. I'm not letting it go.
Facebook Comments