A few weekends ago, we had friends in town from Green Bay, friends with four kids ranging in age from 6 to 11, friends who wanted to experience Minneapolis (they'd never stayed downtown before). I wracked my brain. Where oh where was a good spot for a family of six to stay downtown? I've stayed in a number of hotels downtown for weddings, girls' nights out, and bachelorette parties, but never stayed downtown with my family.
I thought and thought and kept coming up empty.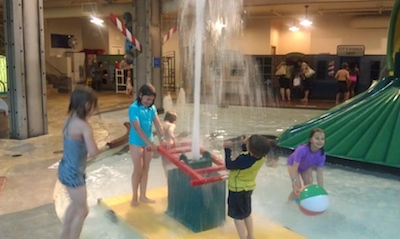 "What about The Depot?" my friend Holly asked a few weeks prior to their arrival. "I've read good things online."
Duh! The Depot! It was perfect. There's an indoor waterpark for the kids, the rooms are beautiful, modern, clean, spacious, and reasonably-priced, and the location is ideal for checking out the city.
It proved to be just what they were looking for. 
On the first morning they were in town, their family met up with my husband and two kids and walked over to Mill City Museum, on the Mississippi Riverfront where everyone—kids and adults—enjoyed the freight elevator tour, hands-on water exhibits, and ninth floor view of the Stone Arch Bridge and lock and dam (they were even able to watch a barge going through).
Admission to the museum is $11 for adults and $6 for kids 6-17 (free for kids 5 and under and to members of the Minnesota Historical Society).
I missed out on the museum since I had to work a half-day, but joined up with the group at noon. They don't have food trucks in Green Bay (yet), so we walked down Marquette and sampled a few different items from a few different trucks until everyone was full and happy. (The pulled pork sandwich at Get Sauced was a big hit.)
We spent some time walking around downtown (Holly and Kevin were especially amused by the Pedal Pub), before driving to Wayzata—where we drooled over beautiful lake homes. After that we enjoyed some delicious, refreshing custard on the patio of Adele's Frozen Custard on Excelsior Boulevard. *If we hadn't wanted to drive anywhere, we could easily have taken the lightrail to the Mall of America. A lightrail stop is only a few blocks from The Depot.
After wiping custard off the kids' faces (and shirts, and shorts), we returned to the hotel to take advantage of the amenities—mainly the fitness center, the kitchenette where we made dinner, and the waterpark. If they had visited in winter, we would have checked out the indoor skating rink as well.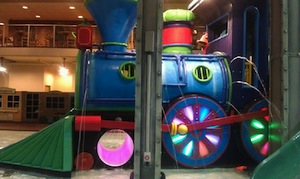 I admit that I had high expectations for the waterpark, seeing as how I recently stayed at The Kalahari and The Wilderness (everything seems so small in comparison), but for a hotel in a city that doesn't bill itself as the "Waterpark Capital of the World"—like Wisconsin Dells does—the waterpark was a great way to keep the kids entertained for awhile. They're at a young enough age that they didn't mind that it was smaller, and it was just a short walk from the room, unlike the massively spread out waterparks in Wisconsin Dells. I liked that it was clean, wasn't crowded, and was contained enough that I knew where my boys were at all times. I appreciated that the 'kiddy' section was totally separate from the big kids' section.
My friends booked the WaterPark package during their stay, but our passes—as visitors—were $20 per child, which seemed a little steep. On the flip side, I can also understand and respect that the hotel doesn't want a bunch of non-guests taking over when the waterpark was probably created with hotel guests in mind. Kids two and under swim free with a paid adult. (And don't forget the swim diapers! A single diaper is marked up to $6.)
There's a three-story waterslide for the older kids (waterpark employees measure the kids to make sure they're at or above the required height, then give those kids a different colored wristband than the younger ones), and a really fun area—complete with a splash fountain—for the little ones. I liked that I could stand in one spot and see my 3-year-old come out of one of three child-sized waterslides. There's also a whirlpool, a video game arcade, and a snack bar.
The waterpark is closed on Mondays, Tuesdays, Wednesdays, and Thursdays, and open from noon to 10 p.m. on Fridays, and 9 a.m. to 10 p.m. on Saturdays and Sundays. Lifeguards are on duty.
After the kids wore themselves out in the waterpark, we returned to the room to wait out a nasty thunderstorm before driving home. Both the kids passed out in the car the minute their heads hit the back of their carseats, almost always a sign of a fun day.
Facebook Comments