A few weeks ago, my husband and I stood on a Chicago sidewalk at 5:11 p.m., panged with panic that we'd mixed up an address and would miss our dinner reservation. And no, we couldn't just cancel and hit the corner pizza joint instead. A month ago, I'd already paid for the most expensive meals of our lives in the form of two non-refundable tickets—the terms a chef can command when he's cracked the top 10 on the list of the World's 50 Best Restaurants.
When you put it that way—that the only thing standing between me and one of the best meals on the planet was an hour on the puddle-jumper—flying to Chicago for dinner wasn't as ridiculous as it sounds…until it was four minutes until go-time and we didn't know where to go.
Fortunately, the valet pointed us toward the unmarked doorway we'd walked right past: the entrance to Alinea.
We stepped into a narrow, nearly pitch-black corridor, which felt about as hospitable as a haunted house, and inched down the dark hall until a side wall wooshed open, sci-fi–style, to reveal the host's stand. It was a dramatic transition from the outside world: Clearly, we were in Chef's universe now.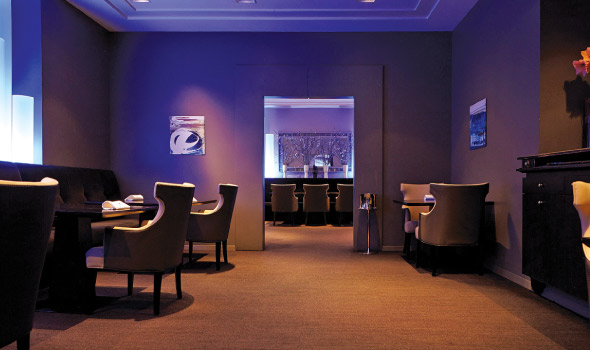 Alinea's two-story space is divided into a handful of small dining rooms with gray walls decorated by a few abstract paintings. The quiet, minimalist elegance had an immediate soothing effect, as did our first clue of chef Grant Achatz's characteristic mischievousness: stalks of rhubarb suspended from the ceiling, floating over each table.
Yet generally, Alinea is no place for diners who want to recognize their food. Achatz trades in molecular gastronomy, the modern culinary practice of deconstructing ingredients and rebuilding them into edible dioramas. Our first of the evening's 16 courses, for example: arctic char roe atop puréed banana, ginger, and passion fruit served in a glass bulb, like a terrarium. My first thought: Fish eggs with tropical fruit…really? But the delicious combination was like catching lightning in the bottle, just as the dish's vessel suggested. A few minutes later, the server placed what looked like tumbleweed on our table and instructed us to forage among its branches. The camouflaged course we (eventually) discovered was the world's best vegetarian jerky.
Alinea is among the few restaurants pioneering a new form of dinner as theater, where meals are designed to delight every sense, humor included. Presentation is considered as seriously as a course's flavor, as with sweetbreads eaten from Chinese takeout containers using an enormous pair of cinnamon sticks, or the flaming campfire set on our table and left to burn, unexplained. When it extinguished, our server returned and pulled out a block of seaweed-wrapped kobe steak disguised among the charcoal. "Where's the beef?" he joked, leavening the mood of what might have been an austere display of performance art.
What surprised me most about Alinea, in fact, was its fun factor. When you're paying more than $200 per person for a meal, you certainly don't expect to be served a balloon. "You might want to pull your hair back and take off your glasses," our server advised, before handing us each a floating bubble. "Just kiss it," he suggested. And so we did, breathing in enough helium to praise the deflated green-apple taffy in Donald Duck voices.
There's nothing in the Twin Cities like Alinea (nor would our market likely have the tourists and 1-percenters to support it). It combines the creative zeal of Travail's molecular gastronomy gastropub with the refined, coursed dining of La Belle Vie. Alinea operates on another level, executing experimental concepts with precision and consistency, within the framework of a fine-dining experience.
For our meal's finale, a short, shaggy-haired redhead wearing a chef's jacket and a long, robe-like apron arrived to "cook" us a frozen tart, using liquid nitrogen. He assembled the pieces on a silicone table cover and then artfully spooned sauces around it. It was our host, Achatz himself, though you wouldn't have known it from his lack of introduction, terse hello, and minimal eye contact. His focus was entirely on making us a fantastical dish, independent of our reaction to it. The interaction was a little awkward, but reflective of the restaurant's approach. We'd bought tickets to a culinary concert; the performance was all his. At the finale, Achatz sprinkled the creation with edible glitter, like a culinary magician. I would have applauded, to thank him for our incomparable meal, but he'd already vanished to the kitchen.
Tickets to Alinea are released two to three months in advance at alinearestaurant.com. Reservations at Achatz's second Chicago restaurant, Next, and its adjacent bar, The Aviary, can be booked in the same manner at nextrestaurant.com and theaviary.com. Admittance to the Aviary's private bar, The Office, is granted by texting 312-972-7641.
Foodie Pilgrimages: Eats Worth the Trip
Facebook Comments