St. Patrick's Day is one of the friendliest days of the year, and I love it.
Like Fourth of July or Mothers Day, strangers seem to smile more, lend a helping hand, and overall, exude a more positive attitude toward others.
And you don't really need to be Irish to celebrate. Though with a name like Fitzgerald, that was never an issue for me—I used to brag that I was 100 percent Irish.
I held my head up high on St. Patrick's Day, felt like an authentic reveler, and yes, may have told a few people that I was practically off the boat—I mean, my mother's maiden name once led with an "O," and the first and middle names of all my siblings only further support the cause.
But then one day (maybe as I was packing to study abroad in The Motherland?), my father admitted that perhaps, there was little German in the equation. What?! 
No offense to great grandpa or any people of German decent, but this was not good news. My purebred identity was rocked. But the party must go on, and I had already established a love of all things Irish—Celtic music, symbols, rainy days, quaint pubs, and of course March 17th.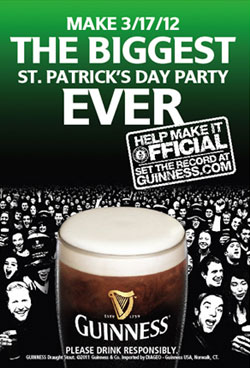 Which is why I can totally get behind The Official 17th March St. Patrick's Day Guinness World Records™ Attempt. Guinness beer is trying to get in the Guinness Book of World Records for "The Largest St. Patrick's Day Celebration," and we've decided to partner with them to help. 
This year I'm likely heading to Chicago to join the throngs celebrating along the green river, but the upside of this party is you can celebrate anywhere—in Minnesota or not. You just need to pledge to celebrate the Irish way, and include a Guinness in your day!
To participate, just go to Guinness.com and click "Join the Party." Fill out a short form to sign the pledge, but make sure to include the code word MINN to give our state the credit.
I pledged! You should too, even if you're not 100—I mean 75—percent Irish.
Slàinte! And please drink responsibly.
 
Facebook Comments