I had to resist the urge to say cliche lines like "Toto, I have a feeling we're not in Kansas anymore," and "There's no place like home" last weekend when I toured the Judy Garland Museum in Grand Rapids, Minn. (not to be confused with Grand Rapids, Michigan). Grand Rapids is about 3.5 hours north of the Twin Cities metro, adjacent to the massive Chippewa National Forest (the city used to be home to lumberjacks and fur trappers). Today, Grand Rapids is known as the perfect close-to-home destination for golfing, family-friendly lodges, fishing, and fun festivals. It is perhaps best known, though, as being the birthplace of famous singer/actress Judy Garland, a.k.a. Dorothy from The Wizard of Oz.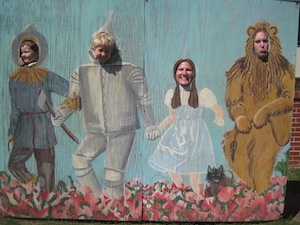 The museum was worth every penny of the $7 admission (admission is regularly $8/each, but AAA members receive a dollar off).
I've probably seen the movie The Wizard of Oz a minimum of 10 times. It never gets boring. I learned that Judy Garland starred in that movie when she was just 16 years old. I bet she had no idea how much that role would change her life.
The Museum is already in the planning stages for the 2014 Judy Garland Festival (June 10-14, 2014), when The Wizard of Oz will mark its 75th anniversary. Can you believe the movie has been around that long? Life has changed dramatically from when my grandma was young and watched the movie, to the 1950s when my mom was growing up and watched it in black and white, to my own youth in the '80s when I would belt out "Over the Rainbow" at the top of my lungs, and now to my sons' generation—and yet that movie has the same appeal to my five-year-old as it did to my 83-year-old grandma when she was a little girl (the Wicked Witch of the West and those nasty flying monkeys are cross-generational creepy; Glinda the Good Witch, the sparkling Emerald City in the Land of Oz, and that infamous yellow brick road are cross-generational magical). There aren't many movies around with that kind of timeless staying power.
On display was the actual carriage pulled by the "horse of a different color" in the Emerald City scene (formerly owned by President Abe Lincoln), one of the swords carried by the Winkies guarding the Wicked Witch's castle (remember the chant of "O-Ee-Yoh! Eoh-Ah!"?), and the Gold Record for the millionth copy of "Over the Rainbow" sold.
The Museum not only touched on Judy's upbringing as a child performer (she began performing with her sisters at just two years old, back when she was known as Frances "Baby" Gumm) and her starring role as Dorothy, but also painted a picture of her later years. I learned about her movies, her concerts, her family (famous singer Liza Minnelli is one of her daughters), and her many devoted fans, as well as her financial struggles, relationship issues (she was married five times), and battles with depression, self-esteem, and drugs, prescribed at a very young age to help control her weight. Sadly enough, she died of an apparent drug overdose at age 47.
Attached to the museum, accessible through a long hallway, is the 19th-century white clapboard house that Judy lived in until she was four years old. The home, originally built in 1892, was moved from its original location in Grand Rapids and restored by New York-based interior designer Marc Charbonnet. I could imagine a pint-sized Judy performing on the staircase landing, or tinkering on the piano, or sleeping upstairs in her parents' room while her sisters giggled in the room across the hall. You can see photos of the home in this Architectural Digest article.
The entire experience gave me an appreciation for the person Judy Garland was (talented and tormented) and how much she meant to her fans, and her family. I understand why Grand Rapids is proud to promote the city as her birthplace.
In 1958, Judy wrote to a fan, "Basically, I am still Judy Garland, a plain American girl from Grand Rapids, Minnesota, who's had a lot of good breaks, a few tough breaks, and who loves you with all her heart for your kindness in understanding that I am nothing more, nothing less."
She was—in typical Minnesota fashion—modest about her success. Frank Sinatra, however, disagreed. According to Sinatra, "The rest of us will be forgotten, never Judy."
The museum is open year-round, with modified hours from October to March. The Children's Discovery Museum, a sort of combined science/children's museum, is also part of the admission—the perfect way to let little ones burn off energy before a long drive home. For more information, call 1-800-664-JUDY or visit judynoplacelikehome.org.