Big Ole
photo by John Magnoski, courtesy Explore Alexandria Tourism
---
The chain of lakes and undulating, gentle landscape have lured tourists to Alexandria since trains whistled their way northwest to opulent Victorian resorts, but the area's appeal still lies in simple joys. A trip to the downtown candy store. Biking or driving around the lakes' scenic, winding curves. Watching toddlers wade into Lake Carlos' spring-fed water, clear enough to see tiny fish darting between legs and above toes.
In the spring, hikers striking out on 14 miles of state park trails can smell the thawing earth and fresh grasses and watch for swans or pelicans, gleaming white in a blue sky or guarding nesting areas on the southern end of Minnesota's Leaf Hills Moraines region. Here, woodlands meet western prairie, and farms blur into resorts and cabins.
Golfers swing toward lush greens, horse stables open for riders at Arrowwood Resort & Conference Center, and bicyclists whir through town along the 55-mile Central Lakes Trail linking Osakis, about 12 miles east, to "Alex" and continuing all the way to Fergus Falls, 50 miles northwest.
Bikers and drivers converge at the roadside attraction of blonde-haired Big Ole, a 28-foot-tall Viking warrior that begs for campy selfies. His shield makes the bold claim "Alexandria: Birthplace of America," referring to the controversial Kensington Runestone, an inscribed stone allegedly left behind by Vikings in 1362. The story goes that it was uncovered by a farmer about 15 miles west of Alexandria in 1898, but historians have questioned its authenticity. A Kensington Runestone Visitor Center opened in January near its discovery site and includes exhibits about its curious history.
For a closer look at Runestone mysteries and the area's Nordic and Native American roots, visit downtown Alexandria's Runestone Museum (within view of Big Ole). Behind the museum, spring through fall, visitors can tour nine historic buildings, including the Civil War-era Fort Alexandria and a beautiful, 40-foot replica of a Viking trading ship built by the Smithsonian Institution.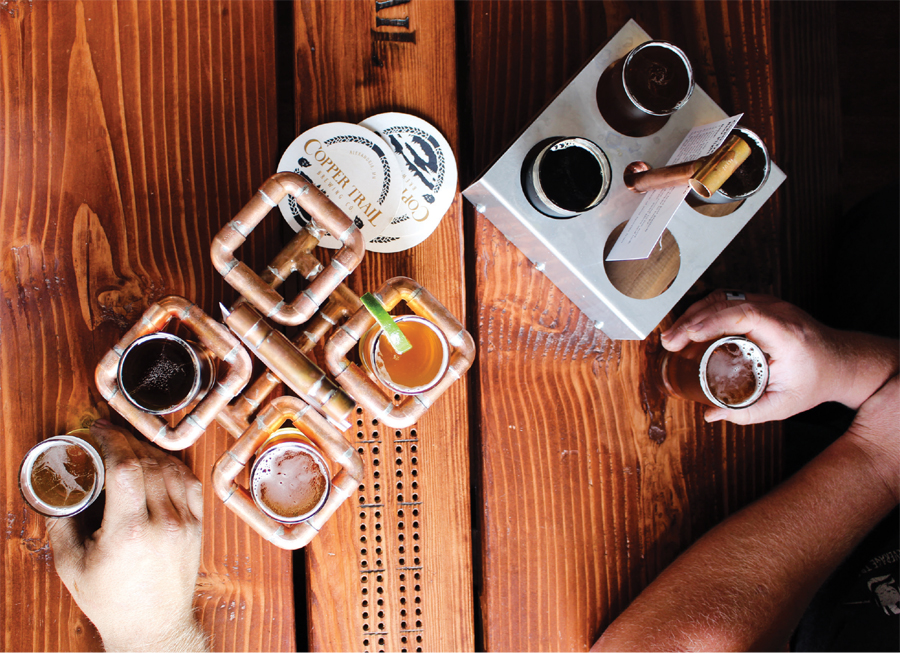 Skål Crawl at Copper Trail Brewing
photo by Rebekah Poppen
---
Visitors seeking a more spirited tour may want a designated driver for the self-guided Alexandria "Skål Crawl." Stops include craft whiskey producer Panther Distillery in Osakis, Carlos Creek Winery, and Copper Trail Brewing. The heady mix includes Panther's Minnesota 14 Whiskey, with hints of honey or maple syrup; Copper Trail's ales and Black Betty porter with bourbon; and Carlos Creek's playful bottles of Hot Dish Red and sparkling Minnescato, which is equal parts fruit, bubbles, and fun.
Carlos Creek Winery invites visitors to linger, with live music on Saturdays and a MN Nice Deli for meats and cheeses. Bring your own blanket and games for a relaxing day among the grapes or the 100 apple trees, which burst into bloom in May.
Nothing brings people into a resort town like spring rain, but even sunny, idyllic days coax shoppers to Cherry Street Books for beach reads, Scandinavian Gift Shop for comfy clogs and whimsical gnomes, Potomac Bead Company for classes and sparkle, and Ravnik & Co. for inspirational and charming home decor.
Other shoppers eagerly scour Now & Then's three levels within a historic bank building, or Past & Present for those only-in-Minnesota keepsakes: giant fishing lures, vintage water skis, paddles, and Norwegian sweaters. We're guessing Big Ole would approve.
---
Eat, Play, Stay
Start your day inhaling the frosted rolls and sweets, including mini fruit cobblers, cakes, and custard pies at Roers Family Bakery.
For farm-to-fork seasonal fare with global influences, head to La Ferme downtown. While most ingredients are locally sourced, the chef does fly in seafood for Friday specials and sushi when available.
Pike & Pint Grill serves pike corndogs, lobster nachos, ribs, and strawberry rhubarb cosmopolitans.
If you visit in May or later, don't miss the Legacy of the Lakes Museum, a nostalgic nod to Minnesota's boat builders and collectors.
Arrowwood Resort and Conference Center has some of the newest, most-spacious places to stay with one- to four-bedroom cottages, townhomes, and traditional guest rooms along Lake Darling.
For a smaller lake resort, Geneva Beach Resort opens May through September with 16 cabins, townhomes, and studios on Lake Geneva and the Central Lakes Trail.
Facebook Comments