Steamboat Minnehaha
photos by Jamey Guy
---
Before biting into that flaky Danish topped with roasted mushrooms, spinach, and goat cheese, close your eyes and listen to the French music. Add the aroma of croissants, coffee, and crêpe cake, and Lake Street in Wayzata feels like another continent.
That was intentional when Bellecour's creator, chef Gavin Kaysen of Spoon and Stable, opened this Francophile bistro and bakery last March and elevated an already booming food scene.
A block away, there's more European flair—especially Parisian—through the antique pink door of L'More Chocolat. The chandelier-bedecked shop opened last summer, and boasts shelves of imported chocolates, heart-shaped truffles crafted by hand, colorful macarons, and decadent hot chocolate.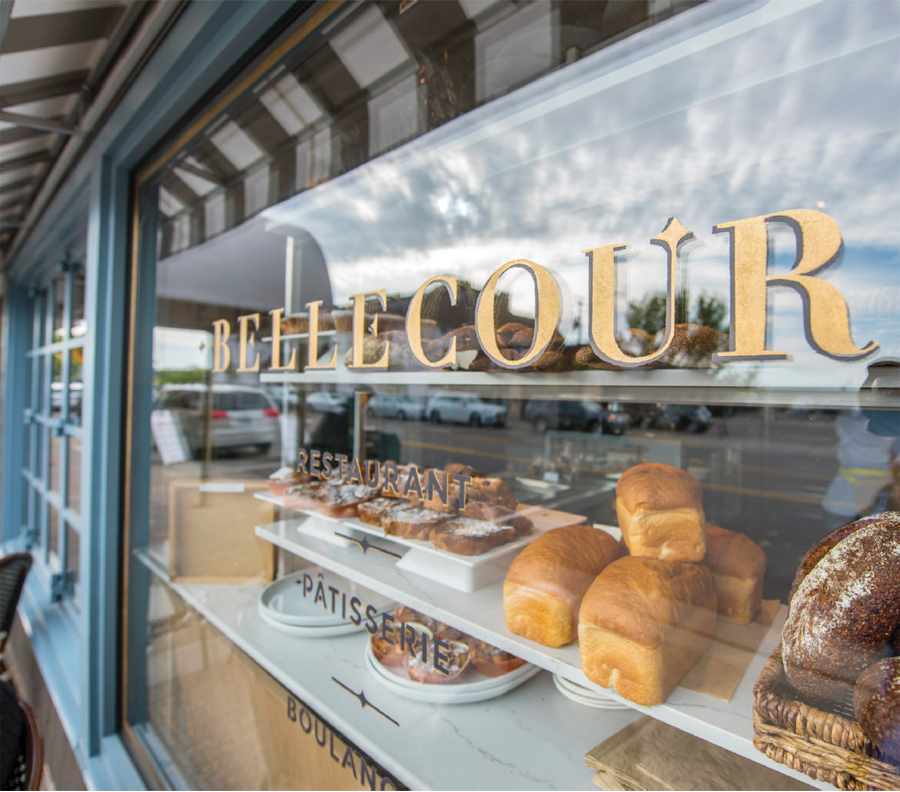 Bellecour
Only 20 minutes west of downtown Minneapolis, this suburb's lakeside dining options, bike trails, and boutique lodging have turned the community of less than 5,000 residents into a metropolitan hot spot.
Visit in April and you might beat the summer crowds, when Wayzata Bay fills with boats, and the historic Steamboat Minnehaha cruises to Excelsior and back. The patios pack with patrons grooving to live bands and sharing fresh guacamole topped with juicy bites of lobster.
CÅV Wayzata, which debuted with an airy, nautical New England feel a little more than three years ago, opens its dining room's lakeside wall and windows to embrace the first warm days of spring and the fresh breezes rippling across Lake Minnetonka's Wayzata Bay.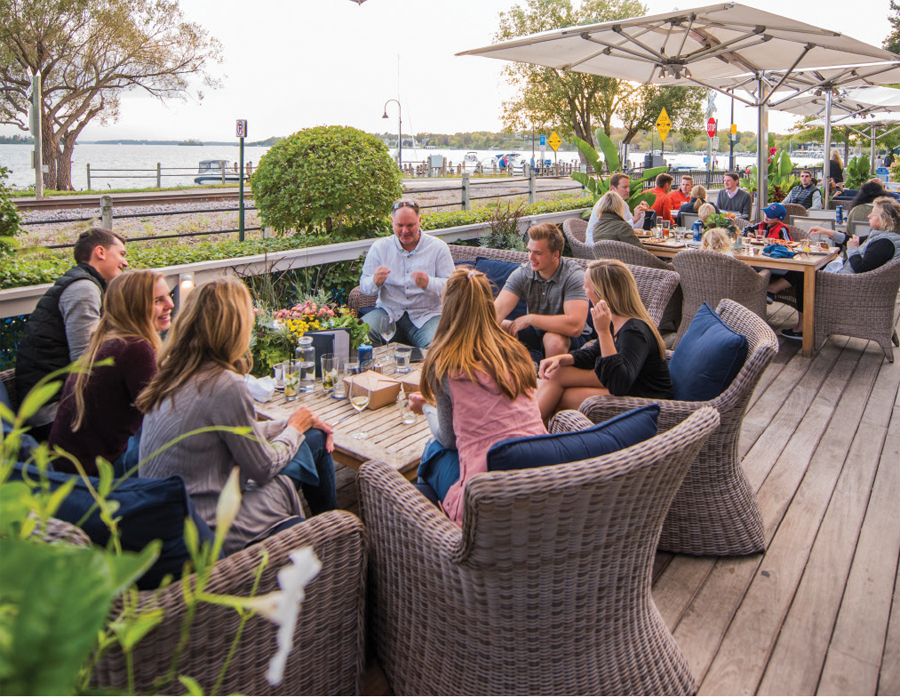 CÅV patio
More nearby waterfront patio options include the Wayzata Brew Works taproom, where a restored Tonka Craft boat hangs suspended from the ceiling. They keep the food simple—pizza and soft pretzels—with a focus on a dozen craft beers, including a guava passionfruit pineapple Gose, Skinny Dipper Kölsch, an imperial stout, and a lager.
Serious diners stay for hours at nearby 6Smith, which includes warm-weather rooftop or lakeside patio seating. Start with tuna poke or bacon and bourbon house-cured pork belly. Others feast on weekend brunch, steak, lobster, and playfully over-the-top Fat Pants Friday sandwich specials, which must be at least 3,000 calories and cannot be shared.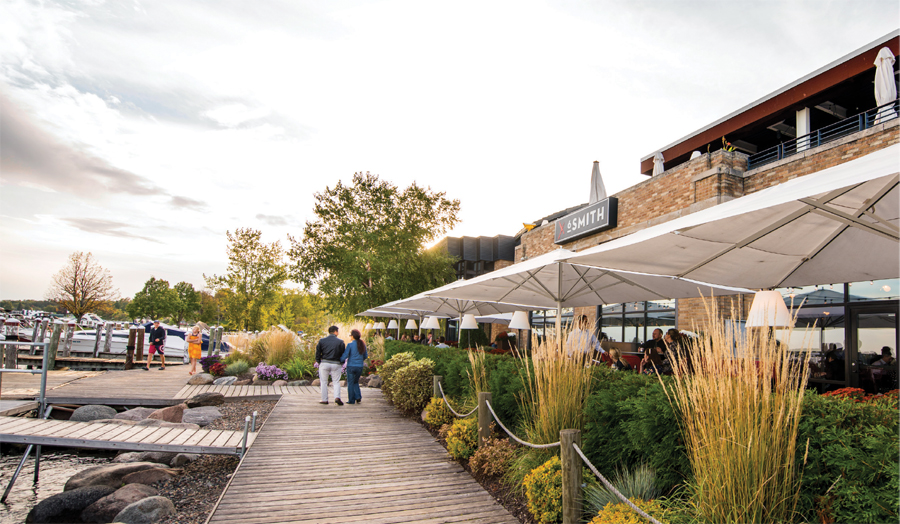 6Smith patio
Occasionally, a train rumbles past next to Lake Street and the waterfront, hinting at the community's early railroad years. Back in the late 1800s, trains and grand hotels made Wayzata one of America's premier resort destinations.
The Wayzata Historical Society, based in the 1906 English Tudor train depot, opens for the season in April. Outside, a model train chugs through an outdoor garden. The indoor exhibits map out early years, with European explorers paddling from Minnehaha Creek to Lake Minnetonka, along with the heyday of Big Island Park, which once had a Ferris wheel and amusement rides. You can also learn about the grand summer estates that preceded the year-round cottages and mansions now lining the lake's inlets and the surrounding woods.
Wayzata's recent five-year, $342-million downtown redevelopment effort gives the city a fresh feel while also bringing it back to its roots as a tourism destination. More improvements, including a lakeside boardwalk and eco-park, are yet to come.
The Hotel Landing opened last summer at the east end of downtown with 92 rooms and suites, along with a Nordic-inspired Läka Spa with facials, body treatments, and massages. Its Nine Twenty-Five restaurant, led by chef Ryan Lund, formerly of Lucia's, entices diners with smoked trout Benedict, wild rice fritters, steamed mussels with grapefruit and chimichurri sauce, fried walleye rolls, and sweet corn crème brûlée.
The rest of Lake Street is a mouth-watering mix of newer restaurants, like Baja Haus and Benedict's Morning Heroes, and longtimers, such as McCormick's Irish Pub and Gianni's Steakhouse.
The No. 1 rule for visiting Wayzata: Go hungry. And don't forget sunscreen.
---
Eat, Play, Stay
From Memorial Day through Labor Day, you can catch a ride on the 70-foot Steamboat Minnehaha, once part of the Twin Cities' streetcar system and lovingly restored after being salvaged from the lake bottom in the 1980s.
If you're craving Lake Minnetonka souvenirs, such as placemat maps made from sails, a book on the boathouses of Lake Minnetonka, or locally inspired tumblers for summer drinks, check out Five Swans, a gift and home décor shop.
Work off calories between meals by taking a run or a ride along the Dakota Rail Regional Trail or Luce Line State Trail, or rent a standup paddleboard at Wayzata Beach.
Facebook Comments