How often do you find yourself driving down the street thinking, "wow, that sure is a cool building"? When I'm traveling through Minneapolis or St. Paul, that thought definitely seems to pop into my head more often than not. And not only are our architectural landmarks grand, but they're so diverse, ranging from Renaissance-style to incomparably modern. With so many wonders spread across the city, it really is harder than you'd think to compose a list of the best, but in my opinion, these are the top five.
1. Weisman Art Museum: Designed by world-renowned architect Frank Gehry, this stainless steel structure won him the Progressive Architecture Design award. Named after Frederick R. Weisman, a Minnesota native and the former president of Hunt Foods, it serves as a teaching museum for the University of Minnesota, with a collection that includes more than 17,000 works of art. 333 E. River Rd., Minneapolis.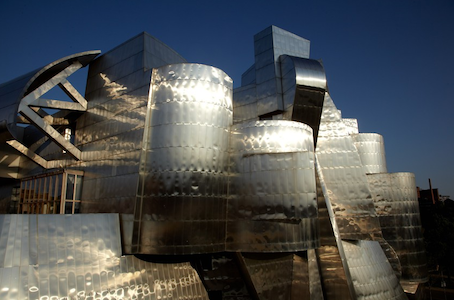 Photos by Todd Buchanan
2. Minnesota State Capitol: After nearly 12 years of planning and construction, Minnesota's third state capitol building opened in 1905. Cass Gilbert, a then 35-year-old local architect, designed the Italian Renaissance-style building, including the magnificent dome, modeled after St. Peter's Basilica in Rome. Another standout feature is the golden quadriga, which sits in front of the dome, designed by Daniel Chester French, sculptor of the Lincoln Memorial. 75 Rev. Dr. Martin Luther King Jr. Blvd., St. Paul.
Photos courtesy of the  Minnesota HIstorical society
3. Guthrie Theater: This is the most recently built structure on the list, having opened in 2006, but it certainly is no less grand. Designed by French architect Jean Nouvel, the bright blue metal building houses three stages, a full service restaurant, numerous bars, and one of the best views in Minneapolis. From the Guthrie's 30-foot-wide Endless Bridge (one of the longest cantilevers in the world), you'll get unmatchable views of the Mississippi River, St. Anthony Falls, and Stone Arch Bridge, as well as framed and "forced perspective" views that focus on nearby historical landmarks. 818 S. Second St., Minneapolis.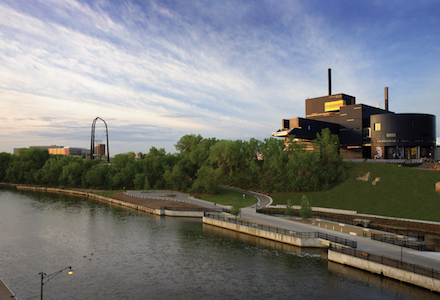 Left Photo by mark vancleave; Right Photo by Jim gallop 
4. Cathedral of Saint Paul: This Beaux Arts-style cathedral is the fourth of its name and was designed by French architect Emmanuel Louis Masqueray, who was inspired by the churches of his home country. Set on Summit Hill, characterizing features include domes and arches, large, stained glass windows that flood in natural light, and walls built of St. Cloud granite, American travertine from Mankato, and Italian Botticino marble. 239 Selby Ave., St. Paul.
Photos by Todd Buchanan
5. Basilica of St. Mary: Also designed in the Beaux Arts-style by Emmanuel Louis Masqueray, this was the nation's first basilica, built from 1907-1915. Located on Hennepin Avenue, this vision of Archbishop John Ireland is home to 12,000 parishioners and was honored by Pope Pius XI in 1926. 88 N. 17th St., Minneapolis.
Photos by Todd Buchanan
Facebook Comments