The first time I visited Historic Fort Snelling was on a field trip in elementary school. I remember entering through the guarded gates, enjoying pretending to be in an old-time classroom, and the wide eyes of my classmates as we watched infantry and cannon drills. However, back then, I wasn't able to fully understand the enormous history of the site. Sure I heard them telling me that this is what life was like in the 19th century, but I didn't fully grasp that this is where history happened hundreds of years ago.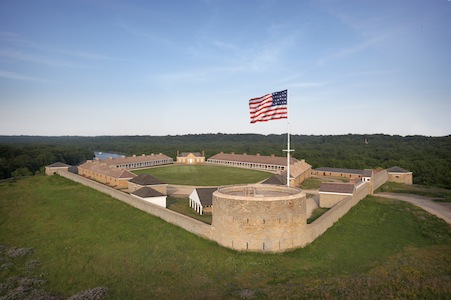 Photo courtesy of Minnesota Historical Society
Overlooking the Mississippi and Minnesota Rivers, Fort Snelling was once the furthest outpost of U.S. government. The fort, which was named after first commander Col. Josiah Snelling, was completed in 1825 and at that time represented U.S. government in the region. The fort remained in use until 1946, training soldiers for the Civil War, U.S.-Dakota War of 1862, Spanish-American War and World War II. In 1960 it was declared a National Historic Landmark, then five years later turned over to the Minnesota Historical Society, who opened it to the public in 1970. Today the restored site still contains its 19th century feel, allowing visitors to see the stories of soldiers, slaves, fur traders, Dakota's, and more brought to life through various programs and costumed interpreters.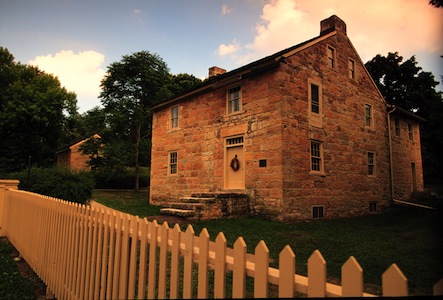 Photo courtesy of Minnesota Historical Society
Another important spot for Minnesota government and commerce during the 19th century is the Sibley House Historic Site, which is made up of four different limestone buildings. One of these was the former home and office of Henry Hastings Sibley, the state's first governor. His house was built in the mid-1830s by more than 100 Dakota and white laborers and is one of the oldest private residences in Minnesota. In addition to his political duties, Sibley was also Minnesota's most powerful fur trader. From his home he operated a trade outfit that spanned from the Mississippi to Missouri, and in 1835 the total value of his fur collection was more than $59,000 (just think of what that would be equivalent to today). Another former fur trader, Jean-Baptiste Faribault, has a home on the site, as does Sibley's secretary, Hypolite DuPuis, which now serves as a tearoom for visitors. The land was also home to two important treaties in the state's history, including one in 1851 in which the Dakota gave up the majority of their land (about 35 million acres), making room for a significant number of white settlers. 
This weekend is an ideal time to visit, as you are able to see both sites and get a more intimate glimpse into the time period by attending the Minnesota Historical Society's event Life in the 1800s from Cradle to Grave. Through theatrical performances and tours, visitors will learn about major life events for those of this time, including birth, marriage, and death. Each day will include a morning parade, infantry drill, cannon firing, and evening retreat ceremony. On Saturday, you can witness a marriage proposal and wedding ceremony, on Sunday you can learn about midwifery and childbirth, while on Monday you'll see how people experienced death, mourning, and funerals. In addition to the weekend's activities there will be a free shuttle between sites, so you can soak up the history of the places while also gaining a more personal look into the lives of early Americans.
Life in the 1800s from Cradle to Grave: Sept. 1-3
Saturday: 10 a.m.-5 p.m.
Sunday: noon-5 p.m.
Monday: 10 a.m.-5 p.m.
Tickets for both sites: $15 adults, $12 seniors and college students, $9 children, free for children ages 5 and younger and MHS members; fort-only tickets: $11 adults, $9 seniors and college students, $6 children, free for children ages 5 and younger and MHS members; Sibley-only tickets: $7 adults, $6 seniors and college students, $5 children, free for children ages 5 and younger and MHS members.
Facebook Comments