If there's one shoe that could take credit for having trod the most Minnesota terrain, it'd have to be the Red Wing work boot.
Model 877, in particular: classic brown leather body stitched to a thick white sole, with gold cord lacing 8 inches up the calf. Across the state's farm fields, construction sites, and shop floors, the design has proved its superior durability and comfort for the past half century.
Seemingly overnight, this inconspicuous, utilitarian good turned trendy. The heritage look was hot. Barneys began carrying an exclusive line of Red Wing work boots. Vintage togs sold to Japanese buyers for a thousand bucks a pair. Men whose work involved no more physical exertion than pecking at a keyboard were suddenly wearing 877s.
Red Wing Shoes and other longtime Midwestern manufacturers—Faribault Woolen Mill Co. and Kohler among them—are due for recognition.
As these companies have been quietly sewing, weaving, and casting for the past century, their boots, blankets, and plumbing fixtures have become unassuming icons, precisely because they haven't changed much over time, retaining their essence of sturdy construction and classic aesthetic appeal.
Our region is rich with attractions for enthusiasts of product, interior, and architectural design: factories that offer a behind-the-scenes look at how raw materials become best-selling goods; a summer camp that's been styled to transport visitors to its postwar heyday; a cabin that inhabits its surrounding woods as comfortably as when Frank Lloyd Wright drafted its plans five decades ago. While good design is timeless, there's never been a better moment to visit these style-savvy destinations.
Choose your destination:
Camp Wandawega; Interior design; Elkhorn, WI
Red Wing Shoes; Product Design; Red Wing, MN
Faribault Woolen Mill Co. Blankets
Textiles; Faribault, MN
While road-trippers have reliably flooded Minnesota's handful of small town all-stars each fall, Faribault's been quietly honing its getaway worthiness, one gift shop and sushi restaurant at a time. The historic downtown, including your requisite theater-turned-arts-center and homespun sweets store, certainly deserves a visitor's afternoon. But it's the Faribault Woolen Mill that makes folks from around the world pay attention to this town of some 23,000, rising out of southern Minnesota's patchwork farmland.
Thursday is tour day at mill HQ, and from the parking lot, this looks like textbook small-town life: The squat, brick building borders a rushing ribbon of a dam in the Cannon River, where old-timers spend post-lunch hours with bait and tackle, catching, then releasing.
PHOTO COURTESY OF FARIBAULT WOOLEN MILL
Inside, the lights are low, and genial jazz fills the Mill Store. Exposed ceiling joists and worn floorboards act as a pitch-perfect backdrop for a selection of woolen scarves and blankets, draped meticulously over metal pipes, fanned out under an antique industrial sewing machine, and piled in sparse stacks. The store's connected to the corporate offices, so shoppers sometimes mingle with employees who'd look just as at-home in a boutique digital agency in the North Loop.
Photo by Andy Richter
Classic-meets-modern sums up Faribault, the heritage brand that almost wasn't. After operating continuously since 1865, the mill went bankrupt in 2009. The massive machines sat still for two years and were about to be sold off when Paul and Chuck Mooty, cousins and successful businessmen, swooped in and bought them, including brand and building. Three years after reopening, the company puts a contemporary-design spin on its age-old process to make blankets and scarves now sold in high-design shops, featured in high-end hotels, and custom created for clients. (George Clooney recently ordered a run for the cast and crew of The Monuments Men.)
Faribault's is the only remaining mill in America to go from raw wool to finished product under one roof, and the tour walks visitors through the process, past piles of earthy-smelling raw wool you can reach out and touch; past 50-year-old machines wheezing and clanging as they twist cloud-like masses into yarn; past people playing spider, midway through the days-long process of threading the industrial-green electric loom; and back by the wash and dye tanks, which smell just faintly of vinegar. In places, it feels as if it could be any day in the past 50-some decades—until your eye lands upon your guide, on-trend in black leggings, chunky specs, and a topknot.
Jana's father worked at the mill before her, back when conversations about making woolen blankets were pretty much the most boring thing ever. Now, she leads them twice a day on Thursdays and takes pride in learning tour-goers' stories about their Faribault blankets, handed down through generations, our throw-away society be damned. She talks about the 137-year-old heirloom that the owners regularly pull out of the safe. "I'm like, 'Guys, just leave it alone. It's going to be a rag next year.' But they're too excited," she says. Who wouldn't be, after saving a nearly 150-year-old brand from extinction?
Photo by Andy Richter
Faribault Woolen Mill Co. tours are typically Thursdays at 11 a.m. and 1 p.m. They start in the Mill Store, and tour-goers get 15% off products except factory seconds (which are always 40% off). Call ahead to ensure a space, 507-412-5534. faribaultmill.com
Where to stay
The Vintage Ballroom & Suites offers apartment-style accommodations right downtown, all with full kitchens, wi-fi, and cable. vintageballroom.net
Photo by Andy Richter
Where to eat
Cheese lovers, try the Cheese Cave, the downtown café/outlet store for Amablu, America's only cave-aged bleu cheese. FYI, even if the place isn't packed, long waits are typical. cheesecave.net
---
Frank Lloyd Wright's Seth Peterson Cottage
Architecture; Wisconsin Dells, WI
Photo by Kit Hogan
The best view of Mirror Lake isn't the closest one. It's set back from the water several hundred yards, where a keyhole in the forest reveals the sun setting beyond the lake's glassy surface, casting a warm orange glow. The spot isn't perched among the pine boughs, though that's just how it feels. A thin seam between two huge pieces of glass is the only clue that you're indoors.
The Seth Peterson Cottage, tucked into a wooded area just beyond Wisconsin Dells, exemplifies organic architecture—a man-made space harmoniously integrated with its natural surroundings. It's one of the few Frank Lloyd Wright–designed residences that accommodates overnight guests, offering a rare chance to inhabit the work of America's most famous architect.
The cottage is not among the Wisconsin native's best-known works (Fallingwater, the Guggenheim); Wright took the modest commission in 1958, at the twilight of his career. Sadly, neither he nor the cottage's owner, Seth Peterson, lived to see the project completed and, by 1966, the land was purchased by the state of Wisconsin when it created Mirror Lake State Park. The building was boarded up and largely forgotten until, two decades later, a group of preservationists rediscovered the cottage in a state of extensive disrepair: roof caved in, windows broken, mechanical systems unsalvageable. Only the stone floor, walls, and massive fireplace hearth remained in good condition, anchoring the structure like a sturdy tree trunk. After an extensive restoration, the roof once again lofts like a bird's wing to protect a wall of south-facing windows that let in the sun-dappled light.
Photo by Kit Hogan
The cottage's 880 square feet feel both spacious and cozy. A galley kitchen leads to an open, airy, light-filled dining space, where a rich stain makes the humble plywood walls and ceiling look luxurious. Around the corner, a lower roofline lends intimacy to fireside seating as well as the sleeping and bathing quarters. In the bedroom, which is large enough only for a mattress and closet from their pre-supersize era, high windows stave off daybreak. The flagstone floor begs to be padded across barefoot, having the warmth and texture of packed beach sand.
In the guest book, several missives are penned in the blocky capitals that architects favor. One describes the visit as "a lively experience we will remember when sitting on the back porch of life." And it feels exactly so: like a habitable work of art. sethpeterson.org
Photo by Nick Collura, courtesy of Travel Wisconsin
What to do
See the Dells as they were before being colonized by water parks and thronged by fudge-sticky tourists. Touring the fjords of Wisconsin—narrow gorges with striped sandstone cliffs—via the cottage's canoe feels like entering a portal to another universe.
Where to eat
A mere 20 minutes paddle from the cottage will rewind the clock half a century, when the Ishnala Supper Club first affixed itself to the lake's steep bank (prior to modern building codes). It hasn't changed a bit: The bar and dining room jut out over the lake like a ship's prow; Norway pines pierce the roof; and Native American artifacts double as décor. Knock back an old-fashioned then order the surf and turf to get a taste of why the Wisconsin supper club reigns supreme. ishnala.com
---
Kohler Plumbing Fixtures
Product Design; Kohler, WI
Courtesy of Kohler
Just outside Sheboygan, Wisconsin, the Kohler factory is surrounded by its company town of the same name: a movie set of charming brick homes and perfectly manicured lawns. Most come to Kohler for its ritzy resort, deluxe spa, and PGA Championship–worthy golf course—but where else can you watch a robotic arm pull a glowing-orange bathtub out of a furnace, from a vantage point close enough to absorb its blast of radiant heat?
Back in 1883, a Wisconsin farm-implement maker named John Michael Kohler got into the plumbing-fixture business when he applied enamel to a cast-iron trough, added four legs, and created a bathtub. (According to legend, he traded the tub to a farmer for a cow and 14 chickens.) A century later, Kohler, Co., has become one of the largest plumbing-fixture manufacturers—and oldest family-owned companies—in the country.
During a three-hour tour of the Kohler factory, visitors wearing closed-toe shoes and safety glasses get close enough to the action to earn "excuse-me" beeps from passing forklift drivers. Along with lines of vitreous china sinks, brass faucets, and other fixtures, Kohler still produces enameled cast-iron bathtubs, which hang like sides of beef on conveyor racks.
Photo courtesy of Kohler
Over the years, the facilities have become more and more automated (one octogenarian tour guide, a retired Kohler factory worker, points out a robotic tool nicknamed in his honor that replaced a step he used to do by hand). Still, some processes are as raw, manual—and viable—as they were a century ago. In the warm, humid pottery, shirtless workers in grubby jeans remove ceramic urinals from their molds. In the foundry, workers pour molten iron into molds—it looks like liquid lightning. You won't take a soak in the tub for granted after experiencing a sight like that.
Tours are offered weekday mornings at 8:30 a.m. Closed-toe shoes and advanced reservations are required, 920-457-369
kohler.com
Photo courtesy of Kohler
Where to Stay
The former factory workers' dormitories are now the luxurious American Club, appointed in dark wood, traditional décor, and, of course, Kohler fixtures (though not all rooms include tubs). If you stay at the Club's adjacent Carriage House, above the spa, a massage is only a short (robe-clad) walk from your room. americanclubresort.com
The resort's dining options include: the elegant Immigrant Room (jacket required), the more relaxed Wisconsin Room, and, for those still in their factory-tour wear, the Kohler workers' one-time tavern, The Horse & Plow, which serves great burgers and beer-cheese soup. americanclubresort.com
---
Camp Wandawega
Interior design; Elkhorn, WI
PHOTO BY BOB COSCARELLI
In the woods of southeast Wisconsin, Camp Wandawega's 25 acres harken back to an era when cars had fins and bathing suits provided more coverage. Its lakeside grounds evoke a world (soundlessly) preserved on super-8 film: herky-jerky scenes of kids splashing in the water, riding bikes, and catching fish, of wieners cooking on the grill, and mothers shielding their faces from the camera. From the lumpy mattresses to the scratchy towels, Wandawega's accommodations are so faithful to the camp experience that guests might almost expect to fall asleep in a cabin (or tepee or tent) and wake up decades younger, having returned to an idyllic childhood.
Photo by Bob Coscarelli
The property's origins aren't so wholesome: Wandawega was first a speakeasy that drew folks up from Chicago for drinking, gambling, and other sorts of activity that sometimes necessitated quick escapes through the lodge's trap door. The bunkhouse once operated as a "bawdy house of ill fame," according to a newspaper of the period. Its two floors are laid out with a hallway down the center, bathrooms on one end, and rows upon rows of bedrooms. When the madame went to prison in the 1940s, Wandawega became a family-run lake resort. In the 1960s, it became a retirement home for Latvian priests and, subsequently, a Latvian Catholic church camp.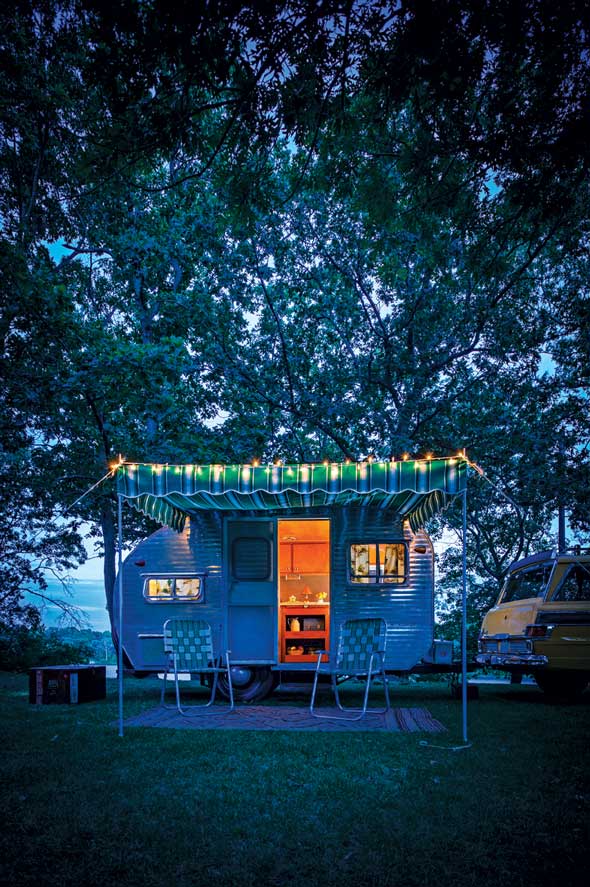 Photo by Bob Coscarelli
David Hernandez, who currently owns Wandawega with his wife, Tereasa Surratt, (pictured at right) enjoyed the property during this period, when his family spent summers at the camp. (Hernandez, his parents, brother, and uncle all squeezed into one of the bunkhouse's tiny bedrooms.) When the couple purchased the place a decade ago, they promised the church that they'd continue to host its Sunday morning Mass in the Grass at the camp's plein-air chapel: pews lined up between two rows of cedars.
Photo by Bob Coscarelli
Hernandez and Surratt, who are both creative directors at a Chicago advertising agency, wanted to keep the camp from being parceled out and populated with private lake homes. And so they began repairing the buildings and decorating them with antiques, mostly from the 1950s and '60s: from taxidermy to tea towels to kitchen tools to tennis racquets, along with snow skis, waterskis, fans, oars, and pendants. Some items were unearthed in the renovation (including a whole shelf of period Fiestaware that had been paneled over), others picked up on the cheap. Surratt documented the process of collecting and displaying these artifacts of postwar Americana in a book called Found, Free & Flea. The couple populated the grounds with old Boy Scout platform tents and tepees, acquired a vintage fire engine, an IH Travelall, and a travel trailer shaped like a canned ham. They hauled in a roadside motor court cabin and built a treehouse for grownups, lit by a shed-antler chandelier. Camp Wandawega became a world unto itself, a real-life Moonrise Kingdom.
Photo by Bob Coscarelli
Hernandez and Surratt originally thought they'd use the property to host family and friends, but soon they began receiving rental requests. Cabins can be booked via Airbnb or the whole property occupied for weddings or retreats (they can sleep up to 50 "with a butt in every bed," Surratt says). Since the couple never intended to be in the hospitality business, they ask every visitor to read Wandawega's guest pact: The Manifesto of Low Expectations. "Expect ladybugs on your pillow, a cricket if you're lucky," it warns. It also alerts guests to the communal kitchens, bathrooms, and concrete-floor camp showers. ("Be prepared to share them with toads; they were there first.") Basically, it's one step up from camping outdoors.
Photo by Bob Coscarelli
There's been enough demand for the Wandawega experience, Surratt explains, to command what are closer to four-star prices to the admittedly "quarter-star" accommodations. But the rental funds are intended to offset the cost of hosting retreats for enthusiasts of creative pursuits. (The author of Whole Larder Love's weekend workshop in butchering small game, smoking fish, and other back-to-the-lander culinary skills, for example.) Dovetailing with the couple's advertising work, Wandawega has served as a photo-shoot location for companies including The Land of Nod children's goods, Penfield outdoor apparel, and clothier Lands' End (which brought in a cow, baby goats, and fake snow to create images for its holiday catalog).
At Wandawega, even corporate executives, Michelin chefs, movie stars, and supermodels have been known to let down their hair. "They step into a different time, era, and mindset," Surratt says. They understand that the camp is among those rare, disappearing places where one can take advantage of old-time pleasures from the pre-digital age—and that the thrill of its perilous rope swing would be impossible to replicate in pixels. wandawega.com
---
Red Wing Shoes
Product design; Red Wing, MN
Photo by Andy Richter
No doubt about it, Red Wing's been richly blessed. First off, it's a top-tier Minnesota getaway destination with a well-rounded set of amenities, including the old reliable Mississippi and its striking, hikable bluffs, a paved bike trail, a glut of antiques stores, a couple of local wineries, a casino, and more.
But Red Wing also doubles as an eponymous, globally recognizable brand, twice over, with evidence of its heritage namesakes all over town. Look for Red Wing Pottery & Stoneware on antiques store shelves, in a small-scale Red Wing Stoneware tour, and at the new Red Wing Pottery Museum, which displays more than 6,000 artifacts from the company's past. And the Red Wing Shoe Company's goods not only grace many a resident's foot, but their manufacture can be seen firsthand on Friday morning factory tours.
Photo by Andy Richter
The company doesn't take tour reservations, and there's no information on its website. Just show up at Plant 2 and mill about the star-spangled boot sculpture with the unsure others until the door unlocks at tour time. Safety glasses and headsets are doled out, and everyone moves en masse to a little conference room lined in various styles of Red Wing boots.
Cue a 10-minute video, which explains that Red Wing started 109 years ago when shoe seller Charles Beckman noticed that farmers, for example, really needed manure-proof boots while blacksmiths wanted footwear impervious to stray embers. He set out to provide long-lasting work boots, customized to the day's trades. That mission still stands today. Red Wing now makes more than two million boots a year, sold in more than 100 countries worldwide.
Photo by Andy Richter
One impressive video factoid—120 steps, performed by hand, typically go into every pair of Red Wings—comes to life as you head out onto the factory floor to watch worker after worker glue, stitch, stretch, seal, buff, and otherwise manipulate the small leather flaps of a soon-to-be boot. The guide grabs examples in varying stages of assembly off workstations along the way, lending insight into each job. The cutters, she says, "read" hides in a flash, then strategically place their cookie cutter–like dies to minimize waste, appropriately use stretchy and strong sections, and position scars, brand marks, and bug bites either hidden on a seam or highlighted on a toe. And would you believe a boot's eyelet locations are simply eyeballed? By the time you trade your headset for a keychain made from scrap leather, you can see why these boots have endured.
Photo by Andy Richter
The Red Wing Flagship Store, Factory Outlet & Museum, a couple miles away on Main Street, is worth a stop, if only to grab a photo with The World's Largest Boot right inside the front doors. Upstairs, in the little lofted museum, see handwritten personal stories of boots that survived snake pits and 50 years of farming, plus a manageable amount of history, artifacts, and trivia. And if you're going to buy boots, well, here you go.
Red Wing Shoe Company factory tours typically happen non-holiday Fridays at 10 a.m., May through October. Simply show up at Plant 2, off Highway 61; no reservation required. Tour-goers must wear closed-toe shoes. redwing.org
Where to stay
The St. James Hotel has all the charm of a historic hotel, with unique rooms, antiques, and handmade quilts, plus modern amenities, including cable and wi-fi.
st-james-hotel.com

Photo by Andy Richter
Where to eat
The reborn 1951 Red Wing Brewery makes delicious pizzas, with chewy-crunchy crusts from brewing grains, and beers from original, historical recipes.
redwingbrewing.com
---
Web Extra: See how boots are built at Red Wing
Facebook Comments