Whenever I plan a trip, I go into information gathering mode. I search out all the relevant websites, order the area travel guides, and start following the right people on Twitter. My travel companions are alternately annoyed and grateful for my obsessive organization. If you are planning a trip to Minnesota, this blog is obviously a good place to start your information gathering, but I know of a few other sources that will help you plan the perfect adventure.
In addition to writing for this blog, I write and edit several local visitor guides that I'd recommend. If you want to learn about the cities, ask for a copy of Minneapolis Saint Paul Official Visitors Guide to the Twin Cities Area. Both Meet Minneapolis and Visit Saint Paul offer this guide, which features tips for tours to take and neighborhoods to explore, plus a look at the attractions, shops, restaurants, museums, and entertainment in the area. If you are planning to stop by the mega mall, don't hesitate to pick up the Mall of America/Destination Bloomington Visitors Guide. In it you can see the many shops, restaurants and attractions in Mall of America and the surrounding city of Bloomington. You can also pick up both of those publications at the Minneapolis-St. Paul International Airport. Looking for what to do once you are here? Pick up Where: Twin Cities and the Where: Twin Cities Map to see what's in town and where to go. These (and the hardover Where: Guestbook) are available at many area hotels and visitor centers.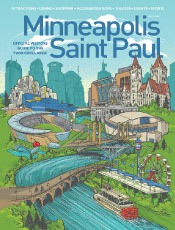 Of course, Explore Minnesota Tourism is a big help when planning any adventure in the state. Their website shares what's happening in all four corners of the state. Start a search with the type of activity you want to enjoy or the area you want to explore and you'll be guided to some suggestions. Explore Minnesota also offers several publications for travelers, from the Minnesota Travel Guide to golf, biking, and fishing guides and regional brochures.
Convention and Visitors Bureaus from Duluth to Rochester, Fargo-Moorhead to Stillwater, Ely to Winona and in between also can point you in the right direction with their own travel guides and experts.
If you want some more tips on where to go in Minnesota, Minnesota Monthly's own Katie Dohman and fellow Minnesota Journey's blogger and travel guide editor Amanda Fretheim Gates contributed to the book Minnesota 101: Everything You Wanted to Know About Minnesota and Were Going to Ask Anyway. At the bookstore or online you can find a number of other books devoted to travels in this fair state, covering a range of topics, like Weird Minnesota: Your Travel Guide to Minnesota's Local Legends and Best Kept Secrets or Dad's Eye View: 52 Family Adventures in the Twin Cities.
And don't forget to look for these same CVBs and sites on Twitter, Facebook, and blogs. There's a lot of information out there. We hope you find what you need and have fun planning your adventure.
Facebook Comments