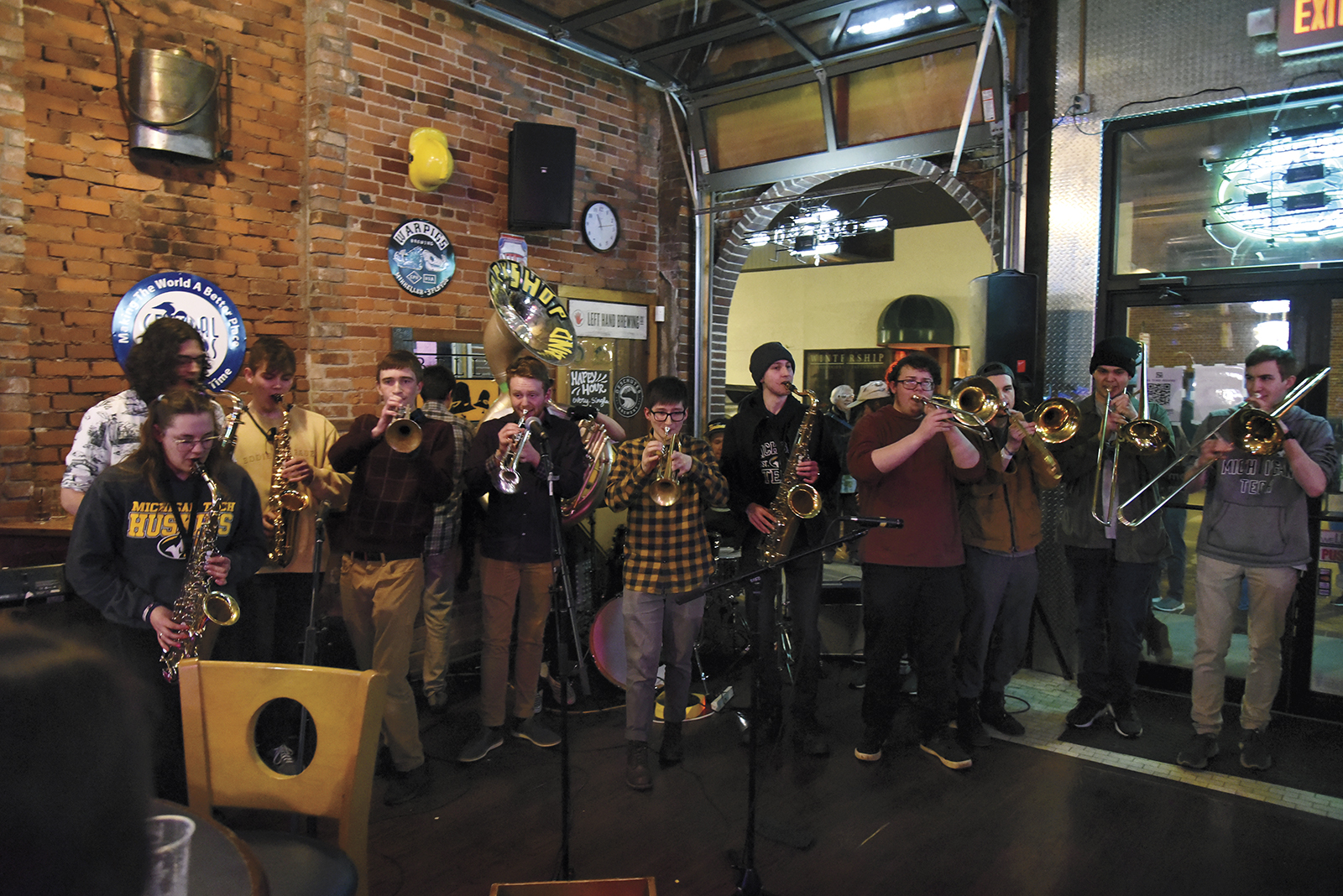 Here's something we didn't expect to be doing in Wisconsin last spring: observing—and, more importantly, enjoying—a beer hall packed with college students wailing their way through "When the Saints Go Marching In."
It was neither our first nor last encounter with ebullient undergrads that weekend. As thousands of live music fans descended upon downtown Eau Claire for its 56th annual Jazz Festival, we found ourselves swept up in the spirited chaos of more than 40 groups playing as if their lives—or at least their bachelor's degrees—depended on it.
These note benders weren't just from the University of Wisconsin-Eau Claire either: The sprawling Jazz Crawl, with swinging sets that took over local movie theaters, record stores, the aforementioned Fire House tavern, and other venues, included performances by Moorhead's Concordia Jazz Combo, Michigan Tech's Workshop Brass Band, and the Eau Claire-based trio Artem Jazz Group.
If you ask Robert Baca, the festival's longtime artistic director and a professor of trumpet at UWEC, this is by design. The Eau Claire Jazz Festival, this year April 21-22, isn't just a joyful celebration of shimmering brass instruments, rail-jumping rhythms, and Ginsu-sharp improv skills; it's a point of pride for Wisconsin's eighth largest city, which just so happens to produce some of the country's hardest-working and most talented jazz musicians. (The city of nearly 70,000 also turned out Justin Vernon, the singer-songwriter behind indie folk band Bon Iver and co-founder of the now-defunct Eaux Claires Music & Arts Festival.)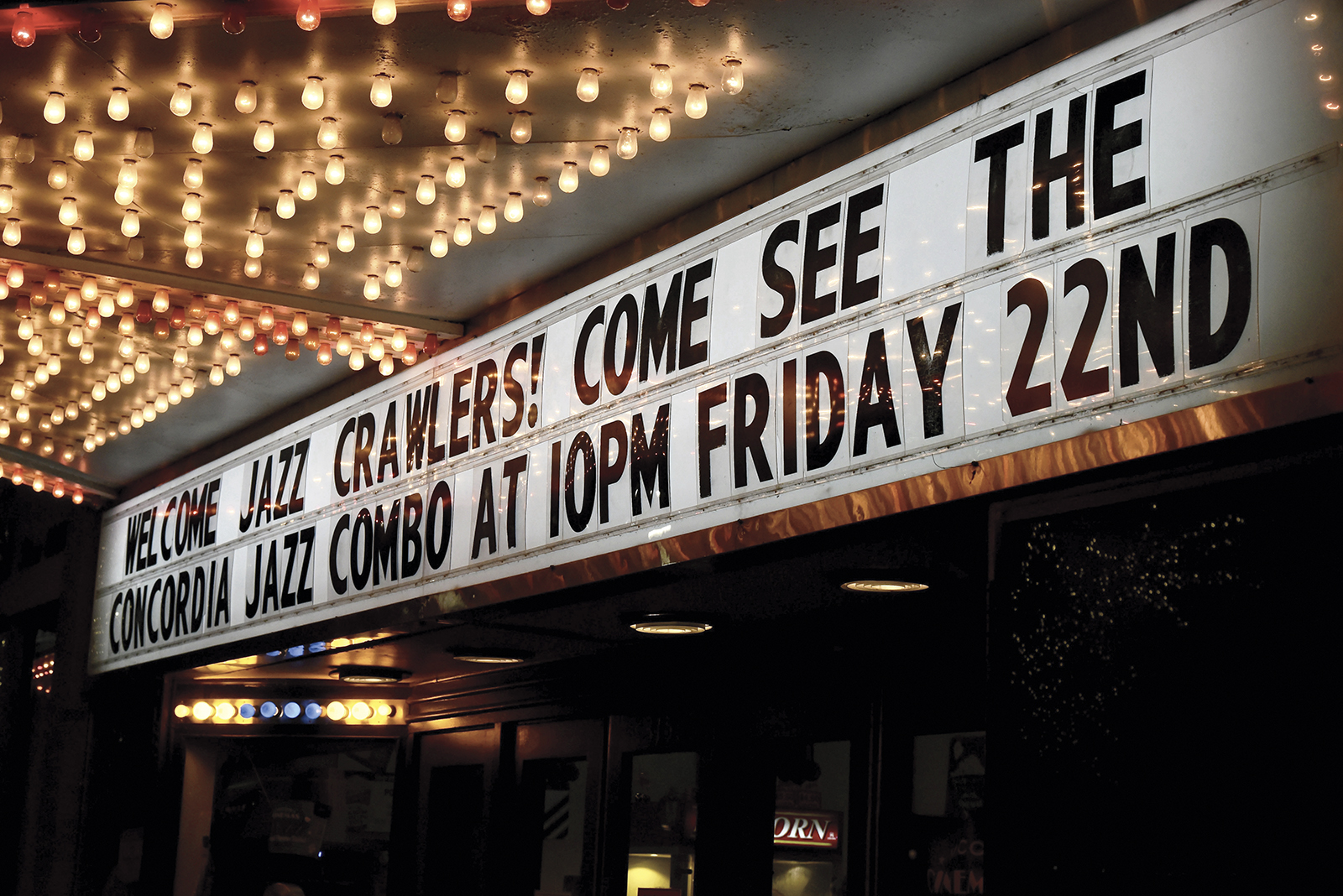 A big reason for this is UWEC's illustrious Jazz Studies program, which Baca runs like a progressive internship. Rather than offer a focused jazz degree, the school encourages its students to major in music itself and learn how to arrange, compose, and perform a gamut of pieces via university ensembles and on-the-fly events like the jazz festival. "The knowledge about jazz is not gained from classes but rather from experiences," Baca says. "Students need to perform in the big bands and [improv] combos to meet people, be encouraging and solution-oriented, and play their socks off—just like in real life."
One musician who noticed this purposeful dynamic last April was saxophonist Donny McCaslin. A stylistically elusive player himself—epitomized in his role as the experimental band leader on David Bowie's final album, "Blackstar"—McCaslin hosted master classes at the school and co-headlined marquee performances at Eau Claire's iconic Pablo Center. He was particularly impressed by the students' drive and dedication, as well as their desire to learn the ins and outs of the music business.
"I remember we did this hours-long rehearsal," says McCaslin, "and then afterward, we had this loose Q&A hang with Robert [Baca], myself, and the band. It went on until, like, 1:30 in the morning. It was great because it unfolded organically: As the talking progressed, more students spoke up with questions, which I appreciated. It wasn't just about my life story. It was about what it's like to make a living as a musician."
Another moment McCaslin fondly recalls was the 4 a.m. lift that a volunteer gave him back to the Minneapolis airport. Rather than whining about the red-eye route, the student eagerly discussed their plans for grad school and the various career paths available to serious musicians. "I enjoyed getting to know them a little bit," McCaslin says. "I want these kids to have as many options as possible."
Two-time Grammy winner Diane "Deedles" Schuur had a similar experience at last year's festival, which led to her declaring the Pablo Center "Wisconsin's own Carnegie Hall."
"I say that because I was swinging with many fine student musicians on some of my most well-known Count Basie Orchestra tunes," Schuur says. "I'm jazzed anytime I can play with students of this caliber and pass on a bit of my musical history."
This give-and-take between generations is exactly what makes the Eau Claire Jazz Festival so special—a regional draw big enough to pull in an estimated 5,000 attendees.
"There was crummy, wet, cold weather the night I was there," McCaslin says, "but it didn't matter—it was still beautiful to see."
Jazz Holiday

Where to eat, stay, play, and shop in Eau Claire, Wisconsin, when you're not making the festival rounds.
This pet-friendly DoubleTree by Hilton property sits in the heart of downtown, just a two-minute walk to the Pablo Center. Its main restaurant, the Informalist, makes a mean wood-fired pizza (try the Banana Jamma, topped with housemade Italian sausage, pickled jalapenos, and banana peppers), while the casual coffeeshop, EC/DC, knows its way around a breakfast wrap.
When in Wisconsin, order the cheese plate. Or better yet, a platter tricked out with cheese, charcuterie, pickles, and nuts, accompanied by a flight of local and regional craft beers hand-picked from six rotating tap lines.
Everyone—students, professors, moonlighting jazz musicians—loves the "Nuc," as locals call it, which means you may be waiting an hour for a table. Be patient: The Omega Scrambler with smoked salmon, avocado, and a Havarti-jack cheese combo is worth it, especially when you drink mimosas to kill the time.
The city is home to the largest sculpture tour in the nation, with more than 70 works of art sprinkled throughout town. Some of the pieces—including "Viewfinder," built by Greg Johnson at Eau Claire's Artisan Forge Studios and colorized by local artist Christy Ann Skuban, and the bronze "Maestro!," by South Dakota artists Lee Leuning and Sherri Treeby—are interactive.
David Caradori spent years apprenticing with master artisans in Japan before launching his own pottery studio in Eau Claire. He specializes in Shigaraki stoneware, firing his beautiful creations in a Sasukenei smokeless kiln designed by Sensei Masakazu Kusakabe. Not only is Caradori great for a yarn, he keeps good company: When we stopped in, we met Soma Smit of Smit Family Farm, 12 miles northwest of Eau Claire. Her grass-fed Icelandic lamb is sold at Menomonie Market Food Co-op and was an edible souvenir worth bringing home.