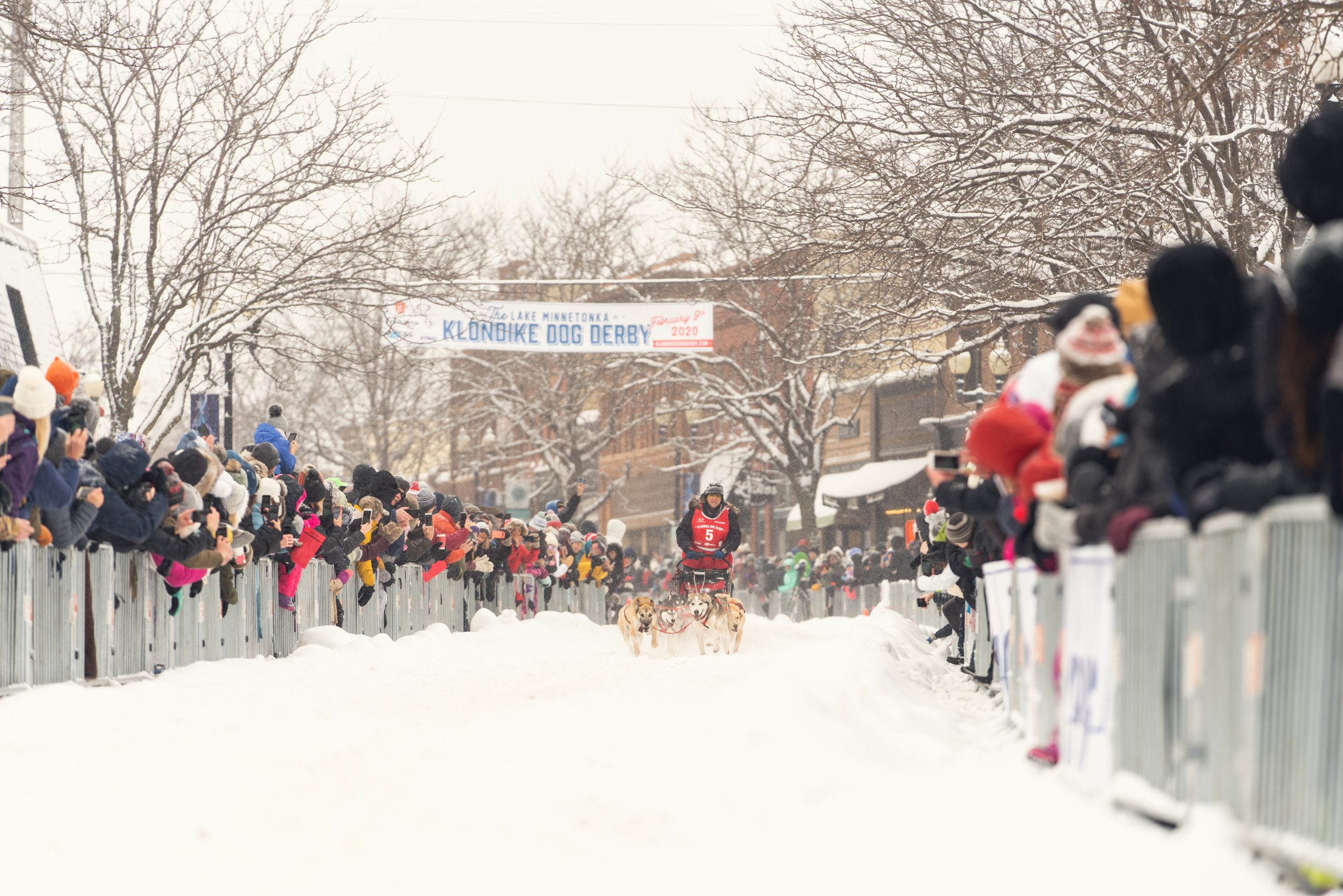 Hundreds of Huskies bark and howl, lunge and leap, whipping up snow along the spine of Excelsior's historic business district. It's the one day each year when snow is hauled in to fill the main street. Behind the parade barriers, the sidewalks—packed during the summer with al fresco diners—are three-deep with bundled-up spectators. The dogs fall silent the moment each team is released at the starting line. "All they want to do is pull," says Bill Damberg, a local small-business owner and co-founder of the Klondike Dog Derby, which attracts some 30 teams from as far away as Alaska and Canada for a two-day event culminating in a 40-mile race on Lake Minnetonka.
The Klondike Dog Derby represents the spirit of Excelsior: a modern expression rooted in the past (the derby had a life in the late 1930s and '40s), nurtured by the business community, and embraced by residents and visitors alike. It's one of several unique winter events that draw thousands to this Mayberry-like destination within a half-hour drive west of the Twin Cities. The 2021 opening of Hotel Excelsior's Suites on Water Street is helping transform Excelsior from a daytrip outing to an overnight destination.
Locals find plenty of ways to celebrate winter, starting with Christkindlsmarkt, the open-air German Christmas market beginning the Saturday after Thanksgiving, and culminating with the North American Pond Hockey Championship in February. But when it's time to warm up, there may be no better season in which to become acquainted with Excelsior. There are at least a dozen restaurants, coffee shops, and bakeries, plus a concentrated collection of highly curated shops packed with personality for respite from the cold (along with holiday gift shopping for every type of person).
At the center of Excelsior's newly minted one-block designation on the National Register of Historic Places is chef-owner Eli Wollenzien's original Coalition (a second location is in the Minneapolis neighborhood of Linden Hills). Its windowfront tables and bar give a lucky dozen people front-row seats to the sidewalk scene on Water Street. The entire dining room exudes a welcoming warmth lent from the building's original materials, including exposed brick and a pressed tin ceiling. "It's just crazy in town during the races," says Wollenzien, who also owns Red Sauce Rebellion across the street. "Our restaurants are packed."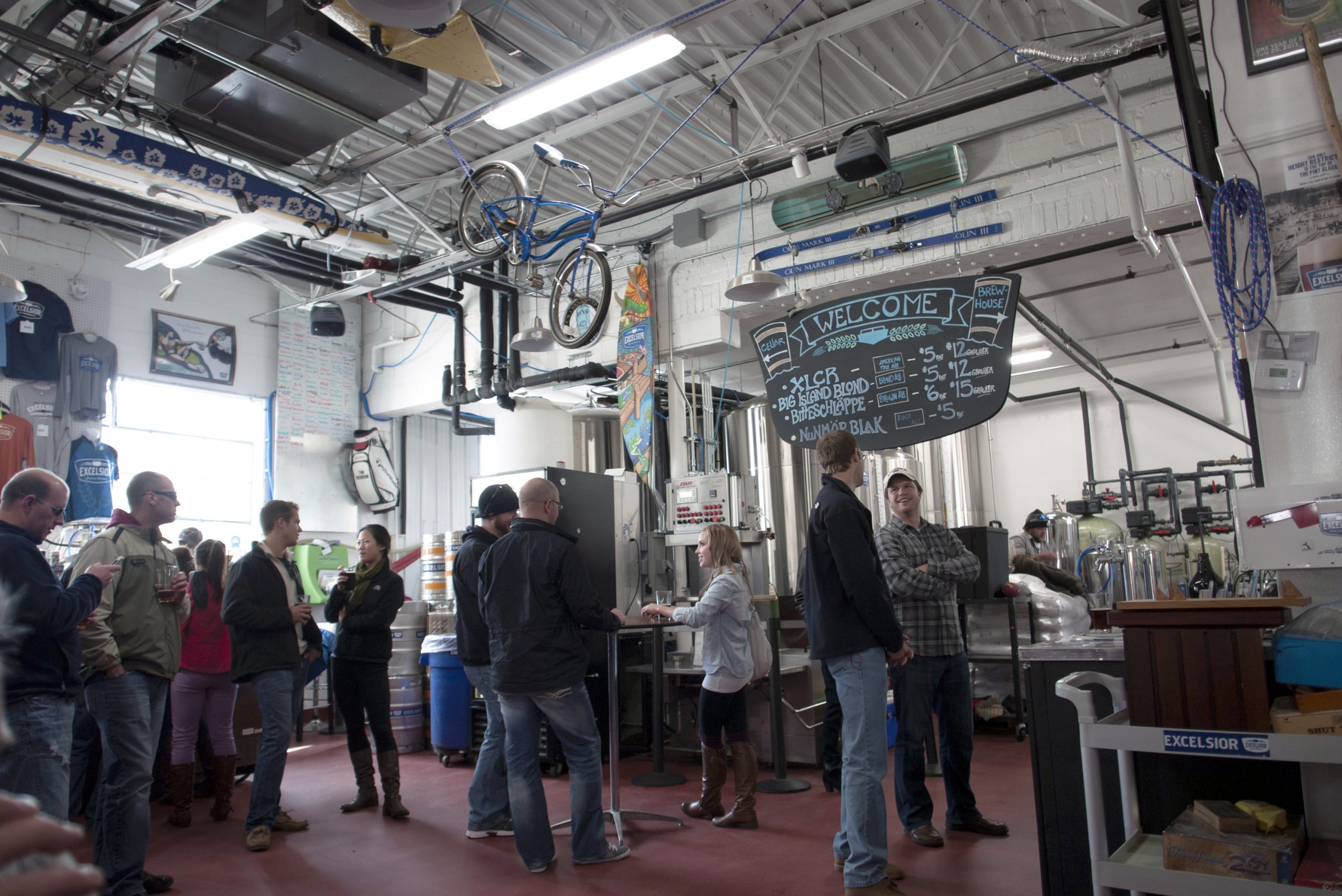 Those in the know count on a fast turnover for a table at Olive's Fresh for a crispy wood-fired pizza or reserve a heated outdoor "clam pod" at family-friendly Excelsior Brewing Company for locally brewed beer. Staying late? There's live music many evenings at 318 Cafe and adventurous cocktails at the underground Rebel Room.
The big game changer in town, though, is the Hotel Excelsior, with four beautifully appointed guest suites with full kitchens, directly above the Faribault Woolen Mill Co. "Hotel" is a bit of misnomer. There is no front desk; guests use a keypad to gain access from the street and to their suite. Amenities include the shops and restaurants as well as the lake, park-like Commons, and the year-round Lake Minnetonka Regional Trail for those who want to bring their fat-tire bikes, cross-country skis, or snowshoes.
Hotel owners Tyler Nelson and Jeff Verdoorn applied vision, patience, and a lot of listening to the city's Heritage Preservation Commission to transform the condemned 1895 building at the center of Water Street into a fully contributing adaptive reuse project that brings value to the community. They also created an authentic sense of place by tapping another Water Street entrepreneur, Kate Regan of The Sitting Room, for design services.
Regan gave each suite a distinct design that taps the lake-life energy, historic narrative, and classic style of Excelsior. Nelson procured the coffee table books from Leipold's Gifts & Antiques—a 50-year mainstay of Water Street–and added a Faribault Mills Lake Minnetonka woolen throw to every room. "I want to showcase local businesses every chance I can," Nelson says.
"Tyler's done an admirable job on restoring this building," says six-decade resident and Heritage Preservation Commission member Bob Bolles. "And it's part of his work that helped us get this National Registry recognition," he adds. "It's hard to get people with the heart that Tyler has. This guy is a hero for the city."
Nelson also plans to open his new coffee concept on the street level of the building. In line with the tongue-in-cheek style of the hotel that's not really a hotel, the coffee shop is called The Lobby. Packed with passion for preservation and hospitality, it's on track as the coziest spot in town.
Other Winter Destinations
Lutsen, Minnesota
The trick to staying warm when skiing in the Midwest is to pick the longest runs for more skiing and less waiting in lift-lines. Lutsen Mountains on Minnesota's North Shore fits the bill with 1,000 vertical feet and 95 runs across four mountains. Combine the savings from their Ski & Stay packages with a driveable destination and you can easily squeeze two trips from the cost of one out west. Lake Superior views are free. lutsen.com
Duluth, Minnesota
There may be nothing more magical than the warmth of holiday lights against a winter backdrop of snow and ice. The Bentleyville "Tour of Lights" elevates the experience through its unique location. The beloved waterfront walkthrough display is backed by the magnificently lit Duluth Aerial Lift Bridge and the frozen beauty of Lake Superior. Santa and Mrs. Claus skydive in on opening night. Free admission; pay to park. bentleyvilleusa.org
Lafayette, Louisiana
Looking for a PG-rated Mardi Gras? Lafayette promises all the bon-temps revelry but with a family-friendly atmosphere, where kids can catch pounds of parade beads (and no one is showing off their you-know-whats). Expect full immersion in Cajun country, where a quarter of the residents speak French and Zydeco music fuels most every gathering. lafayettetravel.com
New York City
If you only have a few hours in NYC during the holidays, spend them on Fifth Avenue from Rockefeller Plaza to the Pierre, a Taj Hotel. Ice skate beneath the towering Rockefeller tree, then exit to Fifth Avenue for the over-the-top holiday windows at Saks Fifth Avenue and Bergdorf Goodman a few blocks north. End with a glass of wine at the oval-shaped, frescoed rotunda at the Pierre. nycgo.com
Churchill, Manitoba, Canada
Photographers in search of capturing the Northern Lights, this one's for you! Churchill, Manitoba is located on Hudson's Bay, beneath the aurora oval, which means sighting more than 300 nights per year. February and March are prime for the photo specialist tour by Frontiers North Adventures that maximizes every opportunity to wrangle a bucket-list experience into a single frame. frontiersnorth.com
Facebook Comments