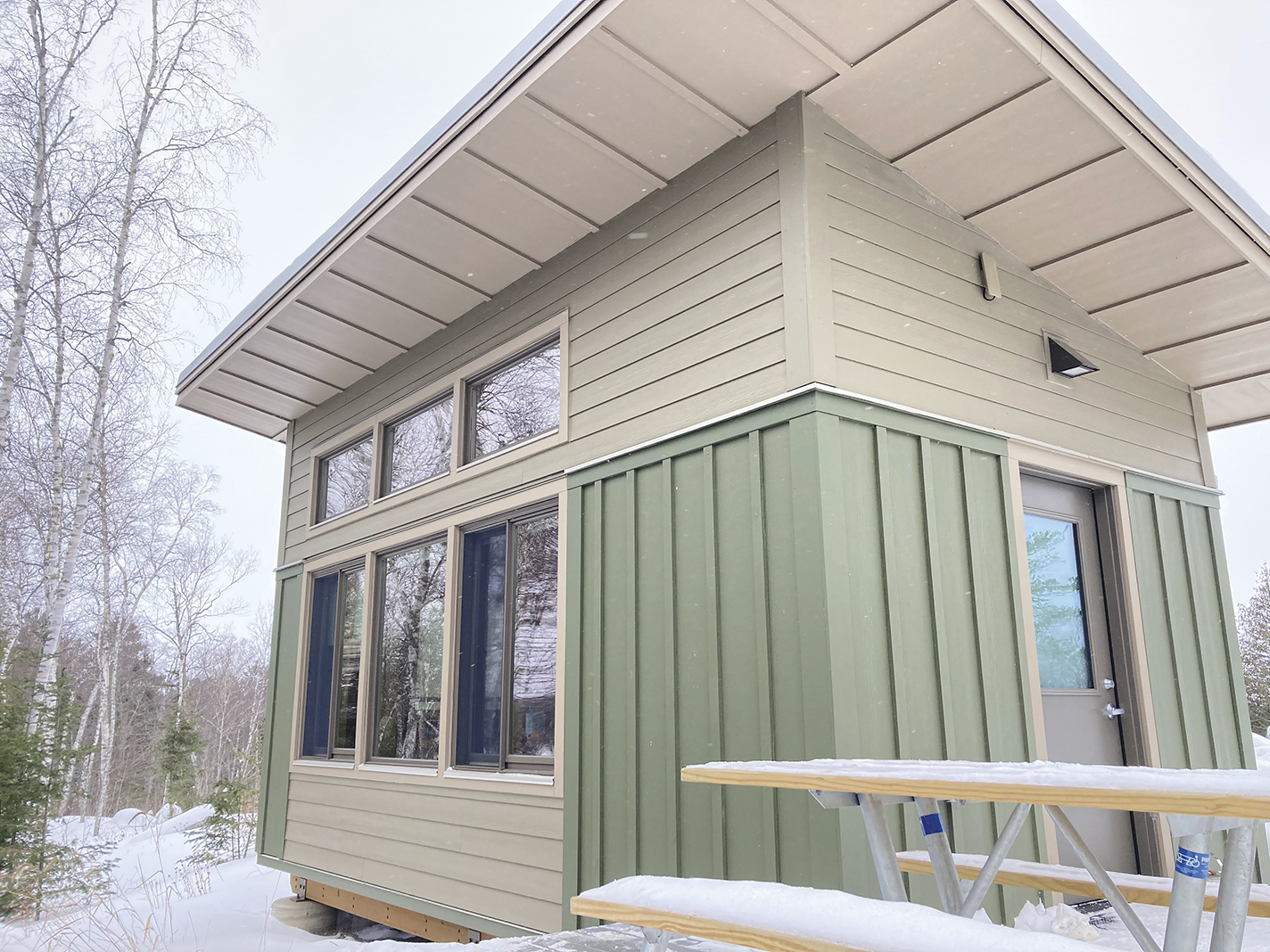 State parks are the pride of Minnesota. The state has the second-oldest state park system in the country, starting with Itasca State Park in 1891, and nearly 10 million people visit the 66 parks each year, while over a million of these visitors spend the night. Despite their popularity, Minnesota state parks face a dilemma—their aging infrastructure gets older each year. How does the state park system keep tradition and heritage alive, while modernizing at the same time?
Enter the state park system's newest addition: Lake Vermilion State Park, founded in 2010, merged with Soudan Underground Mine State Park in 2014. This "next generation" park provided state park staff the opportunity to design something truly modern while conserving the northwoods feel. The result is the park's eight rustic, yet refined, camper cabins. Jim DeVries, Lake Vermilion-Soudan Underground Mine State Park assistant manager, calls the cabins' aesthetic "contemporary Up North."
Here's how the concept works: Take ultra-modern, efficient building materials and use them to make one-room, open-floor-plan housing. Paint the exterior in muted earth tones, allowing the cabins to blend into the surrounding forest. Let the cozy, light-filled cabins impart a relaxed, calm feel to people's vacation. At the same time, keep visitors connected to their busy lives through high-speed Wi-Fi in every cabin. Finally, bring the rustic element into the experience by not including indoor plumbing. That's right—all kitchen duties are done at an outside counter with electric hook-ups. Water needs to be carried to the outdoor "kitchen" from a centralized, heated restroom and shower building that is open year round. Bathroom duties are likewise fulfilled in outdoor pit toilets, or at the wash house, which features hot showers and an ultra-modern design.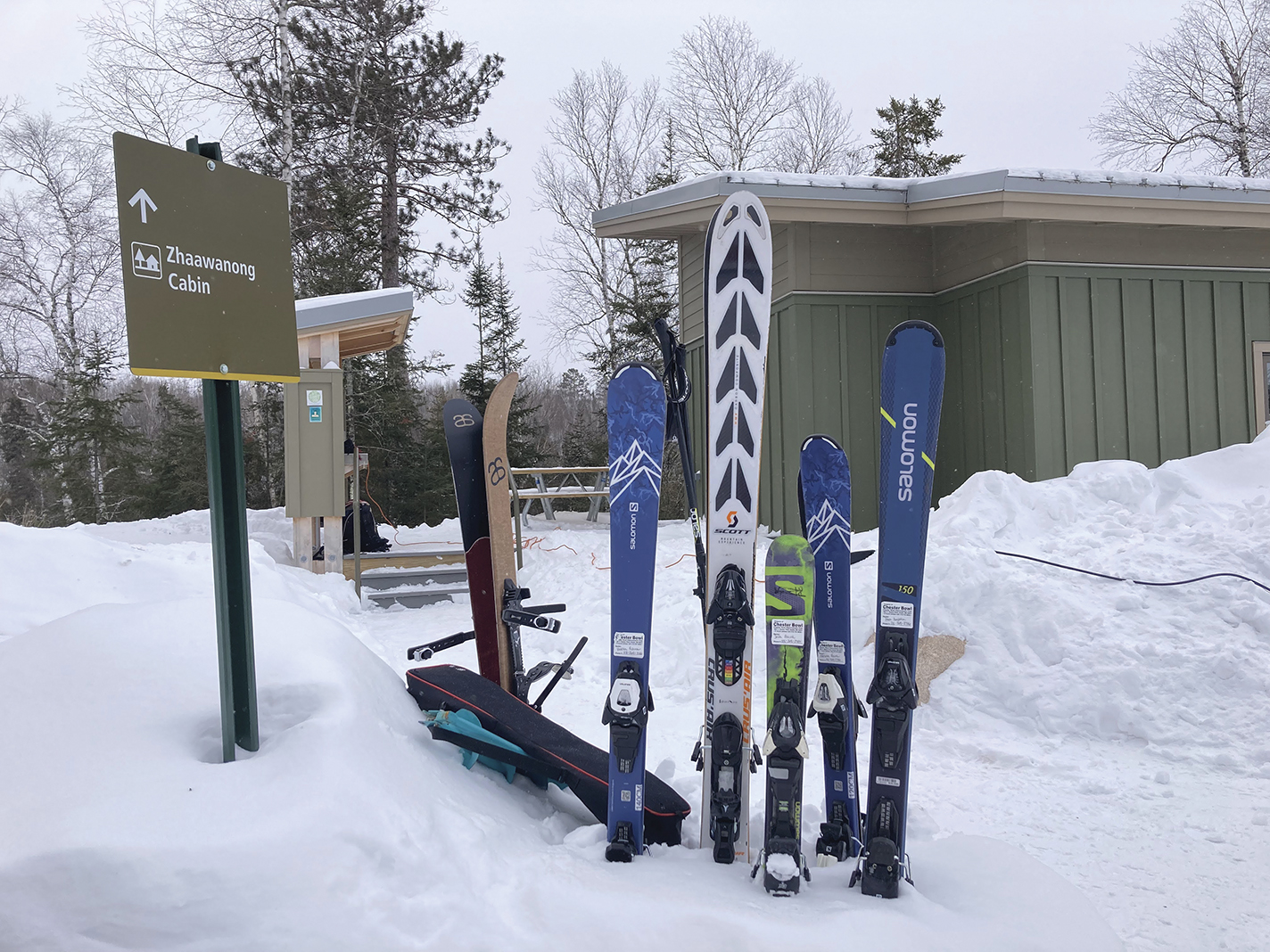 This ingenious mix of a modern and rustic approach to cabin living has quickly earned fans since it fits people's modern needs while ensuring continuity with Minnesota's rich cabin tradition. DeVries credits the popularity of state park camper cabins in general to the year-round experiences they can provide. Visitors can "camp" in them even in the dead of winter.
I took my wife and three daughters for a weekend in the Zhaawanong cabin in Lake Vermilion-Soudan Underground Mine State Park last February. We were treated to deep snow, below-zero temps, and a network of bunk beds that made a sweet jungle gym for the girls. There was a feeling of contentment watching the girls play and not having to worry about them breaking anything in the simple cabin. The snow looked pristine from inside the warm cabin, which has baseboard electric heat and a large central window that lets light stream in. Despite living in close quarters, we didn't feel boxed in. When we wanted to play outdoors, the nearest snowbank was right out the door. I also brought my ice fishing equipment and drilled a few holes for some "sitting time" on massive Lake Vermilion. We all alpine skied at nearby Giants Ridge. Altogether we had an active weekend of exploring, de-stressing, and making family memories.
DeVries says the cabins are meant to accommodate the needs of our society today. With the Wi-Fi, we brought two laptops and our cell phones, and I was able to stay on top of work assignments in our down time. These cabins are a place where you can get away from it all yet still send that email you've been meaning to write for days but only get to on vacation. I valued having that connectedness.
As for the unique outdoor kitchen area, DeVries notes that cooking at an elevated metal counter with a small roof overhead is actually an improvement over cooking on just a picnic table, as in most state parks. There's an electric outlet built into the outdoor countertop, so you can leave your gas mountaineering stove at home and plug in an electric fry pan instead. DeVries says these kitchen spaces "bring a more modern feel to the outdoor cooking option." For me, this was child's play compared to my usual BWCA kitchen on the ground. And we all got to eat my wild rice cauliflower soup inside. Note that cooking is prohibited in cabins, except with slow cookers and coffee pots.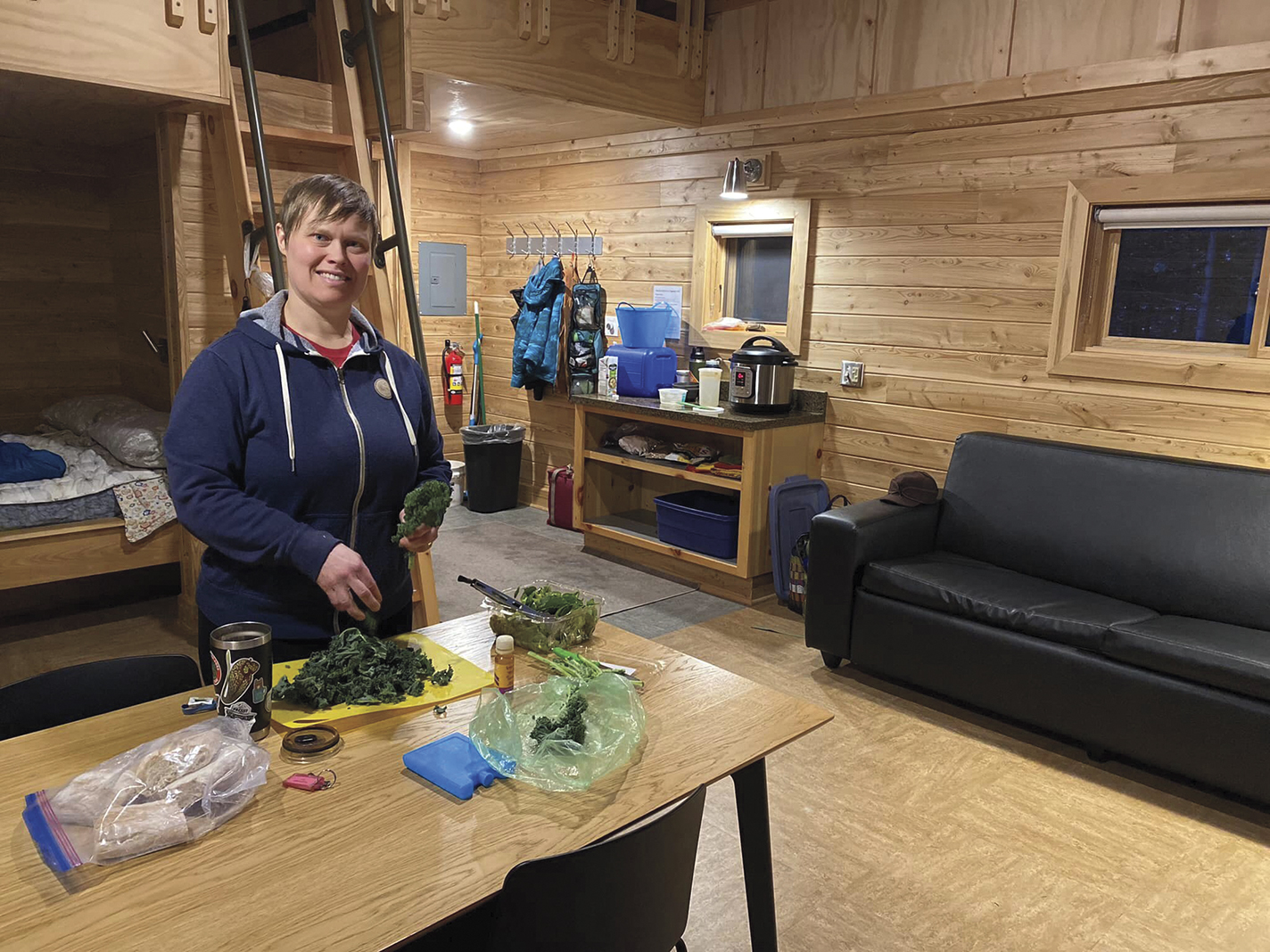 "People coming here don't expect it to be like home," DeVries says. Yet there are several home comforts. DeVries recalls a family who came in mid-winter with temperatures at negative 40 degrees, yet had the cabin set at 70 degrees inside. "They were just thrilled," he says. "You get the comfort of being in a warm place, yet still have the opportunity to get outdoors, enjoying all that northern Minnesota has to offer."
Melissa Boyle and Jen Stenersen, both of Duluth, visited Lake Vermilion-Soudan Underground Mine State Park in February 2022 as well. They stayed at the camper cabins in winter "because we're a lot less busy in wintertime than in summer." Stenersen described the experience as "almost like staying in a hotel but being way closer to nature. And it was warm." Both Boyle and Stenersen liked the "fun, modern style" with the "sleeper sofa that no other state park camper cabins have." Stenersen commented that the heated restroom and shower building was nice but admitted that she and Boyle didn't use the outdoor kitchen, instead making do with a Crock-Pot and an electric tea kettle indoors.
The Lake Vermilion-Soudan Underground Mine State Park camper cabins are only $90 a night, which is a lot cheaper than other cabins around Ely or up the Gunflint Trail. You will also need a state parks vehicle pass, and to pay a $7 reservation fee. You won't get a wood stove, whirlpool bathtub, or sauna at the camper cabins, but you will get weather-tight, panelized construction with electric heat and a thermostat. Stenersen says you're paying for "quality and convenience."
All eight camper cabins have Ojibwe names. DeVries says that the Department of Natural Resources recognizes that the Ojibwe people are the original inhabitants of the land, and that the DNR wanted to honor that heritage and history with the cabin names. Four of the cabins are named after the four directions, while the other four are named for the seasons. The Zhaawanong (South) and Niibin (Summer) cabins comply with the federal Americans with Disabilities Act access guidelines.
When you walk inside the Lake Vermilion-Soudan Underground Mine camper cabins, the all-wood interior, bright space, and open plan give you a sense of peace. The Wi-Fi works great, too. Bring your own electronics, if you so desire, and take snowshoes, too, because no ski trails are currently available. Or read that book you've been enjoying while big snowflakes feather down outside. Just don't get too complacent—you'll have to put on your parka and mukluks to go make dinner.
Facebook Comments