Photoshoots, whether they're casual or professional, can be wonderful opportunities to enjoy time with your friends or explore your community while getting a little artsy. If you're tired of going to overly popular, thoroughly documented venues or are looking for somewhere unique for your next Instagram post, here are some of my favorite (but moderately unknown) outdoor places to photograph in Minnesota. From the Twin Cities to Mankato to the North Shore, these outdoor spots are guaranteed fresh and picturesque.
Twin Cities Area
Minnehaha Park, Minneapolis
If you venture deep into Minnehaha Park, you'll discover this color-saturated spot. Graffiti artists have decorated the walls of this abandoned concrete structure, leaving a playful and edgy world. So, pull on your converse, jeans, and leather jacket and explore your rebellious side in this concrete jungle gym.

Lake Harriet Rose Garden, Minneapolis
Take your friends or significant other to Lake Harriet's Rose Garden, otherwise known as Lyndale Park Rose Garden for a lovely photo-date. The garden itself has rows of roses of every color, an intricate fountain, and hedges that provide a unique background for a portrait. As any photographer knows, when you're shooting outdoors, lighting is key. The Rose Garden is bathed in beautiful light during the golden hour, so be sure to stop by an hour or two before sunset for that perfect, glowing look.
Southern Minnesota

Mankato Murals on Riverfront Drive and Belgrade Avenue, Mankato
The City of Mankato and Twin Rivers Arts are developing more public art projects in Mankato, and they make for great Instagram-able opportunities. For just a couple of examples, the Riverfront Drive mural features a multitude of big and bright abstract flowers splattered across the walls of Bellissimo Paint and Coverings, and on Belgrade Avenue, the red and blue paint splatters behind a loon and its chick give the wall a playful aesthetic for your photoshoot.

Schell's Brewery, New Ulm
Wander through the mysterious gardens of history and explore an authentic German-style brewery and its surrounding park. The ornate Schell's mansion was built in 1885 along with its gardens and deer park, all of which are still there today. The towering trees, wooden arches covered in creeping vines, and carefully arranged flowerbeds are reminiscent of another, more elegant time. Don't miss your chance to photograph the turquoise and navy feathers of the elegant resident peacocks who meander through the gardens.
Northern Minnesota
Lutsen Resort, Lutsen
This spot is a bit of a trek up north, but I promise it's worth it—Lutsen Resort's historic covered bridge should be indication enough. The wooden beams and pine boughs frame the edges of your shot with their contrasting textures, and the brick red and natural greens juxtapose late 1800s architecture and the North Woods. Explore the trails around the resort and snap a shot of the wildflowers. As an added bonus, Lutsen sits right on the shores of Lake Superior, whose massive rocks and lapping waves are just calling for you to set up your tripod.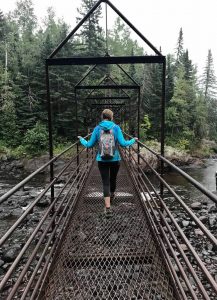 Tettegouche State Park, Silver Bay
Tettegouche State Park is as unique as its name. With spectacular waterfalls, rushing rivers, towering pillars of exposed rock, and panoramic views of Lake Superior, you're bound to get photos that are pure Minnesotan and pure North Shore. This location requires more hiking to reach the beautiful spots, like this suspended bridge, but its stunning natural beauty is worth it.
Carlos Creek Winery, Alexandria
With intricate, curved black lawn chairs situated right in the center of the new wooden porch, you have a ready-to-go shot from the moment you arrive at Carlos Creek Winery. Wander down the rows of grapevines or go all-American and pose with a shiny, classic, red Ford truck. Wherever you go, the winery, vineyard, and yard decorations give Carlos Creek a quaint feel. Although it's located only a few miles from Alexandria, Carlos Creek has a classic atmosphere that will transport you to Tuscany or Napa Valley. Plus, you can enjoy a glass of Hotdish, their iconic red wine, while shooting among the grapevines.
 

View this post on Instagram

 
Franconia Sculpture Park, Franconia
If you're tired of the same cookie-cutter backgrounds in your photos, give the whimsical and spunky Franconia Sculpture Park a try. Capture any of Franconia's wild artistic creations, like a floating house or a giant double helix. Their resident artists know how to bend matter into odd and crazy shapes with vivacious spirit, so your photoshoot is sure to be memorable.
Facebook Comments