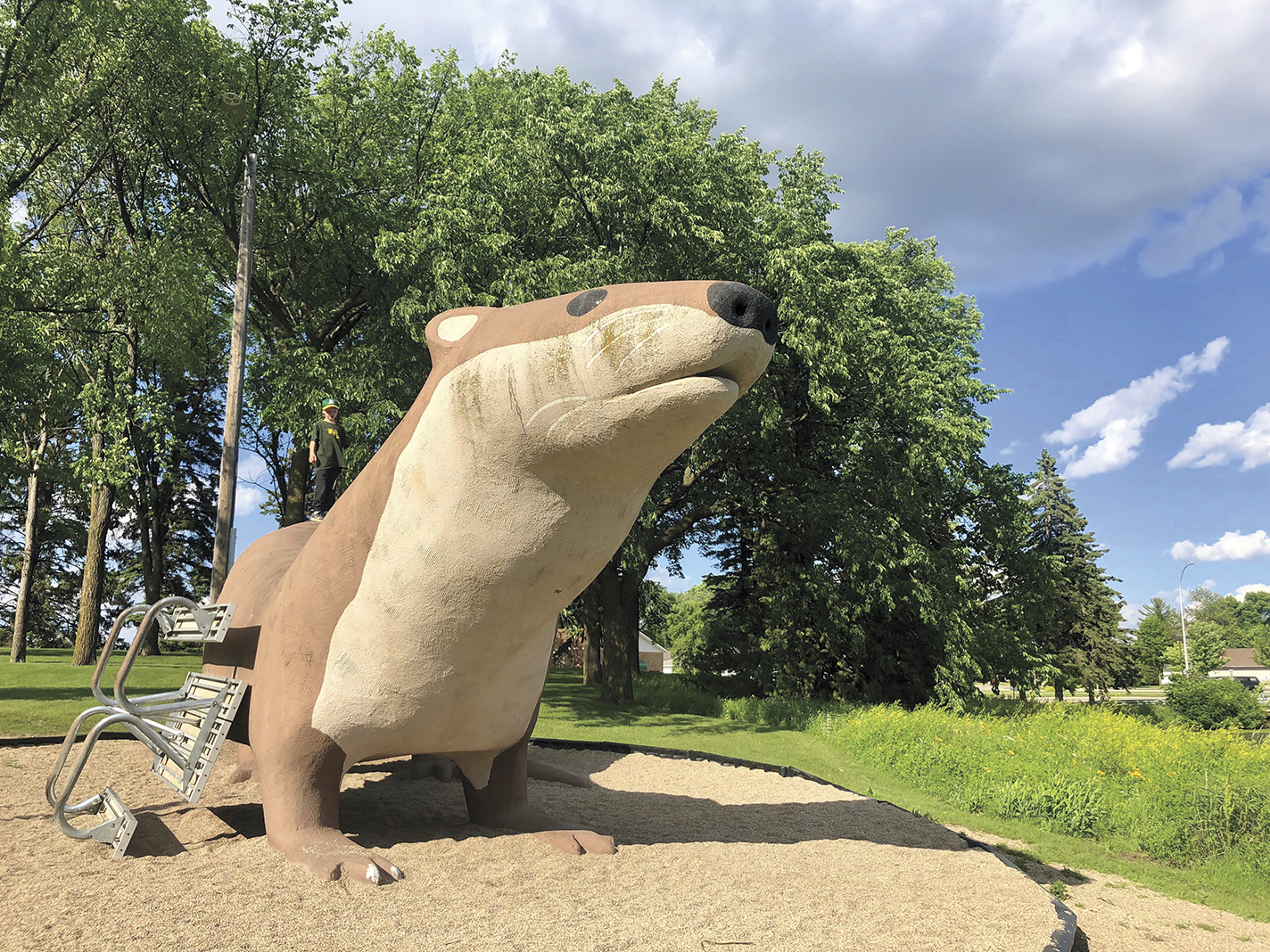 With two state parks, myriad roadside sculptures, and what some brave souls have crowned the best burger in Minnesota, Otter Tail County is no weekend slouch. We've made the three-hour trek northwest three times, and each outing turns up new and exciting discoveries.
Our first trip was a brief foray to Fergus Falls, en route to Fargo, N.D. We posed with Otto the Otter, a 15-foot-tall statue in Adams Park, and walked the bucolic trails at the Prairie Wetlands Learning Center, where the natural and restored environs draw birdwatchers and nature photographers.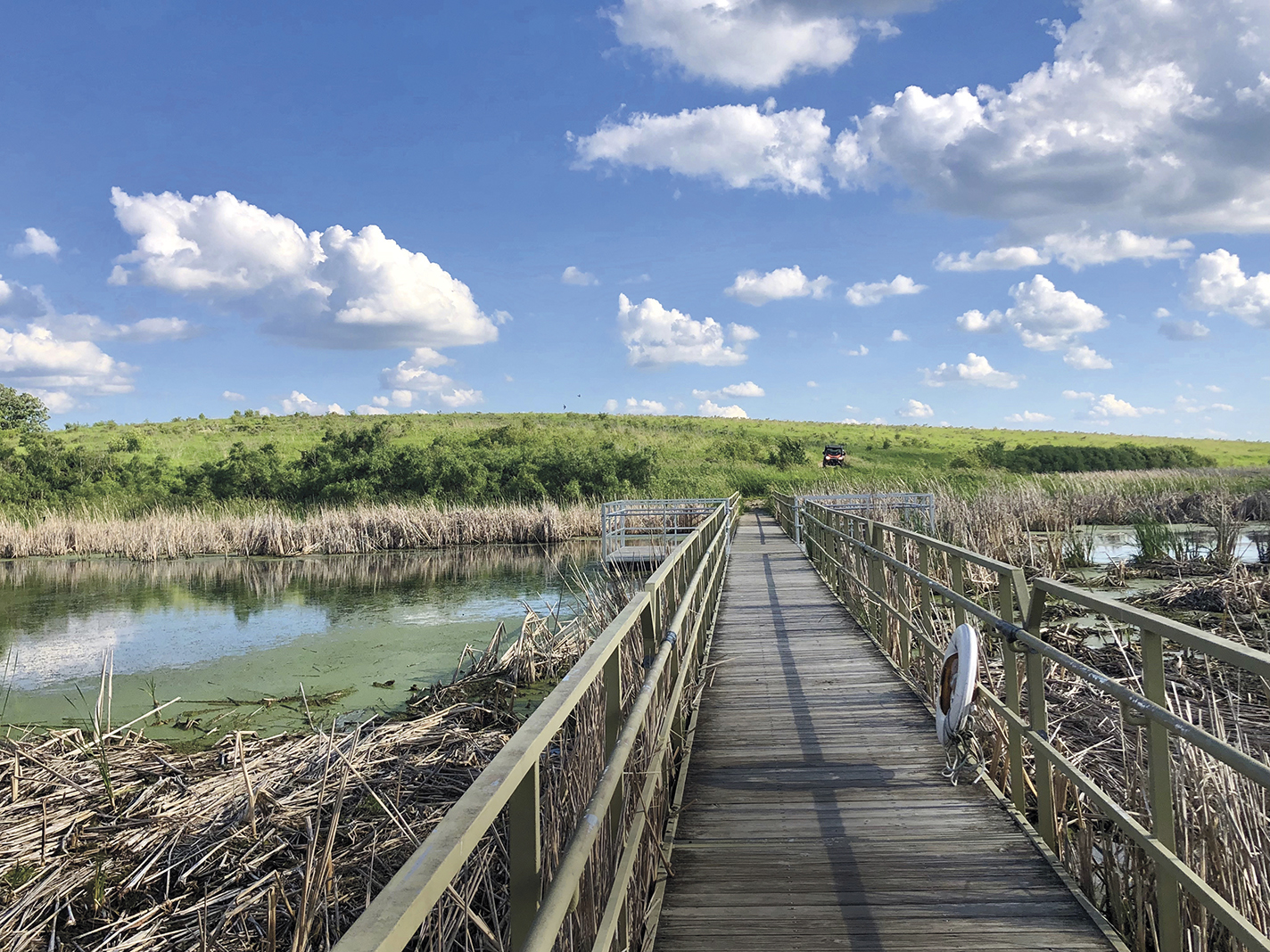 The second time we made the trip was in May 2021 for the Minnesota Governor's Fishing Opener. Food-driven explorers that we are, our first stop was the Rusty Nail in Battle Lake. The bar had recently won Minnesota Public Radio News' Great Minnesota Burger Bracket. One bite and we understood why. The Nailer was pure decadence (double patties squished between melty American cheese and gouda sauce) and the Fireball, stacked with serrano peppers and jalapeño mayo, delivered on its name.
To work off the calories, we bounced over to Glendalough State Park, the one-time private retreat and game farm of Minneapolis Tribune Company owner F.E. Murphy. Anglers still flock to the park's heritage fishery for crappie, walleye, bass, and sunfish, but we were there to boat and bike.
Galloping Goose Rentals, housed in a kiosk next to Annie Battle Lake, rents bicycles and non-motorized watercraft, including three- and six-passenger surreys, canoes, kayaks, and hydro bikes. Seeking something leisurely, we opted for a large pedal boat. But the joke was on us because our thighs were screaming after 15 minutes. The wind tried to derail us, but we puttered a full circle around the lake before hopping on the park's 5-mile bike trail. It was a lovely ride through rolling prairie and kelly green woods—ideal for slowpokes like us. We didn't see any wildlife, but luckier park-goers have spotted red foxes and white-tailed deer.
Next up on our ambitious itinerary: 1910 Sip House on Ethel Lake. Opened in a modified grain bin in October 2020, the bar specializes in dry cider infusions of freshly pressed mango, Bing cherries, and homemade dill pickle brine. Prefer a sweeter tipple? Try a Cider Mint Julep or Ciderita. The space alone is worth a gander—done up with leering taxidermy and a shotgun-toting mannequin.
Come dinner, we ducked into Stub's Dining & Saloon in Battle Lake, the self-proclaimed "second best restaurant in Minnesota." Stub Digre opened the supper club in 1969, but it's got more personality than your typical prime rib palace. To wit: the snarky menu teasing any diner who dares to order their steak well-done ("Chef's nightmare!"). Pull-apart buns with garlic butter, fork-tender filet mignon wrapped in bacon, and miniature Dove ice cream bars served gratis with the check round out the classic supper club experience.
Exhausted by the time we checked into East Silent Lake Resort in Dent, we couldn't have asked for a more comfortable landing pad. True mom-and-pop resorts are rare these days, but this is still a family affair—run by brothers Nick and Andy and their parents, Brian and Margaret Leonard, who bought the property in 2006. (The original dates to 1915.) Our two-bedroom cabin balanced rustic moose-themed decor and contemporary features like internet TV. With a picnic table and grill on the patio, a lakefront beach for sunbathing and swimming, tennis and basketball courts on the grounds, and a vast selection of board games in the lodge, we could've easily holed up for a week.
But the next morning we were up and at 'em again—picking up caramel rolls the size of salad plates from Nootzi's on Main in Dent before meeting our Fishing Opener boat hosts at East Silent Lake. Our pontoon crew included 12-year-old Will, aka "Walleye Willie," and his doting grandparents Kathy and Lee. Will, an avid fisherman and an aspiring marine biologist, is wise beyond his years—not to mention a patient instructor. With eyes like X-ray scanners, this kid could laser in on a school of fish 100 feet away. He showed us how to jig a rod and shared his philosophies on fishing (it's a little art, a little luck, and a lotta patience). Four hours later, the sixth-grader had caught himself eight fish; the rest of us got bupkis. Or, as Willie taught us to say, "so many we lost count."
All his catching and releasing made us hungry, so we booked it to the locavore-minded Fabled Farmer in Fergus Falls for power bowls and fresh-squeezed juice. A minute away, we scored a fragrant bar of sea kelp-and-sage soap from Creative Handmade Goods, a charming boutique run by natural-soap maker Jan Werkau.
With the afternoon still young, we grabbed a patio table at Outstate Brewing Company, overlooking the Ottertail River Reservoir in Fergus Falls, and split a flight of sours and stouts served in a mini-canoe. This was followed by a speedy ascent up Hallaway Hill in Maplewood State Park, where the summit offers sweeping views of Lida Lake, and a steeper hike up Inspiration Peak, the highest point in central Minnesota. The peak got its name after Sinclair Lewis wrote about its "enchanted peace and seclusion." Know who else finds this trail inspirational? Garter snakes, so watch your step.
Despite running around, we still made it to our dinner reservations at Blackboard, a historic schoolhouse turned destination restaurant in Vergas. The walleye stuffed with jumbo lump crab tasted as good as it looked, and the smoked Wagyu jumbo hot dog with crispy chili aioli, fried onions, pickles, and salted twisty fries was borderline nirvana.
Our third and most recent trip to Otter Tail County was driven by a different kind of hot dog quest: the Wiener Dog Nationals. Started in 2013, the dachshund race is part of Vergas' annual Looney Daze festival. Other kooky events include a loon-calling contest and puppy plunge. Forty-nine doxie owners entered their beloved low-riders last August, each vying for a trophy designed by OTC metal artist Patrick Shannon.
"All racers must be dachshunds or kinda look like dachshunds," emcee Tom "Digger" Anderson says, adding, "That poodle wearing the hot dog costume is disqualified!"
As wiener dog fans ourselves, we cheered for the gray-faced racers. But in the end, it was a young and svelte long-haired dachshund named Kylie Rose who took home the gold.
---
Offbeat Otter Tail County
Drop a pin on these unique roadside attractions before setting out.
Vining

Named for Vining resident Ken Nyberg, an 80-something retired foreman turned welding artist, the park showcases some of his finest sculptures. The larger-than-life works are cobbled together from scrap metal—sometimes more than a thousand pieces. The astronaut is a tribute to Nyberg's daughter, a veteran of two NASA space flights; the giant foot, dancing knife and spoon, and spilled coffee cup are just for fun. Hot tip: Don't sleep on the juicy broasted chicken at nearby Vining Palace, which you'll recognize by its Prince-purple exterior.
Our Lady of the Hills

Urbank
This 22-foot statue is hidden off Country Road 38 in Urbank, just south of Inspiration Peak. It was dedicated on the 75th anniversary of Our Lady of Fatima and still draws the occasional pilgrim.
Underwood
More than 240 churches and cemeteries are tucked into these thar hills, but the silhouette of this 118-year-old chapel looks especially grand at sunset. The historic church sits at the corner of Otter Tail Lake Road and Country Highway 35 in Underwood, eight minutes from idyllic West Lost Lake.
Rothsay

Who knew Rothsay, with its population of 605, was the prairie chicken capital of Minnesota? Rothsayers did, and that's why they have a 13-foot prairie chicken statue proudly displayed off Highway 94. Also breaking records are the World's Largest Pelican, standing guard over the Pelican River spillway in Pelican Rapids; the World's Largest Loon, a 20-footer nesting at Long Lake in Vergas; and the World's Largest Turkey, a 5,000-pound gobbler in Frazee named Big Tom.
Ashlea Halpern and Andrew Parks are the co-founders of Minnevangelist, a website devoted to spreading the gospel of Minnesota's greatness. Follow their adventures on Instagram at @minnevangelist and visit minnevangelist.com to learn more.