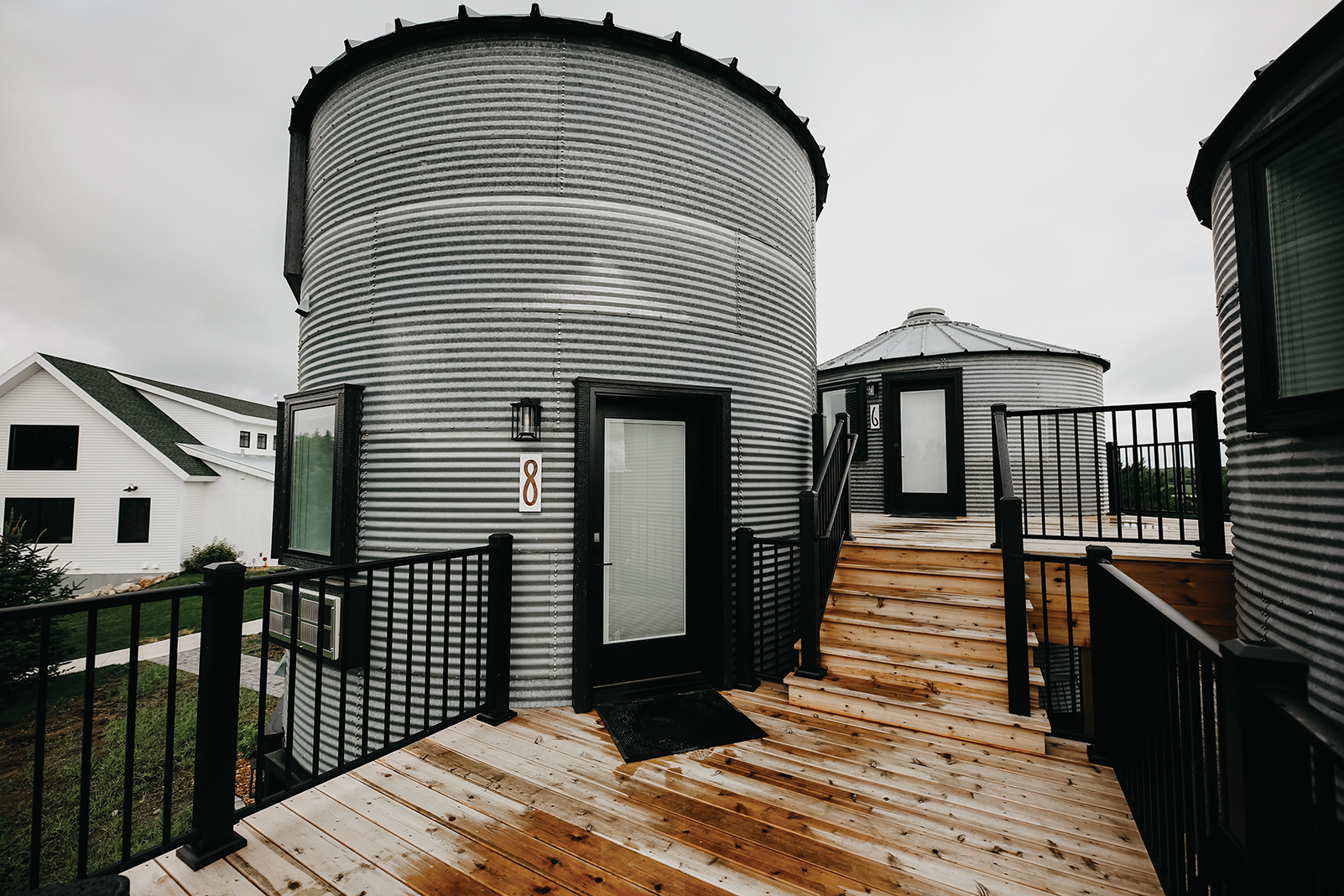 In the west-central Minnesota town of Alexandria, a quiet lakeside Airbnb has gone viral.
A local realtor stood outside the cornfield-adjacent property, took slow panning shots, and posted the video on social media last week. The realtor, Sam (@sam.the.realtor), was using the youth-driven app of the moment, TikTok—better known for flash-in-the-pan dance crazes, where things are most likely to go viral these days.
That Airbnb is actually multiple Airbnbs. Clustered together, three old grain bins no longer hold grain and instead contain eight hotel-style rooms. The squat silos popped up on the 11-acre property last year courtesy of Gathered Oaks, a wedding- and event-hosting company. Like Gathered Oaks' renovated-farmhouse suite and converted-barn venue (just yards away), the metal bins have been charmingly reimagined: Lofted decks and a cartoonish abundance of windows almost create the impression of an industrial-modern elf village.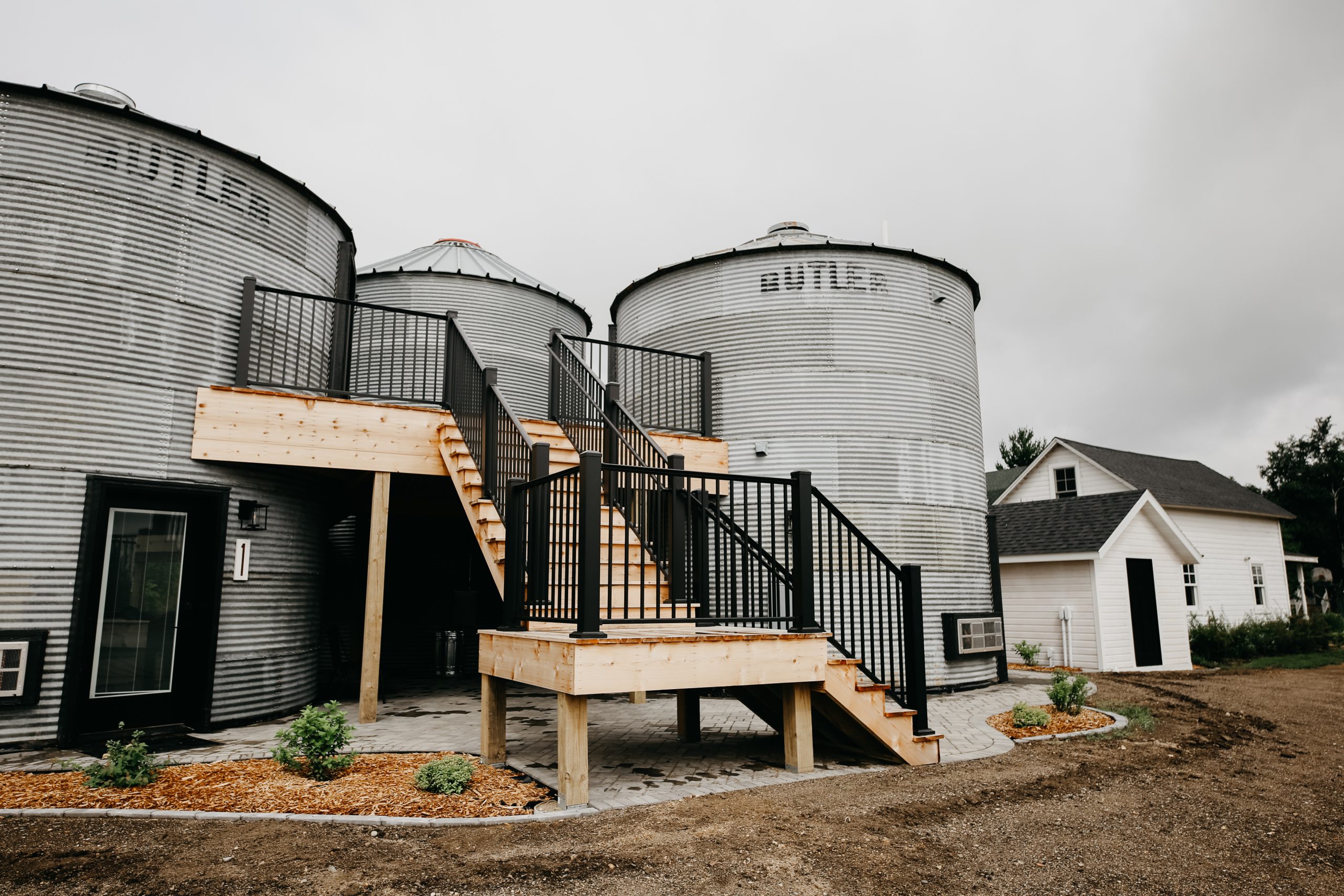 That uniqueness appears to be the reason they went viral. Sam's video has notched more than 500,000 views and over 75,000 likes.
It's not his usual TikTok content. Since May, he's been posting videos of upscale Minnesota homes that have garnered between 2,000 and 4,000 views.
Among the grain-bin video's 700 or so comments, Minnesotans have expressed alarm that something so cool is so close. "y'all been to a different Alexandria MN than me? 😂" one user quips. "WAIT…I have lived here my entire life and am just hearing about this," declares another, to a chorus of "same!"
Sam has responded with surprise ("I was expecting 2 likes 😂") and salesmanship ("It's about 2 minutes away from Carlos Creek Winery!").
When I reached out to Gathered Oaks for comment, it wasn't our first correspondence. Last year, Alexandria won Minnesota Monthly's "Best MN Town" contest. As part of my research (which did include Carlos Creek Winery), I trekked out to Gathered Oaks in February, shortly after the grain bins opened.
In my article, I wrote, "Corrugated metal on the outside. But, inside, it's like HGTV's Joanna Gaines cast her spell." What the TikTok video doesn't show are the comfortable yet refined interiors. I stayed in the suite, which includes a sitting area as well as a bedroom. (Each room goes for $125 a night.) My big takeaway: It's weirdly cozy to fall asleep in a place that wasn't intended for sleeping—to lie where grain used to lie.
There wasn't anything kitschy about it, either. The tall windows are more aesthetically pleasing on the inside, where the white walls, white furniture, and white bedding glow at sunrise. Throw in a rock-basin sink, a headboard of reused wood, and an old-timey window frame that's now a bathroom mirror, and it's Instagram-ready. Or, TikTok-ready, I guess.
Before repurposing the bins, Gathered Oaks' owners mulled over the idea for about 10 years. Anne and David Larson were inspired by an article in farmer-focused magazine Mother Earth News, which pushes for fashionable upcycling.
"We have done lots of research, visited with architects, and played with design concepts ever since," Anne told me by email. An aunt happened to have several decommissioned grain bins near Kensington. "So, with an agreement from her, a nod from the county, and some engineering plans, we began." (There are other grain-bin Airbnbs, I should point out—mostly across the Midwest, it seems, unsurprisingly.)
"Have you been flooded with booking requests?" I asked manager Tessa Larson, Anne's daughter-in-law, yesterday. "Yes, we have…wild!" she responded by email. "Timing is a little hilarious with a baby arriving in six days."
Meanwhile, Sam seems to have found his formula. His latest video slowly pans over an A-frame Airbnb in Battle Lake, and it already has more than 25,000 views. ("can i get a link or something?" goes one comment. "i literally want to book this.")
For the bug-eyed locals on TikTok, keep scrolling to see what the grain bins look like on the inside.
And for those who couldn't believe Alexandria is worth a visit (hell, worth the title "Best MN Town"), here are a couple recommendations from the Larsons themselves: Start every day with an IdaBomb.com juice from Nice Juicery, and if you're looking for a scenic route, take County Road 42 between two lakes up to Interlachen Inn, where you'll want to order the walleye. That drive can put a baby to sleep, says Tessa's partner, Andrew. Which should come in handy for them in about six days.
(For booking, go through Airbnb, as Tessa and Andrew are understandably busy right now.)