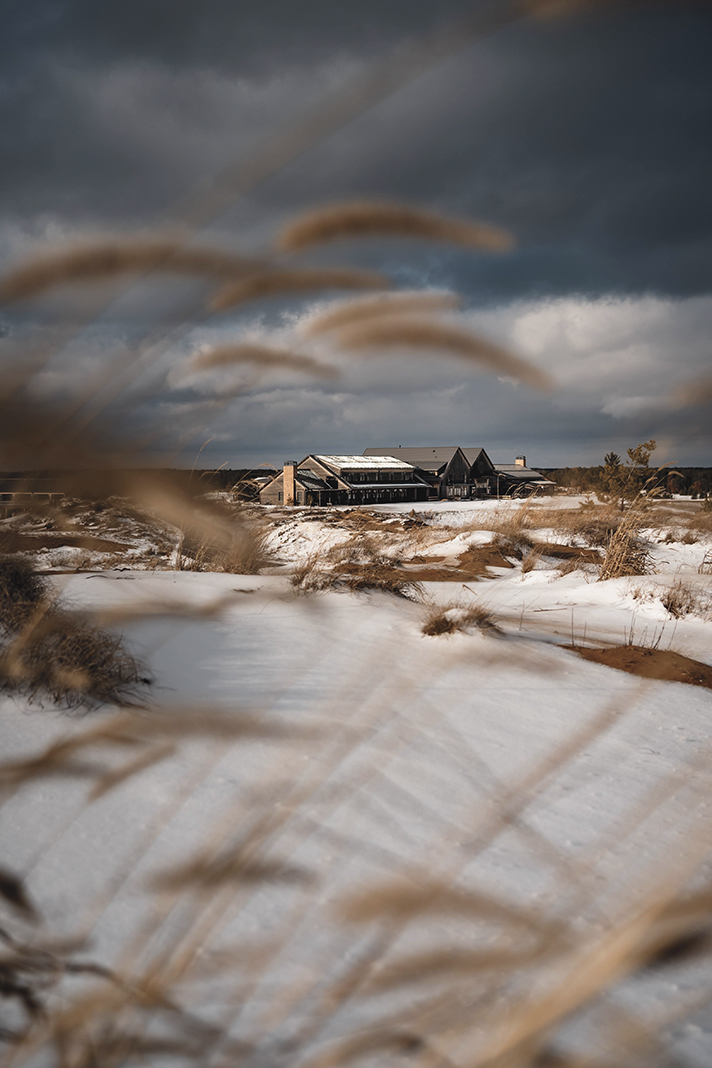 Before the pandemic, we were on the road six months a year for work. Our pace of travel slowed considerably during COVID-19, but we still managed to eke out half a dozen international trips and scores of domestic outings. Then we got pregnant.
Border closures and complicated testing rules were no match for our appetite to see the world. But a baby? A bit more intimidating. Friends with kids told us to kiss our free-wheeling travel days goodbye. Friends without kids just watched in amusement, eyebrows raised. We were determined to prove them all wrong.
Our son, Julian, arrived at 10:54 p.m. on a blustery-cold night in late January. Five weeks later, we were packing up the car for our first big interstate road trip. The destination: Sand Valley golf resort in rural Rome, Wis., about three and a half hours from the Twin Cities. The drive east couldn't have been more pleasant, passing a succession of bucolic cranberry bogs blanketed in snow and churches advertising Friday night fish frys. Still, it was a far cry from what we'd imagined our post-baby travel lives to look like. (Long-haul flights to Asia because "all babies do is sleep"? Yeah, right. Sure.)
We timed our trip to Sand Valley's annual Brews & Brats Weekend, a three-day festival celebrating two of Wisconsin's four major food groups (the others are cheese curds and brandy Old Fashioneds). It was one of several themed weekends the hotel hosts to draw visitors who don't realize there is plenty to do in winter at a resort known mostly for its award-winning golf courses.
When Chris and Michael Keiser founded Sand Valley in 2016, it was an instant hit with golfers. The 12,000-acre property comprises glassy ponds, stands of red pine, and rippling sand barrens created by a glacial lake that drained out some 14,000 years ago. The brothers are committed to restoring much of the indigenous vegetation (the land was used as a pulp tree plantation in a previous life) and determined to embrace year-round recreation, opening their resort to wintering guests for the first time in late 2020. Now it offers a full slate of frozen pursuits—ice fishing, cross-country skiing, sledding, snowshoeing, ice skating, pond hockey, and polar plunging among them.
Four- and eight-bedroom cottages make Sand Valley an ideal getaway for families and larger groups, while the main lodge houses single king rooms, double queens, and two smartly decorated suites. For maximum seclusion, guests can do no better than the picture-perfect Crenshaw's Cabin, perched above the 18th hole. Luxe touches abound, from 300 thread-count sheets to L'Occitane toiletries. And for new parents like us, we were grateful for a Pack N' Play in the room, good soundproofing, and the ability to travel with our two small dogs. (Many of the rooms and cabins at Sand Valley are pet friendly.)
The festival kicked off with a multi-course New Glarus beer dinner on Friday night. Dozens of drinkers gathered around a long, communal table in Aldo's Farm & Table, a cavernous space cozied up by a crackling fireplace. Strangers clinked glasses and made small talk, which grew increasingly louder and bawdier as the night wore on. Seated next to us was a gregarious trio of couples, all celebrating their anniversaries. They started drinking early and were in a back-slappingly good mood when the first course (beer-battered cheese curds paired with New Glarus' Spotted Cow, a cask-conditioned fruity farmhouse ale) arrived. By the time the caramel apple beer bread and a fizzy-sweet Belgian red landed, the couples had practically lost their voices from laughing so hard. And here we were, first-time parents, nervous that our newborn son would cause a ruckus.
The next morning, we strapped on our son and returned to the hotel restaurant and lounge for a Brews & Brats Mini Fest. Five craft breweries from Wisconsin, including O'so Brewing Company in Plover and Hinterland Brewery in Ashwaubenon, were joined by brewers from Michigan, Minnesota, and Delaware. The resort was a hive of activity, with visitors guzzling down beer samples (the thick-bodied Bon Bon chocolate milk stout from 3 Sheeps Brewing in Sheboygan was our favorite), dancing to live music, and fist pumping when the raffle winners were announced. Small bites were served at every station, including an ultra-devilish deviled egg topped with beer-braised pork belly. Julian slept through the whole thing.
Later that day, we headed for the hills. There wasn't enough snow on the ground to go snowshoeing, so we mucked up our hiking boots trekking along the resort's 2.2-mile Ridge Trail. Our cheeks were stinging red by the time we got back to the lodge; the baby—all bundled up under 45 layers of clothing—was as toasty as could be.
But when it comes to outdoor adventure, we saved the best for last: ice fishing with Ray Blossfield, a man of many talents. When he's not working the front desk at Sand Valley, he's drilling holes in ice as thick as our arms are long. The self-taught ice fisherman led us on a short drive to Lake Leopold, where he had already set up gear and a tent for our family. He cut two fishing holes inside the tent and two outside and dedicated the next few hours to showing us how to fix the line, read a fish finder, jig like a pro, and smile big for the camera when we caught a 10-inch bass. (OK, when he caught a 10-inch bass; we piggybacked on his victory for the photo op.)
It was a bitterly cold morning, but our tent radiated warm conversation. We learned that Blossfield's mom works as a server at Sand Valley; she tipped him off to a job in security. A former defensive lineman, Blossfield cuts an imposing presence, but he's got the patience of a saint and the heart of a teddy bear. When Julian had a full-blown meltdown in the middle of the frozen lake, he took it in perfect stride.
And that's when we realized: All this worrying about how disruptive it would be to travel with an infant was mostly in our heads. Yes, it's a lot of gear to schlep. No, we can't be as fancy-free and spontaneous as we once were. But the team at Sand Valley couldn't have been kinder or more accommodating. Same goes for the other resort guests, many of whom are doting parents or grandparents themselves, quick to share a smile and impart a word or two of advice. We left the hotel feeling rather verklempt and can't wait to return when Julian is old enough to sink a hole in one—or at least fake it like his parents.
Coming Soon to Sand Valley

The resort is expanding big-time in 2023 and 2024. Here's what visitors have to look forward to.
Two new golf courses
Construction on Sedge Valley, the property's third 18-hole course, began in spring. Architect Tom Doak is heading up the design, which is inspired by the heathland courses of England and promises "classically styled holes that everyone can enjoy." Doak is also re-creating C.B. Macdonald's the Lido. The additions are in good company, joining existing layouts by Coore & Crenshaw (the eponymous Sand Valley, built in 2016, and the 17-hole short course Sandbox from 2017) and David McLay Kidd (Mammoth Dunes, 2018).
A new 'cue joint/entertainment complex
Pit barbecue and craft beer—that's what's on tap at Sand Valley's forthcoming smokehouse. Patio seating will overlook a 6-acre putting and chipping course, while all-season golf simulators and a gaming parlor keep golfers busy in inclement weather.

A new pool house
When it's ready to go, guests will be able to take a dip in an infinity pool overlooking Mammoth Dunes, roast away their stress in a steam room or sauna (cold plunge optional), or book a muscle-melting massage in one of eight treatment rooms.
A new indoor tennis center
Sand Valley already boasts 15 grass tennis courts; next year, it will add a 13,000-square-foot tennis center to its resume. The building will also include a pro shop and a bistro with a wood-fired oven.
A new practice facility
Swing a bit rusty? Sand Valley's 50-acre practice space will include a 500-yard driving range, a short game and putting area, and indoor-outdoor hitting bays for practice drills.