I've experienced my amusement park evolution just like everyone else. Until I was in third grade, I wouldn't go on any roller coaster that went upside down. But then on one trip to Valleyfair, I received just the right amount of peer pressure to climb aboard the Enterprise, Corkscrew, and the Looping Starship. And I loved them all. In high school, I even went on the Rip Cord, an insane experience where you're hanging by a cable 180 feet in the air and dropped careening to the ground, and then swing back and forth.
My stomach flip-flops just thinking about it now.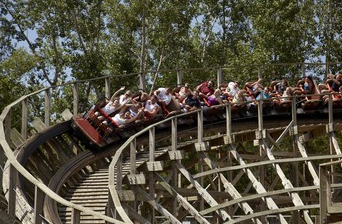 Photo by Todd Buchanan
I'm still evolving, it seems. As I've aged, my brain and stomach just can't handle amusement parks quite the same. I still love the Enterprise and the Corkscrew, but I have to take a pass on a few of the other rides I used to enjoy. (And I look back appalled, though a bit impressed, that I ever attempted the Rip Cord.) However, that's what's great about the upper Midwest's largest amusement park: There's something for everyone.
For those who like to remain fully upright, yet can stand a little thrill, I recommend Mad Mouse (back in the day it was called Wild Rails), The Monster, the Ferris Wheel, and the bumper cars.
Those looking to cool off on a hot day should first, dress appropriately, and then take on the Wave, the Hydroblaster, and Thunder Canyon. On each of these rides I've discovered the ways to get soaked, but also if I prefer, stay fairly dry. It's a skill.
The thrill seekers will love Power Tower (free fall more than 250 feet), Steel Venom (feet-dangling fun), RipTide (spin 720 degrees while 60 feet in the air), Wild Thing (an awesome 200-foot drop), and Xtreme Swing (swing 60 miles per hour).
While the big kids take off for the other rides, the tikes will love the new Planet Snoopy, a park inside the park, made just for those under 54 inches tall. And the entire family can enjoy Soak City Waterpark. Lounge on a chair or float the lazy river, jump in the wave pool, take a tube down a giant slide, or ride the rapids.
With more than 75 rides and attractions—including live entertainment, an IMAX theater, and good food—it's easy to spend a day (or two) at Valleyfair, no matter where you are in your own thrill-seeking evolution.
Valleyfair: One Valleyfair Drive, Shakopee
952-445-6500, valleyfair.com
Facebook Comments