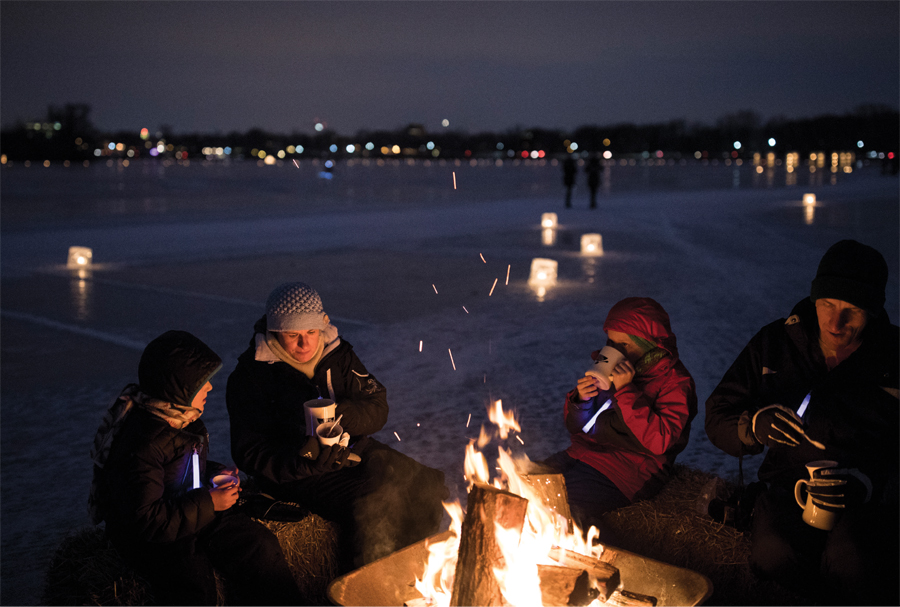 Looking for someplace to watch the Super Bowl? Check out this roundup.
Revealing Run
What: Jogging
When: Through Feb. 2
Where: Guthrie Theater, 818 S. Second St., Minneapolis
Jogging takes on prejudices against Arab women by way of one woman's jogging route through Beirut, at the Guthrie Theater.
Carnival Kicker
What: City of Lakes Loppet Winter Festival
When: Through Feb. 2
Where: Lake Bde Maka Ska/Calhoun, Minneapolis
A "loppet" is a cross-country skiing event, and there are multiple ways to do it: the long-distance race, the sprint, the skijor (with dog). All on Lake Bde Maka Ska, the Loppet Winter Festival also features a walk among luminary lights, plus fat biking. Look into the rest of the St. Paul Winter Carnival, too, as it draws to a close this weekend.
No Bones about It
What: Skeleton Crew
When: Jan. 31-March 1
Where: Yellow Tree Theatre, 320 Fifth Ave. SE, Osseo
It's the Great Recession, and an auto-stamping plant in Detroit is on the brink. Four workers come to terms with imminent unemployment in this "deeply moral and deeply American play" (The New York Times).
Toil and Trouble
What: Peerless
When: Jan. 31-Feb. 16
Where: Theater Mu, 755 Prior Ave. N., St. Paul
Local theater fans may recognize Francesca and Isabella Dawis, two sisters who were born and raised in Minneapolis, performed on multiple Twin Cities stages, and moved away. Now they're back as Asian American twins M and L in Theater Mu's production of Peerless. Under artistic director Lily Tung Crystal (her first time directing in the Twin Cities), Jiehae Park's story of affirmative action, self-righteous immorality, and college admissions is a dark MacBeth-esque comedy.
Dog Nabbit!
What: Doggie Depot 2020
When: Feb. 1, 10 a.m.-2 p.m.
Where: Union Depot, 214 E. Fourth St., St. Paul
This party for pups, hosted by the St. Paul Winter Carnival, starts with a dog-owner yoga sesh. Various Twin Cities vendors—from canine-inclusive restaurants and breweries to purveyors of dog-centric odds and ends—will offer samples, items for purchase, and other perks. Don't forget: A slobbery king and queen get crowned at the end.
Slip 'n' Slide
What: Ice Bocce Tournament
When: Feb. 1
Where: Patrick's on Girl Lake, 200 Patrick's Pl., Longville
Contenders slide pucks down slippery lanes atop Girl Lake, shuffleboard-style, for a shot at a trophy. Teams adjourn to Patrick's Fine Dining after, in uniform as sharks, pigs, Teenage Mutant Ninja Turtles, etc.
February Flowers
What: Spring Flower Show: Branching Out
When: Feb. 1-March 1
Where: Minnesota Landscape Arboretum, 3675 Arboretum Dr., Chaska
This third annual show in celebration of spring flowers at the Arboretum taps into the Chaska institution's 2020 focus, on trees. Ten displays highlight different types of forest, with "botanical chandeliers" and nature-inspired glass work. New this year, a wooden Treetop Tower sculpture promises Instagram gold.
Hard on the Eyes
What: The Ugly One
When: Feb. 1-16
Where: Open Eye Theatre, 506 E. 24th St., Minneapolis
By German playwright Marius von Mayenberg, this play revolves around a man who just realized that he's ugly. He goes to a plastic surgeon, and from there a dark, zany drama unfolds, staged by award-winning local company Walking Shadow Theatre.
Facebook Comments