This spring, head south(ish) to three thriving river towns—Northfield, Eau Claire, and Mankato—worth getting back on your radar. They all offer scenic beauty, vibrant culture, and some surprising new spots to shop, eat, drink, and spend the night.

Northfield's riverfront walk
photo by Ackerman + Gruber
---
Northfield
Even though it hosts the country's only Norwegian-American Historical Association, Northfield's jokes are less about Ole and Lena than Oles and Carls—the students attending St. Olaf and Carleton, its two liberal arts colleges. Sure, Northfield boasts plenty of enviable characteristics for a hamlet of 20,000: a beautiful riverfront, charming historic downtown, quick access to a major metropolis, and civic pride that dates back to the day a few brave townsfolk thwarted the James-Younger gang's attempt to rob their bank. But its defining uniqueness is those two venerated schools and the intellectual and cultural capital they lend the community. 
I have several friends who studied in Northfield—in the Twin Cities, just 40 miles north, you can't hardly toss a mortarboard without hitting an Ole or Carl—yet I didn't know much about the colleges' origins. Carleton is the elder of the two, founded by the Congregational church some 150 years ago, though today its 2,000 students are better known for their academic accomplishments (it's ranked 7th among liberal arts colleges by U.S. News & World Report) and free-spirited attitudes (it wasn't 529 Oles who set the Guinness record for the largest number of people spooning). St. Olaf, with roughly 3,000 students, was founded shortly after Carleton by a group of Norwegian-American pastors and farmers. It remains strongly tied to both the Lutheran church and the old country, especially during the school's 100-plus-year-old Christmas Festival, when its choirs perform for a sold-out Norwegian sweater–clad crowd. 
Next time you visit, it's worth a quick drive through each school's campus to appreciate their beautiful architecture and grounds (Carleton even has its own arboretum and Japanese garden). While both schools offer events open to the public, most non-alumni gravitate toward the town proper (inhabited by "townies," as the students call them). Northfield's vibrant downtown was established as a milling hub—the old Malt-O-Meal plant is the last vestige of the area's bygone wheat boom—and has managed to both evolve with the times and retain its historic charm. One part hip, two parts quaint, the town is home to both a weekly food truck rally and a popcorn wagon staffed by residents of the local senior center.

Downtown Northfield
photo by Ackerman + gruber
---
Some of my favorite Northfield shops and eateries reflect this balance of old and new. While independent bookstores—physical bookstores, even—across the country have been slamming shut, Content on Division Street remains a browser's delight of new and used tomes, gift items (including "get off the internet" stickers), and literary events. The adjacent Northfield Yarn is equally charming with its locally produced skeins and master knitters on hand to offer assistance in finding a dropped stitch or untangling a project attacked by your cat (an instructional YouTube video really can't compare).
On a recent visit, I could have spent an hour in Antiques of Northfield, between admiring the vintage Red Wing pottery, fur muffs, and gently used cashmere sweaters (just $20 apiece). But had I stayed that long I probably would have headed home with a box of wooden rolling pins and an old outboard motor with a plan to repurpose them into interior décor. Instead, I went down the street to Swag, a gallery and gift shop with cards, linens, toys, paintings, and more, whose name's definition—"stuff you don't need but have to have"—could apply to the merch at both shops. Also the equally trendy Rare Pair, with stylish clothes plus cute Sorel boots and Woolrich earflap hats for those whose lifestyle fits somewhere between J. Crew and Midwest Mountaineering. 
Even though I was still full from a terrific caramel roll and a plate of biscuits and gravy at the Tavern, a hand-drawn sign for lefse lured me inside the 60-plus-year-old Quality Bakery. Unfortunately, they'd long been out of the holiday treat, but I was mollified by a poppy-seed kolache like those my Czech relatives make. Northfield has an impressive range of independent food-and-drink options that run the gamut from casual, counter-service (Hogan Brothers) to special occasion–worthy (the Ole Store Restaurant), to bars with pretty patios overlooking the river (Froggy Bottoms, the Contented Cow). A few of the sleeker new spots resemble their brethren in the Twin Cities: Tandem Bagels, CakeWalk cupcake shop, and the brand-new branch of Smoqehouse, a barbeque shop in nearby Faribault that's been garnering rave reviews.

St. Olaf College
photo courtesy of st. olaf college
---
If you prefer to drink old-school style, try the VFW (meat raffle and bingo on Thursdays). Or you can imbibe in a more of-the-moment fashion at the area's first and only distillery cocktail room. The Loon Liquors HQ is a little tough to find, in an industrial complex outside  downtown, but as you head down a beige hallway, just follow your nose to the booze. In the dim, comfortable space, drinks that blend, say, gin with raspberry juice and balsamic vinegar offer artisanal craft quality at mass-market prices. It's very much in the spirit of Northfield, where worldly perspective meets small-town character.
When You Go
Caffeinate: Among Northfield's multiple coffee shops, the best known is Goodbye Blue Monday, populated with laptop-peckers seated at 1950s chrome-accented kitchen tables and notable for its restroom art, an installation of cassette tapes for the '90s lover in all of us (Digable Planets, Pearl Jam, "KJ104 The Last Day"). Cash or local checks only.
Outdoor Recreation: There are plans in the works to link Northfield's Mill Towns State Trail into a network connecting Red Wing to Mankato. For kayaking trips on the Cannon River, contact Gear Resource Outfitters in nearby Dundas.
Spend the Night: For years, Northfield's independent lodging options were pretty limited (the historic Archer House hotel and Magic Door B&B among them). New this winter is the Northfield Inn, a 100-year-old home renovated inside and out to marry original woodwork with modern fixtures and luxury linens. –RH
Eau Claire
I'm having a hard time picturing Kanye at the Joynt. And you would be, too, if you'd witnessed the turning of heads and curious stares when a couple of yuppies from Minneapolis wheeled a baby stroller into Eau Claire's illustrious dive bar. I can't imagine what would happen if a multi-platinum rapper with diamond teeth rolled up and ordered a Point Special. So far as I know, it hasn't happened yet. But it almost did, and it might. And that's the quickest way I can think to describe how this western Wisconsin river town has arrived on the national radar. 
Let me back up and explain. 
If the Joynt were a horse, it'd be one that was ridden hard and put away wet. The narrow tavern looks nearly as it did back in its heyday, four decades ago, walls lined with now-faded photos of famous jazz musicians—Duke Ellington, Charles Mingus, Dizzy Gillespie—who improbably performed there on their way between Chicago and the Twin Cities. (It makes a little more sense knowing the UW-Eau Claire has one of the best jazz programs in the country.) When I visited the Joynt recently, despite the initial metaphorical record scratch, everyone made me feel welcome: the longtime bartender and several regulars, including one canine, lured by the laid-back vibe (one glowing Yelp review describes the Joynt as "a place that lets me sit in the barber chair and check IDs even if I don't work there"). That and the rock-bottom prices. Tap beer is so cheap, if you rounded down, it'd be free. If I spent $10 there, I'd probably fall off my barstool. 
The parents of Eau Claire's most famous resident, Justin Vernon, the onetime high-school football captain, now frontman of the Grammy Award–winning music group Bon Iver, met at the Joynt so it'd be a natural spot for him to take an out-of-town friend like Kanye. The two have collaborated several times—"I love Justin the way Kanye loves Kanye," the rapper told BBC Radio—and rumor has it Kanye was recently supposed to come record at Vernon's Eau Claire studio, but a snowstorm thwarted their plans.

The Lakely at the Oxbow
photo by steven buri photography
---
The fact that Vernon rubs shoulders with megastars, and, in fact, has become one himself, yet continues to live in Eau Claire, is a point of pride for residents. A confidence builder, as one local put it, that made people look at themselves and say: "Oh yeah, we are cool, we do have a lot going on." 
Eau Claire hasn't always been very, well, cool: a small Midwestern metropolis that grew up around paper mills, a long-shuttered tire plant, a UW satellite, and the headquarters of Menards. It was the kind of place that creative, entrepreneurial types used to depart in pursuit of their dreams. But Vernon stayed, and he's not the only one. Chippewa Valley native and New York Times–bestselling author Michael Perry lives in the area as does Zach Halmstad, the founder of a successful software company with new offices in Eau Claire's downtown.
As Halmstad and others were bringing out-of-towners to Eau Claire, they found the local lodging options less than inspiring. So last spring, Halmstad rebooted a nondescript Ramada as the Lismore, a sleek boutique hotel with an urban aesthetic. The building, now clad in anodized metal and glass, includes an artisanal coffee shop, a farm-to-table restaurant serving bone marrow and bison, and the city's only rooftop bar. (It's called Dive because it replaced the former hotel's swimming pool—an actual dive bar would never flame its Old Fashioneds' orange peels.) 
Halmstad and Vernon are among the investors in the Oxbow Hotel, which debuted last fall with an equally hip but artsier feel. In the hotel's restaurant and lobby, the décor feels contemporary while evoking a retro, Northwoods feel (furnishings with plaid upholstery and live-edge timber). Guest rooms feature place-specific art of the sort that hipsters buy on Etsy (lake topographies, screen prints with the Wisconsin state outline) and, in lieu of a Gideon Bible, there's a record player. (Management is more trusting than I would be of the general public's ability to interact appropriately with such delicate equipment.) Of course there's also an in-room copy of Bon Iver's latest album, rich with Vernon's lush, ethereal falsetto and layers of electronica. Other discs—Carole King, Fugazi, John Coltrane—may be checked out from the front desk.

The Joynt
photo by andrea paulseth/volume one
---
The Oxbow's restaurant, the Lakely, serves gourmet dishes rooted in the Midwest, including a fantastic "hot dish" of braised duck and native-harvested wild rice. The craft cocktails are also first-rate—I loved the Sugarbush Sour with bourbon, lemon, and maple syrup—spendier than the Joynt, but a steal compared to their Twin Cities equivalent. The overall atmosphere is classy yet relaxed, and the dress code ranges from sequins to UW-Badger fleece. Patrons can listen to a jazz trio, drink by the outdoor fire pits, or play a little Swedish lawn bowling, a.k.a. kubb.
Beyond the hotels, downtown Eau Claire is fairly compact, but not entirely walkable. (The Oxbow does loan out bikes as well as kayaks for exploring the scenic beauty of the city's two rivers.) There's easily an afternoon's worth of browsing the city's various shops, some of which are owned by young Eau Claire natives who left and moved back. (The low cost of living is a real asset—I saw a 3-bedroom, 1-bath home for rent on the banks of the Chippewa River, asking $295 a month.) The most contemporary shop in town is the spare, boho Red's Mercantile, which sells chic removable wallpaper, Faribault blankets, sage bundles for smudging, beeswax candles, minimalist jewelry, and more. For vintage-lovers, Good & Sturdy offers a nicely curated collection of well-preserved jeans, leather jackets, t-shirts, and other clothing. The largest retailer is the decades-old, three-level Antique Emporium, stuffed with furniture, dishes, books, lithographs, frames, and the most impressive taxidermy collection I've ever seen (don't leave until you've spotted the two-headed calf). 
Eau Claire has more plans for downtown revitalization in the works, including an ambitious arts center and public plaza adjoining a new mixed-use residential-retail development. In many small cities, economic growth tends to mean generic chain stores and a bland aesthetic. But, here, there's local music playing on the outdoor sound system, local art at the galleries, such as the lovely new 200 Main, and more of both those things, as well as gifts, gadgets, and apparel, at a place literally called the Local Store. The city is on its way to proving that it can both evolve and preserve its uniqueness.
When You Go
Get Hip to the Scene: Grab a free issue of Volume One, a bi-monthly mag covering Chippewa Valley culture and entertainment.
Beer Me: Now that Leinenkugel's, in Chippewa Falls, is owned by Anheuser-Busch, a more homegrown option is the Brewing Projekt, which produces classic and experimental beers (imperial stout with raspberries, cocoa, and chipotle, anyone?). Take some home in a crowler, an oversized can filled by the brewery.
Eaux Claires: Even for those of us barely "current" enough to listen to the Current, it's become clear that this three-year-old Justin Vernon–curated music festival rivals Rock the Garden in indie cachet (though Bon Iver is headlining RtG this year, too). June 16–17, Eaux Claires' 60-acre farm will host icons Paul Simon and John Prine, rising star Chance the Rapper, and all sorts of gems in between (Feist, Happy Apple, a few Wilco side projects). –RH
Mankato
Mankato's best known as a big, industrious farm town amid southwestern Minnesota's small farm towns, tucked along the state's namesake river into a quilt of crop fields bearing lakes scattered about like pocket change. Or maybe as That Place That Hosts the Vikings' Training Camp, depending on your frame of reference. Sure, "tourist town" doesn't typically spring to mind, but that shouldn't stop you from treating it as such. Think of it as a Twin Cities day-tripper's new frontier. There's a bison-stocked state park, a hometown brewery, and well-loved bike trails, plus a constant stream of new draws that seem to spring up each year.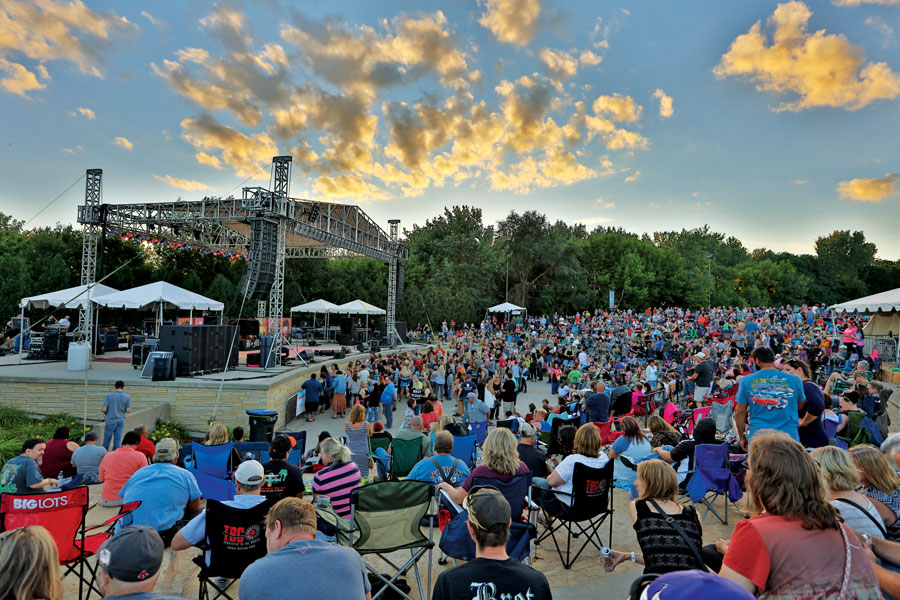 Vetter Stone Ampitheater
photo by aj dahm/spx soirts
---
I've loved exploring Riverfront Drive's stretch of historic Old Town, four blocks' worth of squat brick buildings that's shed its reputation as a seedy nightlife hotspot, transformed by motivated entrepreneurs catering to modern tastes. Friesen's, with locally sourced baked goods and soups; Bent River Outfitter, offering canoe and kayak tours plus stand-up paddleboard (SUP) yoga classes; and Whimsy & Weathered, the go-to spot for repurposed furniture, handmade tassel jewelry, and gold-painted antlers at Target prices, are a few of the relative newcomers joining the Coffee Hag, Tune Town Records, and other indie pioneers. 
I recently discovered P. K. & Henry, a men's and women's boutique/outlet for high end metro shops such as St. Paul's rugged-mod BlackBlue, moved into a small space here that'd been vacant for the last 12 years. (I walked out with a $200 flannel floral tunic reduced to double digits.) A fair amount of vacant and run-down storefronts await their turn for rehab as traffic zips by and trains honk-clang along the nearby railroad tracks. Cross those and you're at Riverfront Park and Vetter Stone Amphitheater, a pretty green spot along the wooded riverbank that fills with summertime concert- and festival-goers lounging on giant slabs of Minnesota limestone, eagles gliding overhead.
One of the permanent sculptures in the CityArt Walking Sculpture Tour is found in Old Town—outside Mom & Pop's Ice Cream Shop, a bronze of a dog begging for a boy's cone—but most are right nearby, lining Second Street downtown, a compact brick-and-brown core of government buildings and the event center campus. Each May, a fresh batch of 25-some sculptures by artists in Minnesota and beyond arrives for the year's new tour (at its completion, the city acquires the one People's Choice Winner for its permanent collection). It's mostly walkable and there are plenty of brochure boxes along the way. 
The Minnesota River separates downtown from lower North Mankato, a tight-knit working class neighborhood stocked with modest century-old houses. The bridge delivers you straight onto Belgrade Avenue, North's main artery/party central during popular summer fests including Blues on Belgrade and North Mankato Fun Days. Belgrade's also home to Dino's New York Style Pizzeria, a narrow, upscale spot with reliably friendly service, decent wines, and wood-fired pizza both straightforward and adventurous. (I love the buffalo shrimp so much I have a hard time ordering anything else.) Since we're talking pizza, I'd better slip in mention of Pagliai's, a 47-year-old classic pizza parlor on Front Street in downtown proper, so as not to provoke its many devotees.

Cityart Walking Sculpture Tour
photo by nichole rojas/visit mankato
---
Also in North: the Mankato Brewery, in a former warehouse, founded in 2010 when a couple of homebrewers couldn't make enough beer to keep their friends happy. Free Saturday tours walk and talk you through the process of brewing their standards and seasonals, from tank to shining tank, covering industry topics including IBU ratings and the intrinsic importance of yeast. I'm less science- than story-minded—and also partway through a delicious pint of the retro resurrected 'Kato lager—so learning about how they give a local farmer their spent grains (she thanks them with pig roasts) and recently increased production enough to distribute beyond Minnesota, better bring the place to life for me. In one corner, locals and visitors belly up to the taproom's corrugated metal bar with lofted second-story seating, near the big bay door they open (when weather permits) onto a chunk of asphalt lined in picnic tables. Bands play regularly, too, on weekends and for Tuesday Tunes. That's when they occasionally debut one of their infamous nanos (aka small batches), sullied with something like Sour Patch Kids, Sriracha, or even turkey and gravy (which went over surprisingly well). 
You could navigate the town by bike, but if you're going to roll you might as well take it onto the web of more than 50 paved trail miles spreading out into the southern Minnesota countryside. (Grab a bike trail map at Nicollet Bike Shop in Old Town to help.) The six-mile Red Jacket Trail's a local favorite for trestle bridges, one 80 feet high, and home-baked pies waiting at the Rapidan Dam's namesake store, a couple miles from the rural endpoint. Closer to the city, the Red Jacket connects to the South Route Trail, eight hilly miles that end at Minneopa State Park. It's one of the state's oldest parks, home to a 39-foot waterfall and our newest bison herd, best admired from inside a vehicle on the drive traversing the 331 acres they're free to roam—like so many road trippers chasing new views, here among the lakes and fields.
When You Go
Vikings Fans: With speculation that training may relocate to the future Eagan practice facility, it's a good summer to see how camp has unfolded at Mankato State University for 52 years. Rumor has it the best place to catch players in the wild is at Target, stocking up on dorm room staples during move-in weekend.
Got Kids? Don't miss the Children's Museum of Southern Minnesota, with a sprawling indoor tree fort, and Sibley Park's farm, with its free petting zoo and barnyard-themed playground.
HWY 169 Pit Stops: Candy cigs and bacon-flavored soda at Minnesota's Largest Candy Store south of Jordan. Home-baked scones and local seasonal soups at River Rock Coffee in St. Peter. The last operating Happy Chef restaurant, with 36-foot spoon-wielding statue, just outside 'Kato.
Staying Over? Chains are your primary option—this isn't Stillwater, people—though there are a few B&Bs, both Air and regular. –BT