Sarah Edwards photographed by irv briscoe
Now in its sixth year running, I AM MPLS! returns to First Avenue this Thursday. For many, the event needs no introduction, but just in case: I AM MPLS! is a fashion/variety show that features local notables modeling looks from local boutiques—and a community-oriented message. Its producer and founder, Sarah Edwards, has gone on to create I AM offshoots such as I AM Kindness (which combines artwork with acts of kindness), I AM ST. PAUL!, and I AM Inspired, and this past fall, Fashion Week MN—a whole week of fashion events. (Full disclosure: I helped coordinate Fashion Week MN.)
This year's I AM MPLS! show includes emcee Jana Shortal of KARE-11; comedians Robert Baril, Shannan Paul, and Mike Lester; live music from Hannah von der Hoff, ACTN, and DJ Keith Millions; custom visuals by Motion 504; and videography by Acowsay Digital. Models include author and blogger Nora McIrney Purmont; Chef Sameh Wadi, founder of Saffron and World Street Kitchen; visual artist Anne Labovitz; Jamie Millard, co-executive director of digital platform Pollen; and Robyne Robinson, a longtime local news broadcaster and jewelry designer who now serves as Director of Arts @ MSP, an arm of the Airport Foundation MSP, wearing looks from local shops Cliché, b. resale, Rewind Vintage, Proper & Prim, and Atmosfere, plus footwear from Minnetonka Moccasin.
I sat down for an informal chat with the prolific producer and stylist to talk about why she's hosting the event for a sixth year, what fashion means to her, and the less glamorous side of event production.
Why put on I AM MPLS! again this year—especially after how busy you've been with launching Fashion Week MN this past fall?
I'd be lying if I didn't say that I get a lot of out of it. One of my favorite things in life is meeting new people and getting to have real conversations with them. So selfishly, I get to meet all of these amazing people. My other favorite thing is connecting people. I AM MPLS! serves as a way for me to connect—it's like, "Oh, you do this really interesting thing in the community, you should really meet this person, they're doing this,"—and sometimes cool things can happen out of that. Even though I've done it for six years now and I kind of have a template, it's still a lot of work.
I haven't lived a lot of places, but I do feel that Minneapolis is a pretty supportive city. I don't feel that I could have done anything I've done if I hadn't had such immense support and great partners. So I try to give as much of my time and energy as I can.
What are you goals with I AM MPLS! this year?
It's not like I want to make it bigger, I just want to make it more interesting and cohesive. There are always little things I want to fine tune. I have bigger, loftier ideas, but there's the reality of what can actually be executed. I have to be real with myself—say, I don't have the time, the money, or resources. So that's what I struggle with the most with [I AM MPLS!]—I want to try to figure out how to execute some of those bigger ideas. There's also some times, I don't try to take myself or the event too seriously, not that I don't put my heart and soul and energy into it, but it's still just an event. So with everything, it's trying to find that balance.
a runway shot from i am mpls! 2014 / photo by jahna peloquin
Let's go back to the beginning—six years ago, when you first decided to do this.
Six years ago, I didn't know anyone here. I had just moved to Minneapolis from Grand Forks, North Dakota. I was waitressing at Gluek's as well as being a receptionist at Pixel Farm, trying to pay off those student loans, but I decided I wanted to do a fashion show, and instead of using models, I wanted to find people doing cool things in the Twin Cities. But I didn't know what I was doing at all, and I didn't know anyone. I ended up getting introduced to Kim King, Soul Asylum's tour manager, who at the time was managing and booking for Fine Line. Kim and I sat at the bar at Nick and Eddie, when that existed, and she gave me all this great advice, and we booked a date at Fine Line. So now I had a venue and a I had a date.
And you'd never put together an event before?
(Laughs) No.
What was your degree?
I originally was studying engineering at the University of North Dakota, and playing golf, if you can imagine.
As in, playing golf in school, on a team?
Yeah! I went to state four years in a row, if you can picture that—me, in a polo and golf shoes.
I can't, at all.
I actually love playing golf still. I used to be really good, but not as much anymore.
So going to back to the beginning, I was living in Grand Forks, and I was just miserable. I said to my mom, "I don't want to study engineering, I don't know what I'm doing, what do I do?" She said, "What about graphic design?" But I wasn't good with computers. So she said, "What about advertising?" So I ended up transferring to the Art Institutes International Minnesota and getting a degree in advertising. Then I interned at Mall of America, and after that I started working at Pixel Farm. I spent so much time searching for unpaid internships before then—it was during the recession and it was hard to find anything. I ended up beating out a lot of people for the receptionist job at Pixel Farm. I sent a really funny follow-up letter that must have won them over.
While I bartending at Gluek's, Adam Levy would play with his band Hookers & Blow on Thursday nights. One night I asked him to model in the show. And he said, "I'm not a model," so I said, "No, that's not the point—you're such an influencer in the music scene, and people really admire you," and so he says, "Okay." So I'm like, yes, I have one model! So with everyone after that, I said, "Adam Levy's doing it," which worked to get people to sign up.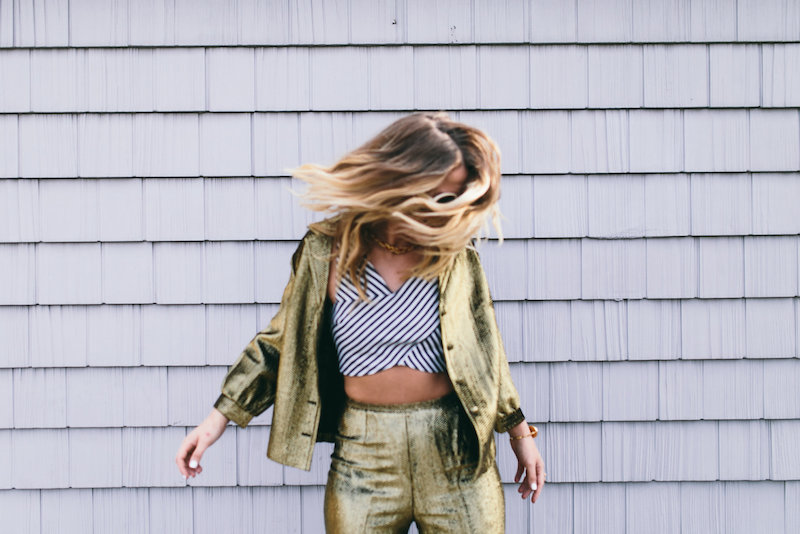 Sarah Edwards photographed by Nicole Feest of Nylonsaddle Photography
Who was your first sponsor?
It actually was my mom—I needed some money to make it happen. I think she gave me $500.
So why do a fashion event? Fashion can be a an intimidating thing for some people.
It's funny, because I've always loved fashion, but I've never associated fashion with brands or materialism—buying into a certain status. Fashion to me has always meant theater and being a character, and you get to express your point of view or even how you're feeling that day. My style has obviously evolved over the years, but one thing that's been consistent over the years is that it's been eclectic. I feel like I can play characters—like I'm feeling kind of rock and roll today, or I'm feeling kind of bohemian.
What are you feeling today?
Today? Lazy! (laughs) Fashion has always been just something I've effing loved. It's strange to me that some people are genuinely terrified of it, or hate shopping. I'm just like, what? How? But after learning more about people, I realized it can be a really intimidating thing for a lot of people.
Speaking of fashion, how did you meet Davee Ek [I AM MPLS!'s longtime show stylist]?
She was working with a local company called Secrets Fashion Agency, and she had called me to do an interview and asked if she could have a press pass to come to the show, and I just fell in love with her. I always felt like she was ahead of her time with her style. I love her boldness, and I just found her style to be very inspiring. We became close friends after that.
How do you feel your personal style has evolved?
I used to be very known for being bohemian. I think that was my comfort zone. I just like trying new things. I don't read a lot of style blogs, actually—but I love Man Repeller, obviously. I like that more for the writing than anything. I've been trying to try again, it's easy to fall out of it and stop trying.
I love that tailored suit you wore to the Homme menswear show during Fashion Week MN this past fall.
It's like a print on print. It's Rachel Roy. I wore it with my leopard-print platform boots. It's funny you bring it up, because it's one of my favorite things I own. I remember seeing it and thinking, I can't wear that, but then I decided, why not? I used to only wear dresses and skirts, and now I wear a lot of pants, which I've been having fun with.
It's interesting with style, how people associate you with what you wore years ago, and you get stuck with it.
So I've been wearing a lot of pants, and I like menswear lately too. I think that's why I like Man Repeller—you'll never see me in a bandage dress. Not saying that they're not sexy, but they're not stylish.
It's a different kind of sexy—being creative and quirky can be sexy to some people.
I think my sex appeal is more about my brain, or how I think. I'm not saying my brain is amazing or anything, but I think that's what's more attractive.
I've read articles about how men, because they project confidence about what they're doing, women are more self-questioning. Women know just as much what they're doing as men, but they just project it differently. I appreciate how women are thoughtful, but maybe we need to take more ownership of what we do.
You know in the back of your head. It's interesting, because once in awhile I'll try on that persona. And I feel like I do get respect from people, but then I also get, "Sarah's kind of being a jerk" because they're so used to me being a certain way. I'm not trying to be all Girl Boss, but I do have an idea of what I'm trying to build.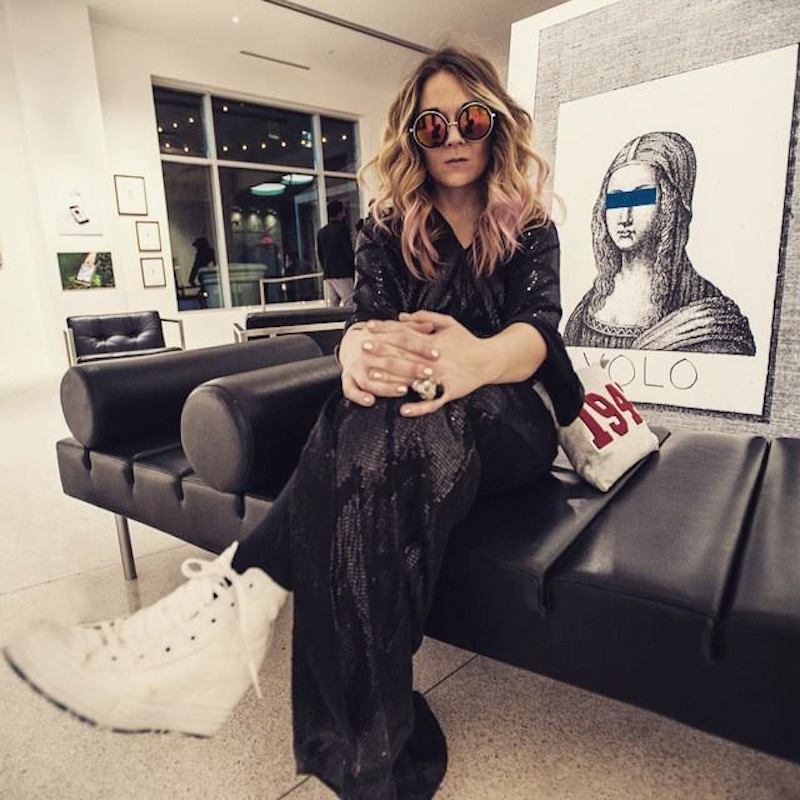 Sarah Edwards photographed by Jay Larson
Do you believe in having a work-life balance? Or is that non-existent for you?
Sometimes I go to sleep at 1 a.m. and wake up at 5:30 a.m. I think it's because I love it to much, I get addicted to the idea of making something a reality. It is work, but I don't always see it as work—I see it as something I enjoy doing.
What's something you think people would be surprised to know about you?
Sometimes I struggle with being out in the public eye, because whenever you do anything, you're asking to be criticized, or for people to tell you their opinions and feedback. I've learned how to take in what people have to say, but I try not to dwell on it. Because while 95 percent of what people say are really great, positive things, there's the 5 percent that are negative, and I'm like, "Oh my god, what did I do?" I think people would be surprised to know how painfully sensitive I am.
I think you develop a thicker skin over time. But it makes sense, when you're putting so much time and energy. And it's not like you're getting paid by someone else to do it.
It's one of those things, too, where I think like, should I not do it? And then I think of someone like Allison [Vaillancourt], who does [bi-annual fashion show] Envision. I know that it's so much work and time and energy, but it's been going on for however many seasons, and it's like, wow, she's really got it down to a science. I want [I AM MPLS!] to be different each year, but I want to have a formula for how to produce it the most efficiently.
How do find people to model in I AM MPLS!?
I really try to keep it as diverse as possible, with regards to industry, age, sexual orientation, race—I also only know so many people, so I'm always looking for recommendations. It's like, do you know someone doing something unique in the community? That's a question I get asked a lot—how I find people. It's all over the place. Sometimes I've read about someone, or someone I think is interesting on Twitter.
I think there's a perception that people see from the outside, that you're always doing something. "How do you do it all? You're always out, and you're always fabulous."
My life is not glamorous. A good example is the I AM Kindness art event last February at the Burnet Gallery, which I loved. I was really proud of that event. But everybody only sees the part of the event when I'm talking to people. They don't see me two days later when it's 30 below out and I'm bubble wrapping art and renting a U-Haul. That's 90 percent of it. There's like 10 percent that is maybe glamorous.
Tickets for I AM MPLS! are $50 for VIP (includes runway seating, a screen-printed poster, and I AM MPLS! tote bag with swag) or $15 for general admission. 7 p.m. doors, 8 p.m. show, Thu., Dec. 3. First Avenue, 701 1st Ave. N., Mpls., first-avenue.com. For more information, visit iammpls.com. I AM ST. PAUL! takes place Sat., Dec. 12 at Turf Club in St. Paul; for information, visit iamstpaul.com.