Heidi Feroe has re-embraced the Duluth music scene with a fresh perspective
The Edina Fall into the Arts Festival returns to Centennial Lakes Park September 10–11. Over 225 original artists will display their works.
The 2022-2023 season features the return of the smash-hit musical SIX, the enchanted world of Disney's Beauty and the Beast, and more
Things to do this week: Uptown Art Fair, Union Depot Food Truck Festival, 'Wicked,' and more
On Plymouth Avenue in Minneapolis, the Minnesota African American Heritage Museum hosted a massive undertaking
The Twin Cities artist tackles gender identity and police brutality in new recordings
A staple in Minneapolis' skyline, the Guthrie Theater stands out with its strong, deep blue exterior and accents of muted yellow. While being closed...
This Jungle Theater and Theater Mu co-production explores how art perseveres in even the darkest times
The musical production will transport audiences to 19th-century Paris through elaborate and immersive set design
The Children's Theatre Company original play adapts the widely banned children's book
Heidi Feroe has re-embraced the Duluth music scene with a fresh perspective
These two offer a breath of fresh Minnesotan air
St. Paul singer-songwriter releases new single and announces debut LP
This band takes over the White Squirrel Bar with its blues every Saturday for a July residency
With an exhibit opening at the Walker this month, Pao Houa Her continues a conceptual journey through the lens of her camera
The virtual world of NFTs makes for a real-world get-together
Details on the 2022 iteration of northeast Minneapolis' yearly chance to show off hundreds of art studios, galleries, and small businesses  
Our Aesthetic Editor Jerrod Sumner Offers Ways to Enjoy the Weekend Festivities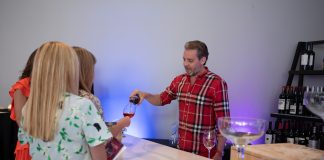 A silver anniversary, take two
The free virtual event raised more than $2 million from 235 donations in just 90 minutes
For the first time ever, the Gala 4 Goals fundraiser was held in a virtual format
For Children's HeartLink's 50th anniversary, medical experts showed out for an event that raised $1 million